Why Should Seniors Play Word Games?
Word games are a great way to stay sharp, no matter how old you are. People generally use these kinds of games as a source of entertainment. However, since word games help with memory and boost the brain functions of seniors, they will be a perfect way to keep them mentally active. People over 50 found playing brain-training games on the internet to be beneficial. Researchers found that those who played the games five or more times a week showed a significant improvement in their reasoning and problem-solving skills. Another thing that studies in this field showed was that seniors over 60 years old who regularly play games and use brain training apps have a better performance in everyday life.
Word Games for Seniors to Prevent Dementia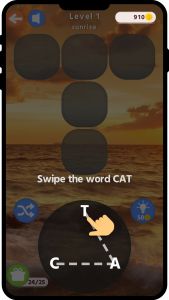 Playing word games is considered an excellent activity for improving cognitive skills. Word games can help maintain the overall mental health of seniors. The studies so far show that brain games help you reinforce skills that usually weaken as you age. These skills include planning, decision making, reacting faster, processing even quicker, and better short-term memory.
What Is Witty Words?
The Witty Words game is designed especially for senior citizens to entertain them, stimulate the brain, improve cognitive function, and enhance memory. With this game, seniors can challenge their memory, test their vocabulary, and discover new words with word connections and addictive crossword puzzles. Witty Words allows you to memorize some letters and their positions in the word connect. This feature enables older adults to improve their memory, so playing Witty Words can be helpful for brain and memory practices. Plus, Witty Word has beautiful landscape themes for seniors to enjoy their game more.
A Word Game Specially Designed for Seniors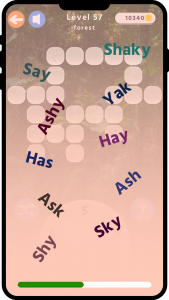 Witty Words is a user-friendly game. This word game is specially designed for seniors to help them have a sharper brain, have fun and prevent Alzheimer's and dementia. For the accessibility features, the Witty words game is designed with large buttons and sufficient contrast for a better user experience for the elderly with visual impairment. Witty Words allows players to see the words for a limited time and then remember and solve the puzzle.
User-Friendly and Entertaining App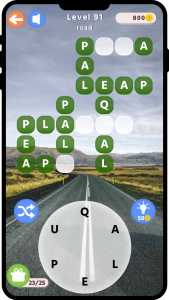 Witty Words is a word game specially designed for seniors to help them have a sharper brain, have fun and prevent Alzheimer's and dementia. This word game has an excellent user experience and user interface with a single goal: keeping a healthy brain while having fun.
Keep Dementia at Bay
Studies show that people who maintain their minds active are less likely to lose their cognitive abilities as they age. Playing word games may slow memory loss and other mental problems in older adults. Witty Words provides you with healthy and fun brain exercise. While enjoying your favourite beverage, you will memorize and discover new words in word connects and crosswords.
Keep Your Brain Young and Sharp by Playing Witty Words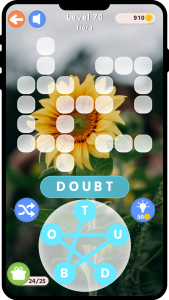 Witty Words will enable you to have a sharper brain by having fun! Word games like word connect and crosswords are popular seniors' games that allow the elderly to improve problem-solving skills. These games also enable older adults to have fun, discover, and experience healthier ageing.
Stimulate New Learning
By solving word connect and crossword puzzles, seniors can stimulate new learning. You promote your brain when you move from a familiar and easy word to something new or more challenging. The brain generates new memories and explores old ones to solve the puzzle. In this user-friendly app, you start with simple words, and it gets more complicated as you unlock new levels, but you will always have hints!
Keep the Stress Away by Solving New Puzzles Ever Day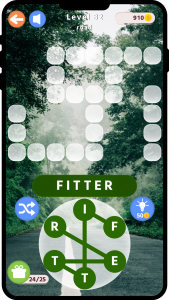 Stress is a constant concern as we enter our sixties – it doesn't disappear magically. The words and letters allow players to shut off their negative thoughts for a moment. As a result, seniors can significantly reduce anxiety levels and stress levels. Playing word games for seniors helps relieve tension and reduce stress. By completing daily crosswords and word connects, you will feel more relaxed and have a sense of accomplishment. And the best part? Witty Words has no limits to how many times you can play daily puzzles!
Enjoy The Unlimited Crossword Puzzles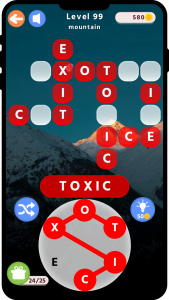 Crossword puzzles are among the best word games for seniors. If you love crosswords, you're going to enjoy Witty Words! Besides the word connect puzzles, you get to play as many crosswords as you like and collect extra points! This way, you can promote a self-improving competition and enjoy your achievements.
Keep Your Brilliance Score High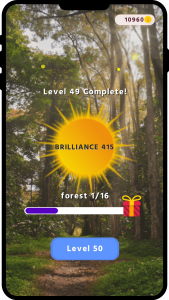 Challenge your brain and collect points by playing witty words, word connect, and a daily puzzle. The game will grab your attention from the moment you start playing. The specially designed for senior's game will never leave you bored! As you discover new words in our crosswords and word connects, you get extra points that allow you to unlock new levels with unique themes. But be prepared! The games become more challenging as you find new words and unlock new chapters!
Have Fun and Boost Your Self Steam
Everyone loves winning, and finding an impressive answer or solving a puzzle is a great mood booster. It also boosts self-esteem. And last but certainly not least, playing word games is a fun pastime for seniors. By playing Witty Words, seniors can have fun and turn a dull afternoon into an exciting and pleasant one!
Never Get Bored Again!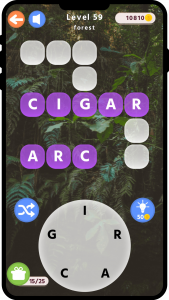 Aside from all the benefits, playing word games for seniors is a great way to avoid boredom and enjoy leisure time. Witty words will grab your attention from the first try. You get to compete with yourself in this word game, and the winner is always you. You get to collect points by testing your knowledge while using your memory. So have fun and enjoy your new hobby.