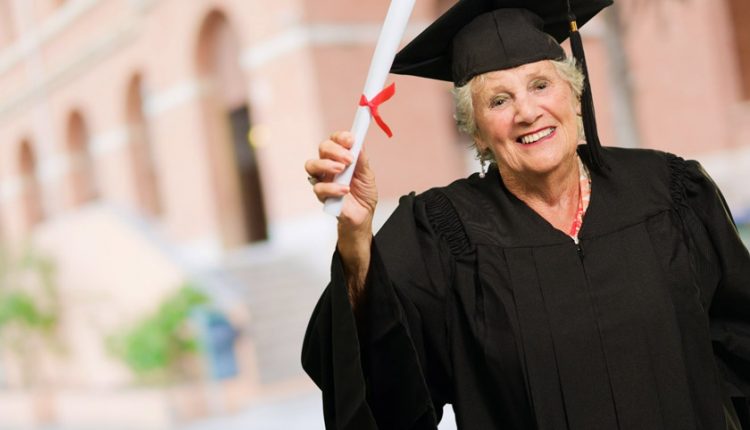 The Best Free Programs and Degrees for Older Adults in Canada (2022)
Can you believe the world's oldest college student was 96 years and 200 days when he graduated in 2016! Figures also show that the number of older adults who enroll in colleges and universities increases and will be grown by 20% by 2025.
But when it comes to learning, most people wrongly assume that young people in their 20s are the most capable of understanding and absorbing new information, and they rarely think of going back to school after 50. However, being older isn't an obstacle but a massive advantage and opportunity. Not just in the classroom but outside of it too.
Several studies indicate that college degree holders tend to live longer, stave off signs of cognitive decline, and also keep their brains engaged by challenging themselves to learn new skills.
In short, this article is definitely for you if you think there might be more out there for you to discover. Therefore, We invite you to look at the best free programs and degrees for older adults in Canada.
The Advantages of Going Back to the University as a Senior
Other than being able to fulfill your dreams, going back to school has many other benefits; for example:
Boost Memory Function and Critical Thinking.
According to scientific research, seniors who regularly read and put themselves in problem-solving situations have a lower risk of dementia and also higher cognition function. For example, students find themselves in many problem-solving situations that highly challenge them in the university. Also, The educational environment requires lots of reading and analyzing; both can increase seniors' cognition skills and memory function.
Follow Your Wishes and Interests.
As mentioned above, going back to the university gives seniors a unique opportunity to follow their lifelong wishes. Even better, you can discover your previously unknown interests!
Social Interaction.
There is no doubt that there is a direct relationship between lack of social interaction and depression. Therefore, by going back to the university, seniors can expand their social relations and experience more interactive and fun times.
Exchange Knowledge and Information.
If you take classes with people from different backgrounds, you will socialize and also learn more about everything.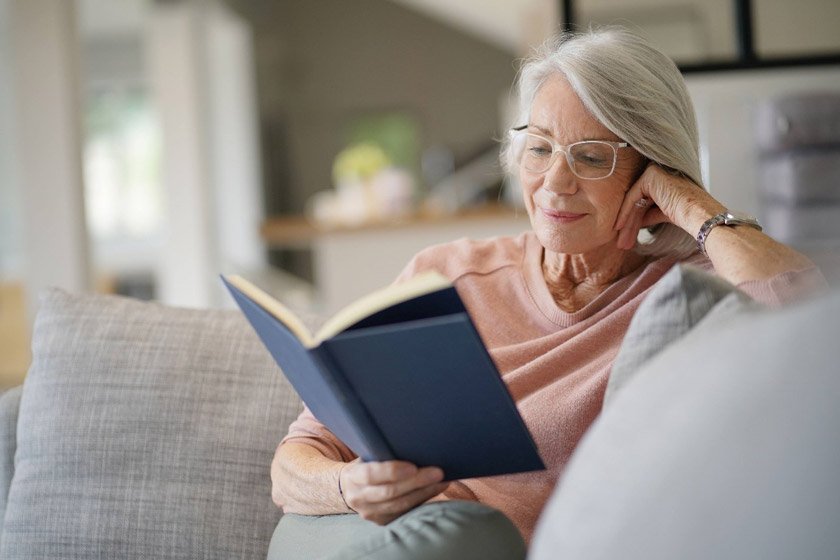 Best Programs and Degrees for Older Adults 
Today, many online classes and degree programs fit seniors' scheduling and are also designed for senior learners. Therefore, based on different programs offered by universities, we categorized the best degrees for seniors as an associate, bachelor, master, and Ph.D. programs.
Associate Programs
It is a two-year degree and typically contains around 60 credit hours. The Associate degrees for seniors that pave their way into the best jobs are as follows:
Accounting
Art
Child development
Museum technicians
Proofreader
Psychology
Real estate sales
Tax preparers
Some colleges and universities offer scholarships for older students over 55.
Bachelor Degrees for Older Adults
The most popular bachelor's degrees for seniors who want to change careers are:
Accounting
Business
Engineering
Medical billing
Psychology
Hairstylists
Photography
The last five degrees are suitable for those who have dreamed of being entrepreneurs and have a self-employed career. You can also read more about senior accomplishments in our previous posts.
Master Degrees
A master's degree also seems perfect For seniors who have had a bachelor's degree and are looking for a secondary or more advanced career. Therefore, there are different master's programs you can apply for based on the graduate degrees you've earned. Some of these master's degrees are listed below:
Master of:
Accounting
Business administration
Public health
Science in nursing/nurse practitioner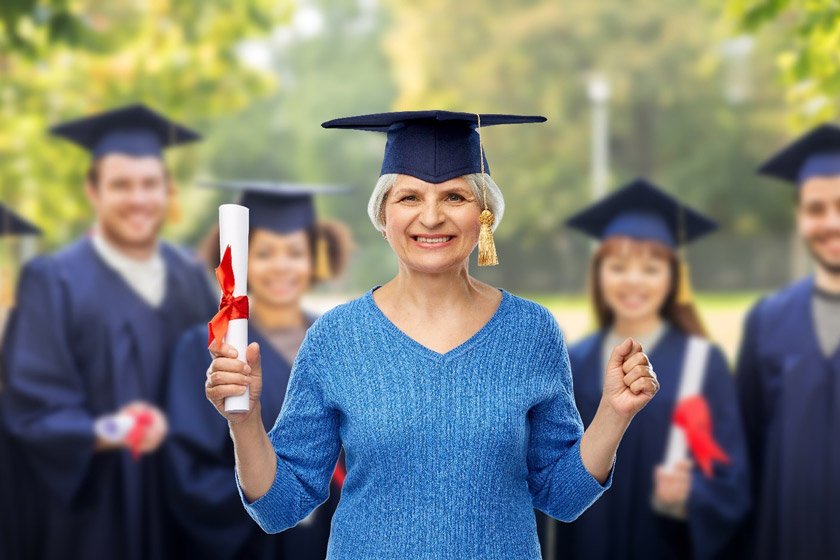 Ph.D. Programs
By having a master's or even bachelor's degree, you can therefore pursue Ph.D. programs in your field of study. For example, some of the exciting Ph.D. degrees among older adults are:
Biology
Botany
Conservation
History
Law
Literature and writing
Philosophy
Free College and University Programs for Seniors 
Fortunately, some universities in Canada provide tuition-free programs for seniors. However, the decision about tuition waiver costs depends on each university. Therefore, the best way to have detailed information about tuition for seniors and other rules and policies for each college and university is by checking each university's website.
In the table below, we gather some Canadian universities that offer tuition-free courses and programs for seniors.
Canadian Universities That Offer Tuition-Free Courses and Programs for Seniors

University
Age of eligibility
University of British Colombia
65 and older
University of Calgary
65 and older
University of Saskatchewan
65 and older
University of Manitoba
65 and older
Guelph University
65 and older
McMaster University
65 and older
York University
60 and older
Concordia University
55 and older
Dalhousie University
65 and older
Note that this is not an ultimate list and will be changed in the future.
However, with the advent of technology, we are witnessing that some online courses and degrees in different universities are now available for seniors and youngsters. These online courses especially become more prevalent during the COVID-19 pandemic.
Canadian Universities Degrees and Programs for Older Adults
Below you can find some tuition-free programs and also degrees offered to senior citizens.
University of British Columbia
Suppose you are 65 or older in the session you are registered, a Canadian citizen or a permanent resident. In that case, you can apply for general interest courses at Access Studies. Designed for retired and also semi-retired adults, Tapestry Wesbrook Village's Elder Scholar Program is open to adult learners. The program offers lectures, seminars, study groups, and also walking tours.
For more information, visit ubc.ca.
The University of Calgary
The University of Calgary waives tuition fees for undergraduate, direct-entry bachelor's level courses for senior citizens, including Accounting, Actuarial Science, Ancient and Medieval History, Anthropology, Architecture, Art History, and also Astrophysics. 
For more information, visit ucalgary.ca.
University of Saskatchewan
Students aged 55 and older can take non-degree courses through the Saskatoon Seniors Continued Learning program, they are also in partnership with the College of Arts & Science. Popular courses in literature, politics, science, history, religion, and also the arts are offered.
However, Courses are currently taught online and presented annually in three terms.
For more information, visit Saskatoon Seniors.
University of Manitoba
Senior students at the University of Manitoba do not have to pay application or tuition fees if they are 65 or older and are also Canadian citizens or permanent residents. Course, student union, and associated fees are also included.
Over 100 courses are offered, for example, Accounting, Business, Anthropology, and History.
For more information, visit umanitoba.ca.
McMaster University
McMaster Learning for 55+ is now offering online classes to older adults. There are, for example, many opportunities for older adults in the areas of arts and literature.
Other available courses also include science and technology, health and wellness business, and innovation.
For more information, visit McMaster.
York University
Senior citizens at York University are eligible for a tuition fee waiver. However, that is limited to the number of tuition fees assigned to domestic, non-professional undergraduate arts, science, and other programs. Other available programs also include Learning Skills Services and Writing Centres.
For more information, visit Yorku.ca.
Concordia University
At Concordia University, the Faculty of Arts and Science offers most courses. Also, upon permission of the department, specific courses at the John Molson School of Business are available for seniors.
For more information, visit concordia.ca.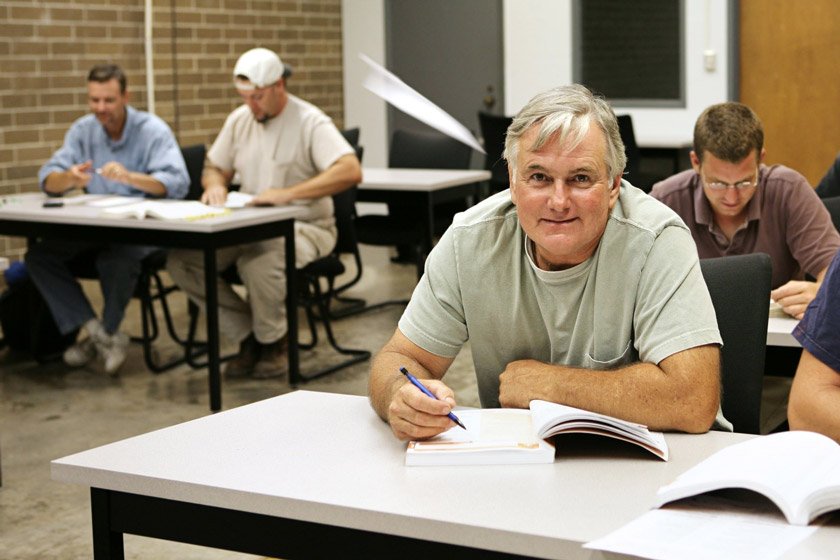 Final words
Seniors have more free time to schedule based on their desire. Therefore, many choose to go back to the university. Consequently, attending the university has several benefits for seniors. Besides, several universities in Canada offer the best degrees for seniors as tuition-free programs. For the same reason, this article summarized some of the best degrees for older adults in Canada and the institutions that provide tuition-free courses.
And also, here is an inspirational story for you to make your decision.