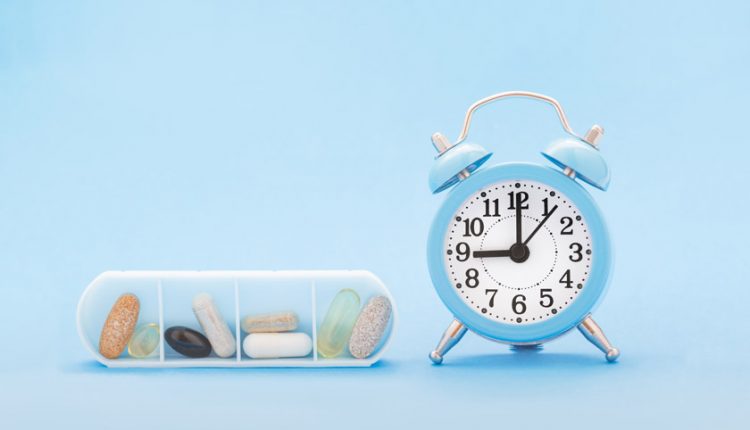 When it comes to taking your medications properly, you may have several concerns. Usually, the more pills you need to take, the more likely you worry. The good news is that several tools are available to help you never miss a pill and let go of the anxiety of forgetting one. A pill organizer is an excellent option for people who take medication. Pill organizers consist of several compartments, sometimes referred to as cells. A pill's location in each cell is determined by time.
Based on your medications and cognitive abilities, you should choose the best pill organizer that meets your needs. A weekly pill organizer with one box per day might be sufficient if your doses are simple.
In contrast, if you take different pills at specific times of the day, a dispenser with designated compartments for morning, afternoon, and evening might work better for your needs. If you frequently forget to take your medication, you may need an automatic dispenser or a pill organizer that will release the appropriate dose at the appropriate time. Here are the ten best pill organizers of 2021.
1. GMS Four-a-Day Medication Organizer: Best for Multiple Doses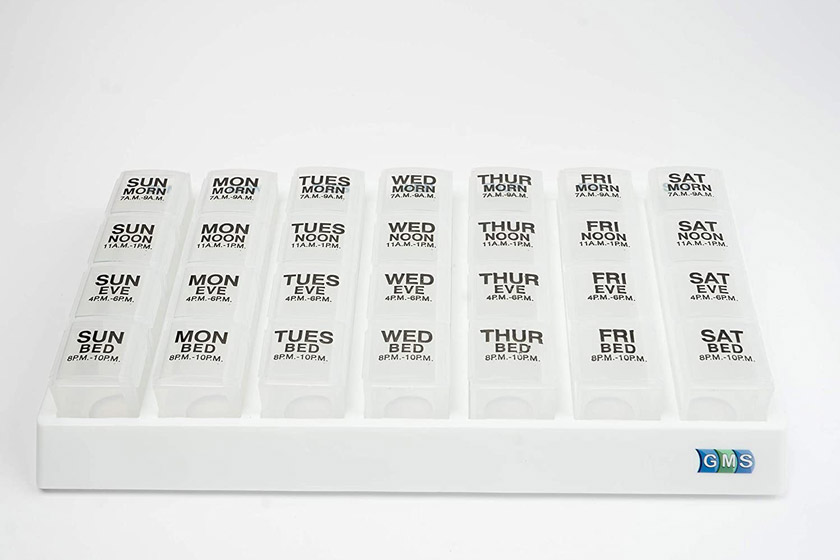 With the weekly pill reminder, you can stay organized and on top of your medication schedule. Each compartment is labelled with the time of day, morning, noon, evening, and bedtime; so that you can take the appropriate dose at the right time—four compartments in a daily container, each with a braille marking. Thanks to its large size, there is plenty of room for storing all of your pills and medications. This pill organizer is also detachable and travel-friendly; You can remove the durable daily pillboxes from the slant tray and pack the pillboxes easily into a purse, a bag, or backpack and be prepared for a day of travel.
2. MEDca Monthly Pill Organizer: Best Monthly Pill Organizer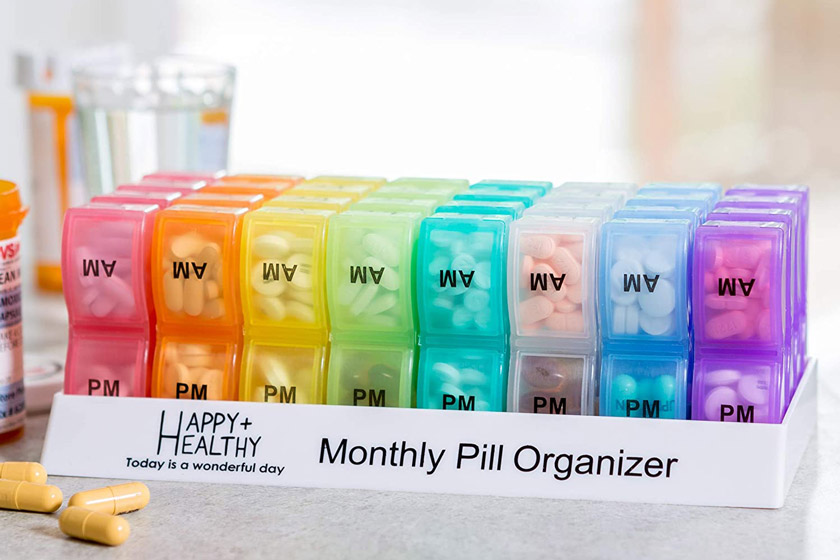 Thanks to its colour-coordinated and neatly packed 32 semi-transparent containers, the MEDca Monthly Pill Organizer prepares you for the entire month. Each container is dated on two sides, one for morning and the other for the evening. You can easily remove each container from the grid. However, the compartments are small and not suitable for large pills. Each MEDca Pill Organizer is made of translucent food-grade PP material that's odourless and BPA-free.
3. Xinhome Pill Organizer Box Weekly Case: Best Portable Pill Organizer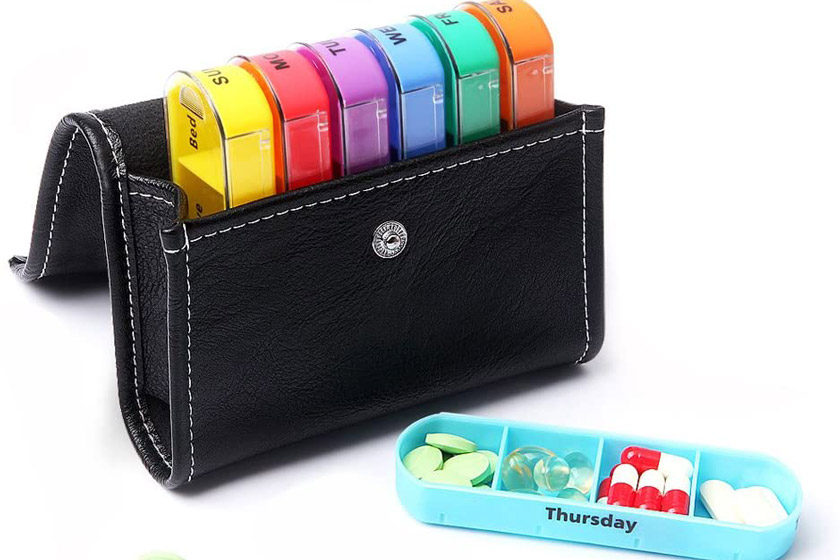 This pill organizer easily fits your bag, making it convenient for travel and daily use. The leather case makes it almost impossible for anyone to guess where your pills are hidden. There are seven BPA-free compartments inside, divided into four sections: morning, noon, evening, and nighttime. Lids slide open and do not require a twisting motion to open.
4. e-Pill MedSmart Plus: Best Pill Organizer with Reminder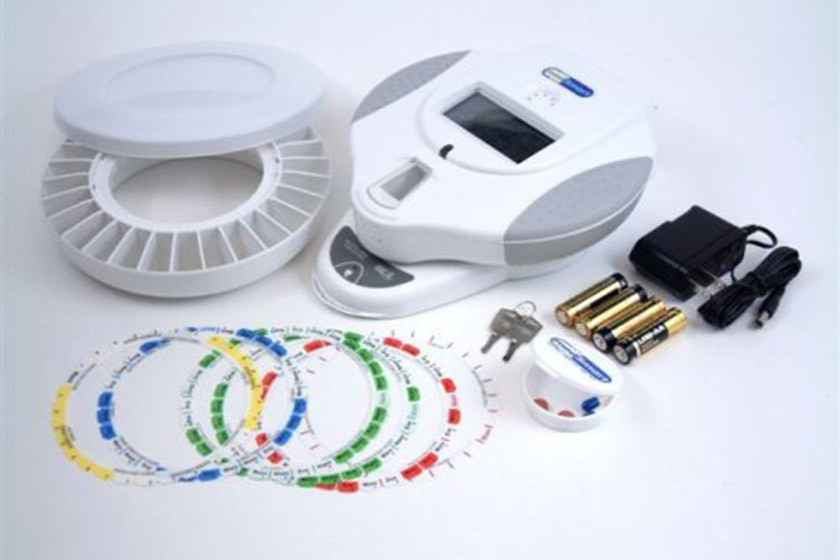 When you forget to take your medication at a particular time, you might benefit from a pill organizer or automatic pill dispenser that alerts you when it's time to take your medication. This pill organizer is easy for the elderly to use. If medications are not taken within 60 minutes of the scheduled alarm, the system calls or texts the designated number.
E-Pill MedSmart Plus is also easy to set up and fill. The organizer provides up to six doses per day. There's a loud alarm and a flashing light. A key locks it, so people cannot take medications before their designated time. The machine shows where to press when pills are ready to be removed. As it can store up to 28 days' worth of medication, a caregiver will not need to refill frequently.
5. Seven-Day Weekly Pill Organizer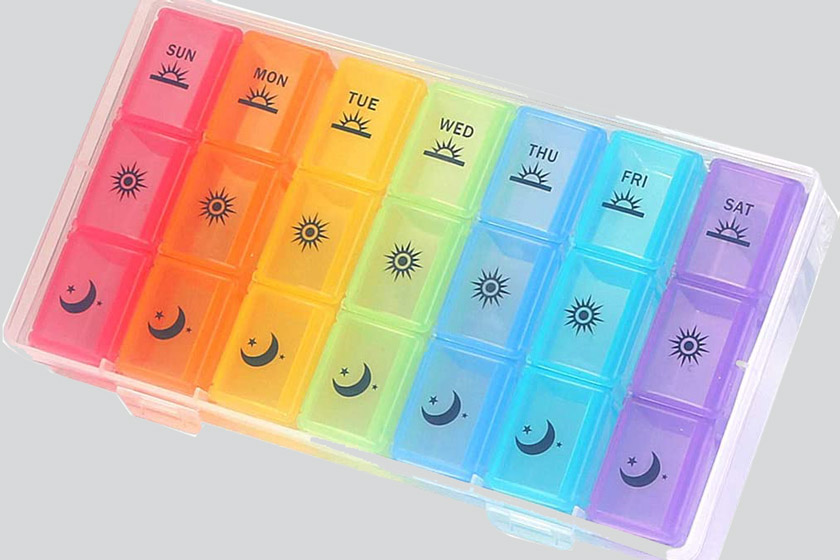 The pill cases are compact and removable, making them easy to use on the go. Each compartment contains three separate compartments that allow pills to be organized based on the time they need to be taken: morning, noon, or night. Its unique qualities include protecting against moisture, and its sealed buckle secures all the pills in place, so spillage or sneaky children are never an issue. However, this pill organizer is not easy for some users to open.
6. Ezy Dose Weekly Pill Organizer and Planner: Best for Arthritis Hands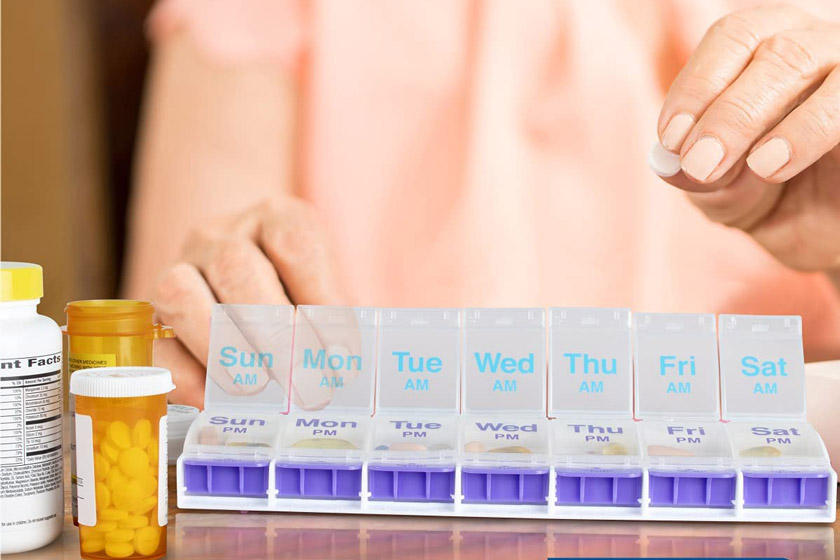 It is painful enough to deal with hand issues such as arthritis that cause joint inflammation and tenderness. There's no reason to add to your discomfort with a pill organizer that's hard to handle. Most easy-open pill organizers have a pop-up button that makes opening the box more straightforward, especially for people with arthritis or a weak grip. To make medication retrieval easy, the Ezy Dose Push-Button features push buttons and rounded bottoms. The clear lids of the planner make medication easy to see.
7. Sagely Smart XL Weekly Pill Organizer: Best for Large Pills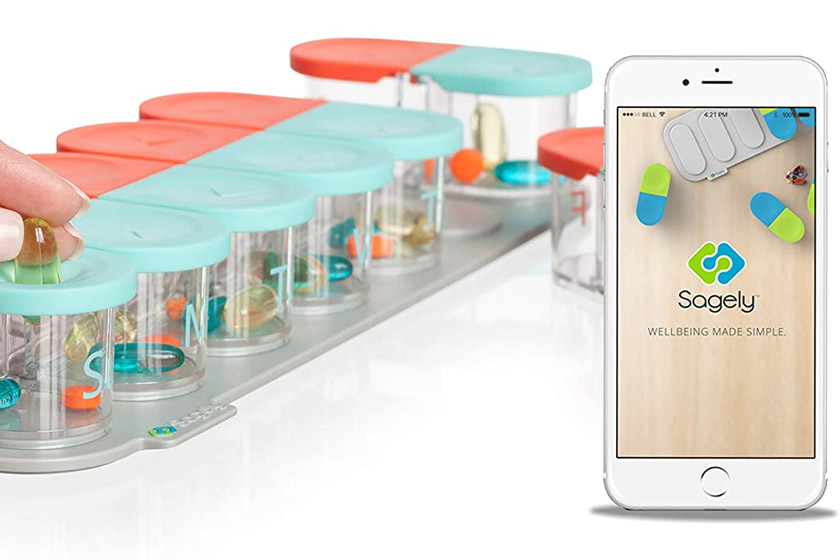 Extra-large pill organizers can accommodate large pills, such as fish oil and vitamin supplements. People with arthritis who have difficulties taking the pills out of the small compartment may benefit from extra-large cells. This organizer sorts seven days of morning and evening medication or 14 days taken once a day. The containers are BPA-free and easy to fill with a push-through lid option for people living with arthritis. You can separate the containers to fit in a purse or bag, and a free app will remind you to take your pills.
8. Gogooda Weekly Pill Organizer: Most Affordable Weekly Pill Organizer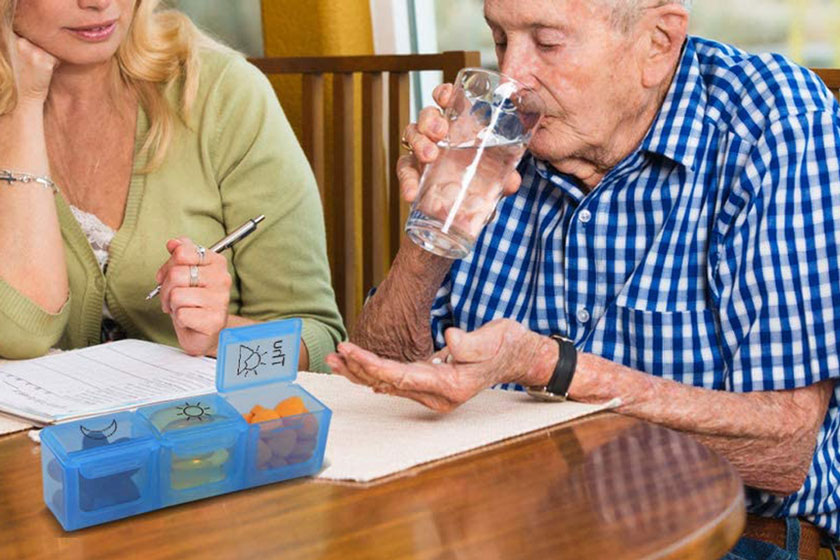 It is easy to remove each of the seven pillboxes from the case for on-the-go use, and they divide into the morning, noon, and evening medications with individual snap-locks. There are three snap locks on each section, and all seven sections fit securely into a clear case with snap locks. If you require additional protection or reminders, you'll have to invest in another option since there isn't a security lock, alarm, or automatic distribution.
9. Hero Automatic Medication Dispenser: Best Automatic Pill Dispenser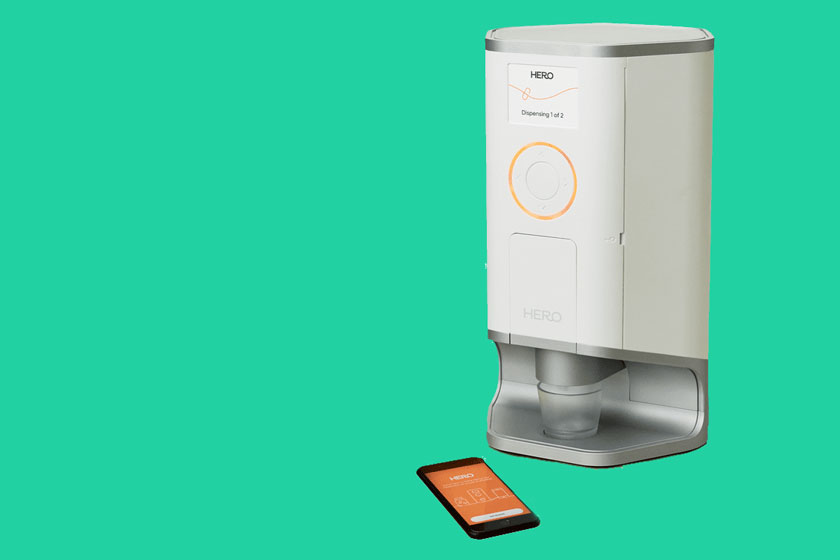 Automated medication dispensers help relieve your concerns for an ageing parent, spouse or loved one forgetting to take medication or taking pills too frequently. When using an automatic pill dispenser, which can handle several weeks of medication and multiple pills, you enter your medication schedule and dosage, and the machine automatically distributes the pills.
Hero dispenser reminds you to take medication using an audible and visual alarm. It also has an app to remind you or a caregiver. The device has an optional PIN password to keep medications safe. There is enough space for 90 days of medication. Additional subscription services like automated prescription refills are also available. There's also 24/7 human support available. Hero requires a subscription and monthly payment.
10. Asobu Daily Pill Box Organizer Water Bottle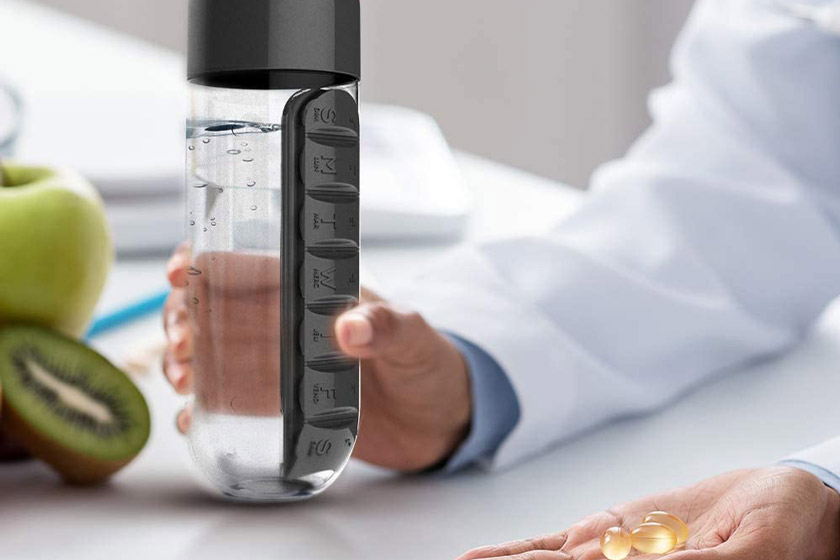 Despite its striking differences from traditional pill organizers, this water bottle-slash-pill-case features labelled compartments for every day of the week and slides into a groove in the drink bottle that appears large enough to accommodate a few pills per day. The water bottle has the capacity for about two and a half cups of water and is excellent for work or travelling. You can easily remove the parts to wash and refill your bottle.
Final Words
By using a pill organizer, you can minimize medication errors. A pill organizer is most useful for people who take several medications and supplements since it allows them to track when to take each.
It's always better to be cautious than sorry.