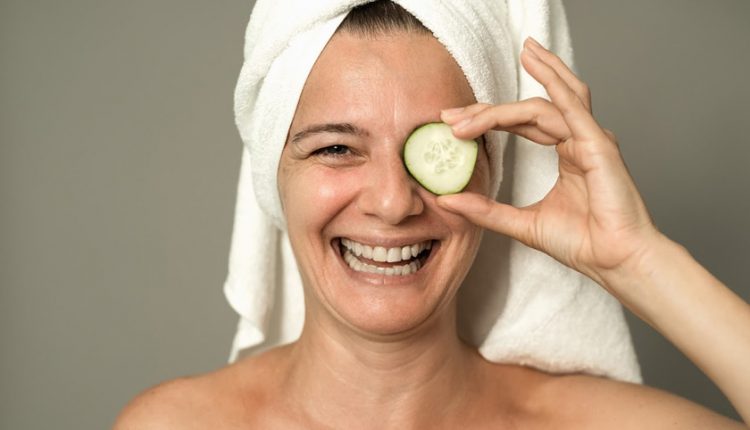 10 Best Anti-Aging Face Masks for Women over 60
Our skin undergoes a lot of changes as we age, and we cannot reverse these changes. But there are some ways to look younger at 60. The signs of ageing include wrinkles and sagging skin. We can indulge in a skincare routine that will help us fight the signs of ageing and make us look younger. Anti-ageing face masks are one of these must-haves. These face masks help you battle the signs of ageing like wrinkles, fine lines and dark spots.
Best Anti-Ageing Face Masks
Among the most apparent signs of ageing is a change in the skin. It is possible to reduce the appearance of fine lines and wrinkles with regular facial treatments, and it may also promote firmer, tighter skin. Using a facial mask once or twice a week can target specific skin concerns, such as visible ageing, large pores, or dull skin. You will also feel relaxed and stress-free. Here are five of the best face masks for mature skin according to users and five anti-ageing face masks at home that you can use to have healthier skin.
1. Glycol Lactic Radiance Renewal Mask by REN Clean Skincare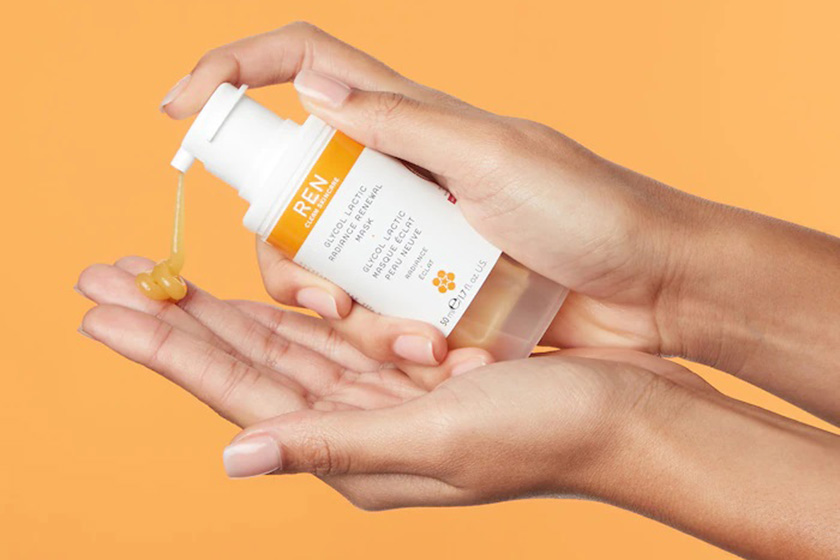 You can brighten your skin, get glowing, and tighten the look of your pores with this face mask. Glycol Lactic Radiance Renewal Mask exfoliates skin, firms and evens skin tone while restoring a glow with all-natural fruit-derived acids. The unique ingredients of this face mask include Pineapple extract, which contains glycolic acid that gently exfoliates dead skin cells. Lactic Acid from Passion Fruit to Smooth and refine the texture of the skin. Glycol Lactic Radiance Renewal Mask is suitable for dry, combination and oily skin types.
2. Honey Potion Renewing Antioxidant Hydration Mask by Farmacy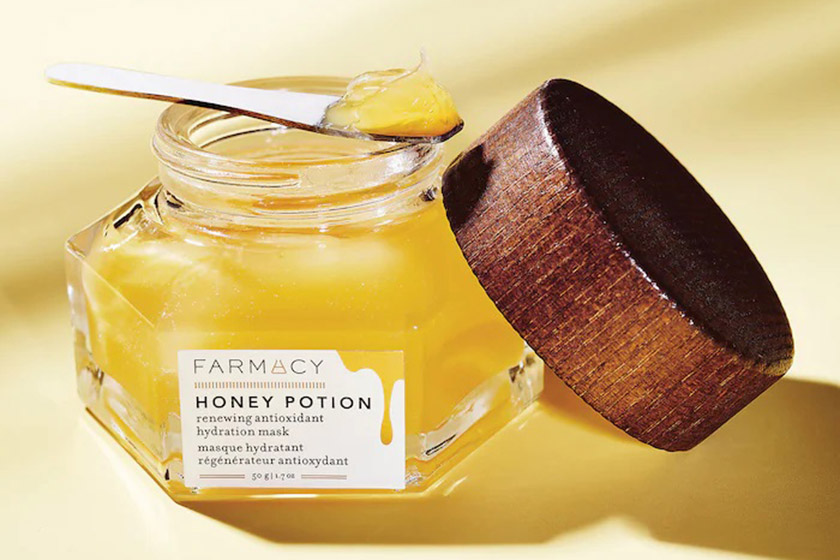 The Honey Potion face mask is a warming honey mask infused with antioxidants and essential B vitamins to hydrate, smooth, and revitalize the skin. Applying this face mask leaves the skin glowing. The honey face mask warms up when applied, giving it a luxurious feel. Furthermore, it is easily rinsed off, leaving your skin soft and supple. Providing nourishing hydration, Farmacy's antioxidant-rich honey and glycerin provide soothing and humectant properties. This product is cruelty-free, gluten-free, and is suitable for normal, dry, combination, and oily skin types.
3. Rose Face Mask by Fresh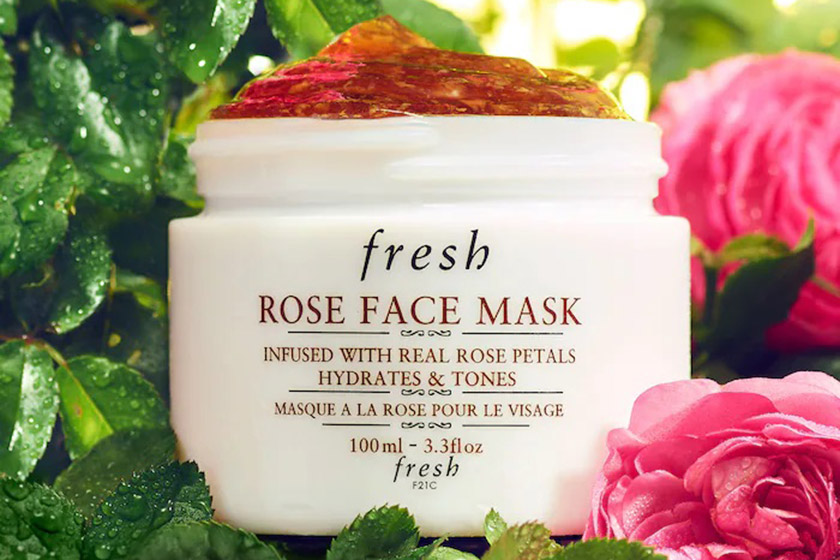 Rose Face mask is one of the highest-rated masks by users. This hydrating mask contains real rose petals suspended in a silky gel that soothes, tones, and plumps the skin. Its new classic formula drenches skin in rosewater, cucumber extract, and aloe vera gel to instantly cool and calm. Hydrating microalgae extract Porphyridium cruentum helps maintain moisture levels for soft, supple skin. This skincare product smells like fresh roses, too. This face mask is suitable for normal, dry, combination, and oily skin types.
4. Moisture Surge Overnight Face Mask by Clinique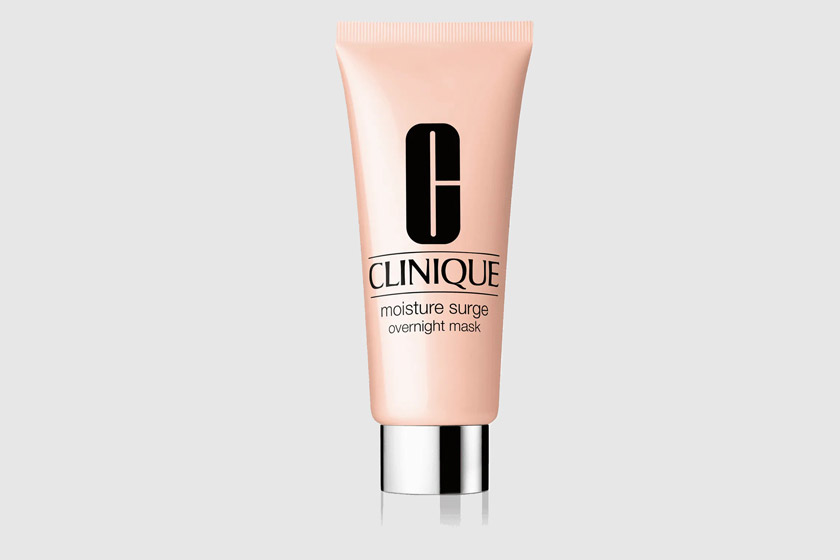 An oil-free, creamy facial mask that moisturizes your skin while you sleep. You'll wake up glowing in the morning. Night after night, this rich, penetrating mask replenishes your skin. This mask helps the skin remain hydrated by soothing and nourishing. Moisture Surge Overnight Face Mask is suitable for dry, dry combination, normal and oily skin types. It is also non-acnegenic, and ophthalmologist tested.
5. THIRSTYMUD 24-Hour Hydrating Treatment Face Mask by GLAMGLOW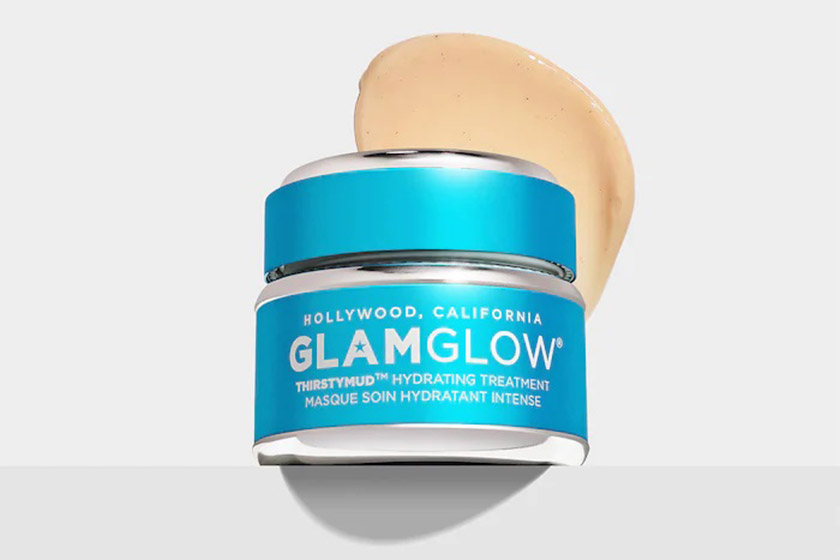 This face mask is an excellent choice for seniors with dry skin. The ingredients of this face mask include Hyaluronic Acid to continually hydrate the skin, ginger, coconut, and honey to reenergize thirsty skin by smoothing and rehydrating it. The mask provides an intense boost of soothing hydration for up to 24 hours, relieving thirsty skin with an intense wave of hydration.
6. Turmeric and Almond Anti-Aging Face Mask
Turmeric and sweet almond oil reduce wrinkles and fine lines and keep the skin smooth and flexible. At the same time, oat flour has anti-inflammatory properties. Vitamin E protects the skin against free radicals by acting as an antioxidant.
Ingredients: One teaspoon turmeric, one tablespoon sweet almond oil, two drops of vitamin E oil and oatmeal powder.
To make this anti-ageing face mask at home, blend turmeric powder, sweet almond oil, and vitamin E. Add oatmeal powder until desired consistency is reached. Apply the mask and let it sit for 10 to 15 minutes.
7. Banana Face Mask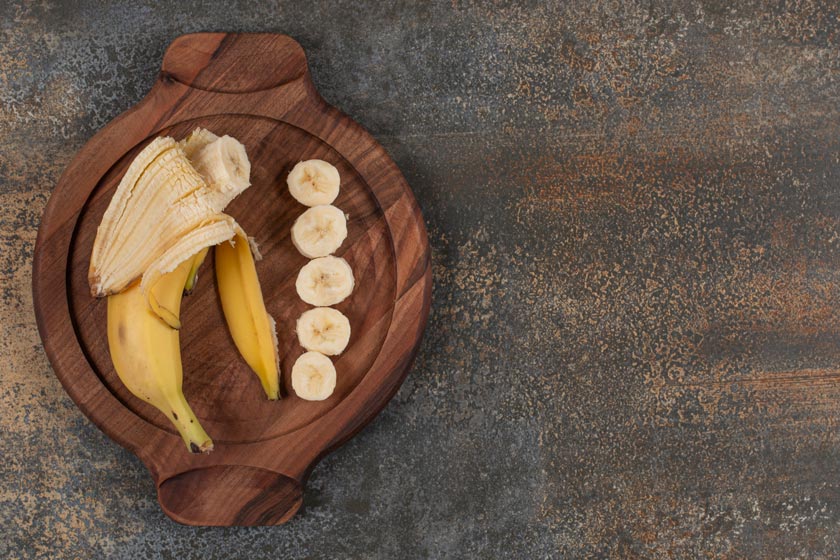 Banana can be an excellent anti-ageing face mask at home. Natural oils and vitamins found in bananas contribute to skin health.
For a smooth paste, mash a quarter of a banana until it becomes smooth. Apply a thin layer of banana paste to your skin and let it sit for 15 to 20 minutes before washing it off with warm water.
8. Avocado and Cocoa Powder
Avocados and cocoa powder boost collagen production, while honey hydrates and softens skin, making this mask an excellent anti-ageing face mask at home.
Ingredients: two avocados, one tbsp. Raw honey, two tbsp. Cocoa powder.
Add the cocoa powder and honey to the avocado and mash until smooth. Apply the mask to your face gently. Leave it on for 20 minutes, and then rinse with warm water.
Aloe Vera Anti-Ageing Face Mask
Aloe vera has several healing properties. According to studies, daily taking a gel aloe supplement reduces the appearance of wrinkles in just 90 days. Adding aloe gel to the skin significantly reduces wrinkles as well as adding collagen and hydrating the skin. Here are two of the best Aloe vera mask for the face you can use for healthier skin.
9. Aloe Vera and Coconut Oil Mask for Moisturizing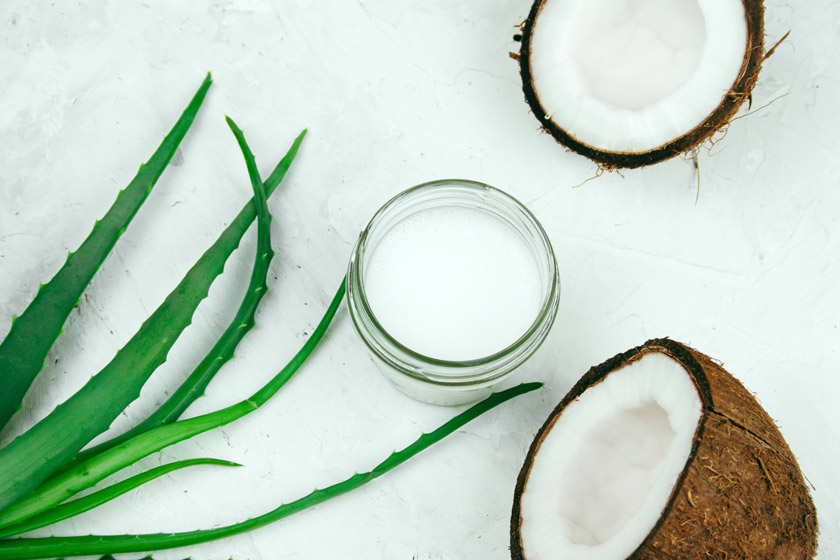 This Aloe vera mask for the face is an excellent option for those with dry skin. When it comes to dry, flaking skin, coconut oil or olive oil, if that's all you have, is the best choice. Coconut oil is an excellent natural moisturizer for the skin, especially for those who suffer from eczema. Combined with aloe vera, it makes a hydrating mask. Since Coconut oil can cause breakouts, If you suffer from acne, proceed with caution. So take extra precautions if you're prone to breakouts.
10. Aloe Vera and Honey Mask for Skin-Soothing
The soothing effects of honey make it the perfect addition to an aloe vera mask for the face. Honey has antibacterial properties, and adding honey to your aloe vera mix can reduce redness, reduce scarring, and moisturize the skin. It's best to use less honey than aloe, or the mixture will be pretty sticky.
How Do You Use Anti-Ageing Aloe Vera?
Aloe vera, the original natural sunburn reliever, has many outstanding skin benefits: It's a primer for applying foundation, a makeup remover, and a moisturizer. Some people may suffer from contact dermatitis after using aloe vera, so you'll want to ensure you don't get any irritation before applying a full-on face mask. In terms of measurements, aloe is recommended as a 1:1 ratio to the add-ins. However, you can change the ratio based on the mask's overall texture and how evenly it spreads. You can use this instruction to make your Aloe vera mask for the face.
In a bowl, mix the aloe vera with the other ingredients until you get a spreadable consistency, don't make it too runny.
Put the mask on your face for 5 to 10 minutes, and then rinse off. If you let it sit on the skin too long, it can lose its moisturizing effect and irritate.
Be sure to wash and tap dry your face thoroughly.
Keep all the moisture in by applying oil or moisturizer for elderly skin.
Final Words
Everyone develops wrinkles as they age, especially in parts of the body exposed to the sun, like the face, neck, hands, and forearms. Even though wrinkles are a natural part of ageing, there are many ways to prevent them and reduce their appearance. Using face masks is one of the best ways to have healthier-looking skin.