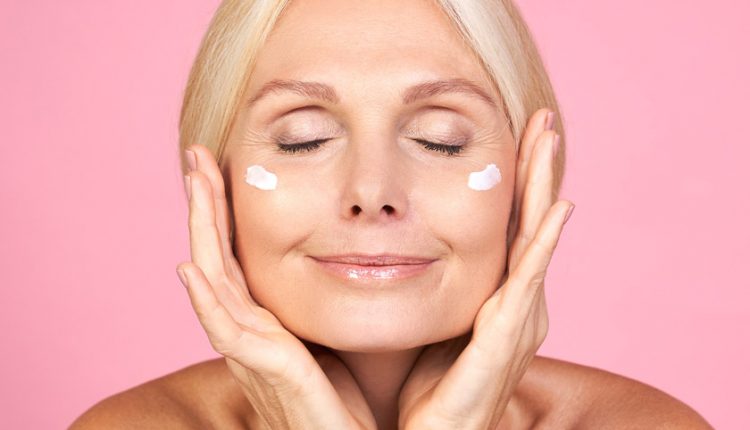 12 Best Moisturizers for Elderly Skin
The health of our skin is influenced by many factors, including age, gender, genetics, lifestyle factors like exercising, sleeping, eating, and following a skincare routine, and environmental factors such as pollution, climate and sun exposure. As we approach the age of 50 and 60s, we may notice signs of ageing on our skin. Collagen supports solid and smooth skin; as we age, collagen production decreases. In addition to providing strength to our skin, collagen also aids in skin hydration, elasticity, radiance, and bounce, enhancing our youthful appearance.
A moisturizer emits oil and water plus other ingredients to nourish, treat, and preserve the skin, which helps replenish hydration and protect against dryness. Moisturizing creams should contain emollients and fatty acids, which act like the skin's natural lipids and promote ceramide production.
What Is the Best Skincare for over 60?
Make sure you buy a product formulated for your skin type and use the skincare tips for seniors. Skincare products for anti-ageing, such as sunscreen, moisturizer, and other products, work best if formulated for your skin type. You might select an oil-free moisturizer if your skin is oily. If you have sensitive skin, you should see the words "sensitive skin" on the label. Choose a sunscreen with at least SPF 15 protection. The best sunscreens have broad-spectrum labels. If you are outdoors, reapply your sunscreen every two hours.
Keep in mind: The skin's ageing process cannot be fully reversed by any product. You may look older if you use more than one anti-aging product in a short period. Here are the best moisturizers for elderly skin.
1. Peter Thomas Roth Water Drench Hyaluronic Cloud Cream, for Oily Skin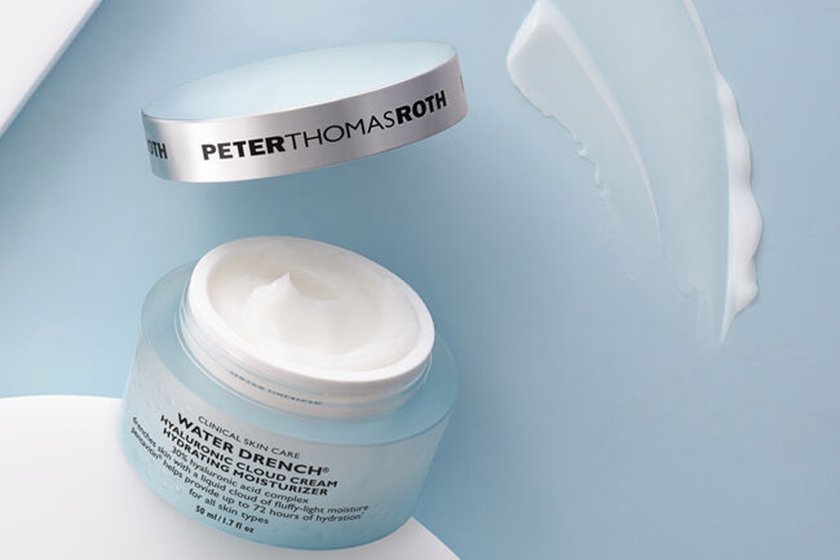 Water Drench Hyaluronic Cloud Cream from Peter Thomas Roth hydrates your skin with lasting moisture. This moisturizer is a perfect choice for older adults with oily skin. Hyaluronic acid cream, 30% concentrated, transforms atmospheric vapour into pure fresh water from the clouds, hydrating your skin continuously for up to 72 hours—non-greasy, non-alcoholic, non-fragranced. It helps reduce the appearance of fine lines and wrinkles, leaving a silky, hydrated, and more youthful-looking figure.
2. bareMinerals Complexion Rescue Tinted Hydrating Gel Cream SPF 30, for Uneven Skin Tone

This three-in-one multitasking makeup product combines a moisturizer, a skin tint, and an SPF 30. The lightweight gel cream visibly evens skin tone and blurs imperfections while boosting skin hydration in just one week with Hyaluronic Acid. With 20 shades to choose from, this moisturizer suits all skin tones and undertones.
3. Cetaphil Rich Hydrating Night Cream, for Acne-Prone Skin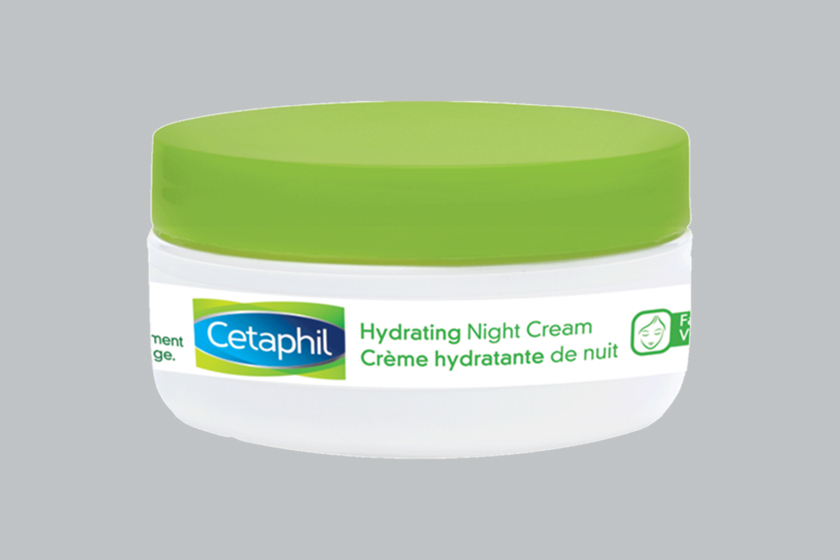 This moisturizer nourishes the skin to provide intense overnight hydration for normal to dry skin. It contains hyaluronic acid, olive extract, and pro-vitamins A, C, and E. Cetaphil Rich Hydrating Night Cream are dermatologist tested and is suitable for sensitive skin. Another great thing about this moisturizer is that it is paraben and fragrance-free and leaves the skin feeling soft, smooth, and bright in the morning.
4. Revision Skincare Vitamin C Lotion 30%, for Dull Skin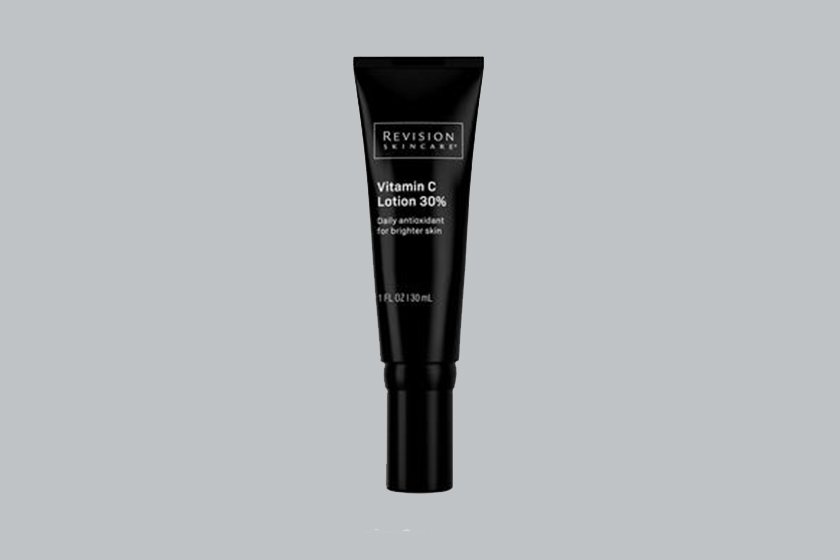 By using Vitamin C Lotion, you can reduce the appearance of fine lines and wrinkles. This vitamin C lotion is a perfect moisturizer for older adults. It is Combined with vitamins C, E, and Q10 to reduce fine lines, wrinkles, and loss of firmness and fight dull skin. With its 30% concentration and time-released formula, this Vitamin C product is one of the most potent and effective.
5. Olay Regenerist Micro-Sculpting Cream Fragrance-Free, for Uneven Skin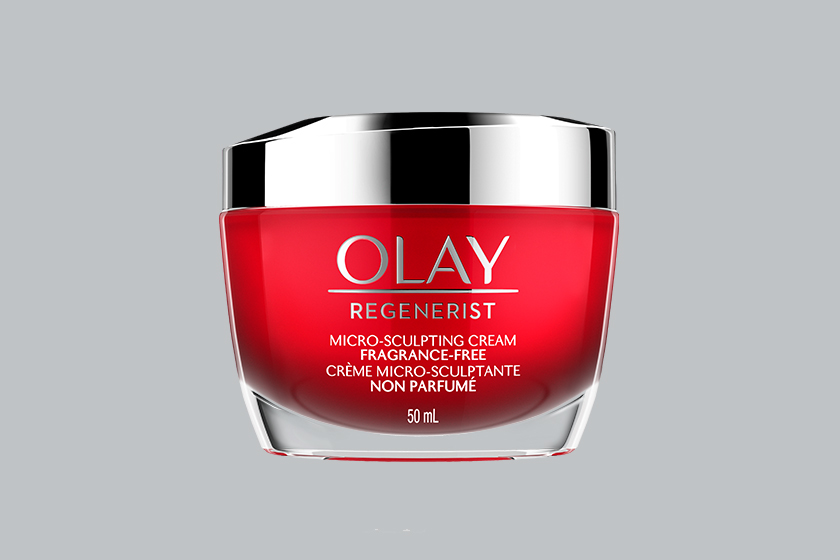 Regenerist Micro-Sculpting Cream is a good choice for moisturizing. This product contains a highly effective Amino-Peptide Complex that penetrates deeply into the skin's surface and visibly reduces wrinkles: Micro-Sculpting Cream Fragrance-Free hydrates and tones the skin with hyaluronic acid, amino peptides, and vitamin B3.
6. RoC Retinol Correxion Max Daily Hydration Anti-Aging Crème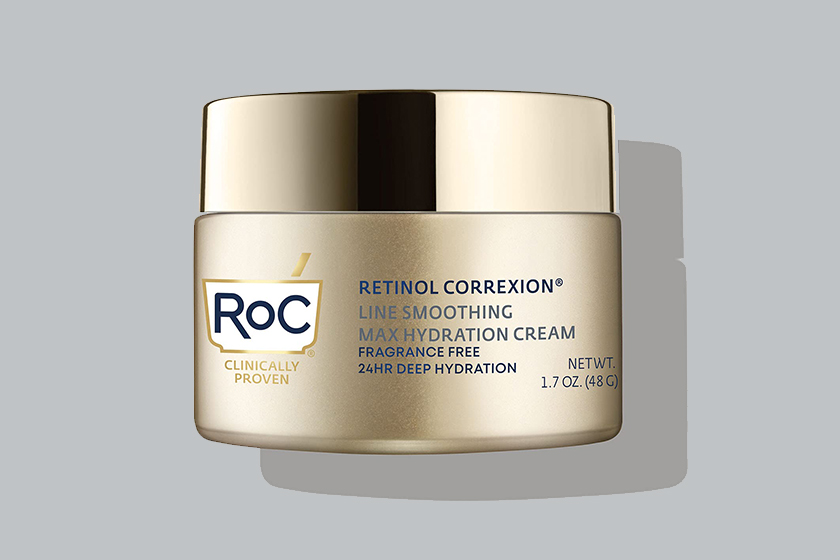 This anti-wrinkle treatment will make your skin look younger and healthier. In addition to quickly moisturizing and leaving skin deeply hydrated, this cream smooths out the appearance of fine lines and wrinkles for 24 hours. This moisturizer is Composed of anti-ageing Hyaluronic acid and pure RoC Retinol to replenish and rejuvenate skin.
7. La Roche-Posay Toleriane Double Repair Face Moisturizer, for Sensitive Skin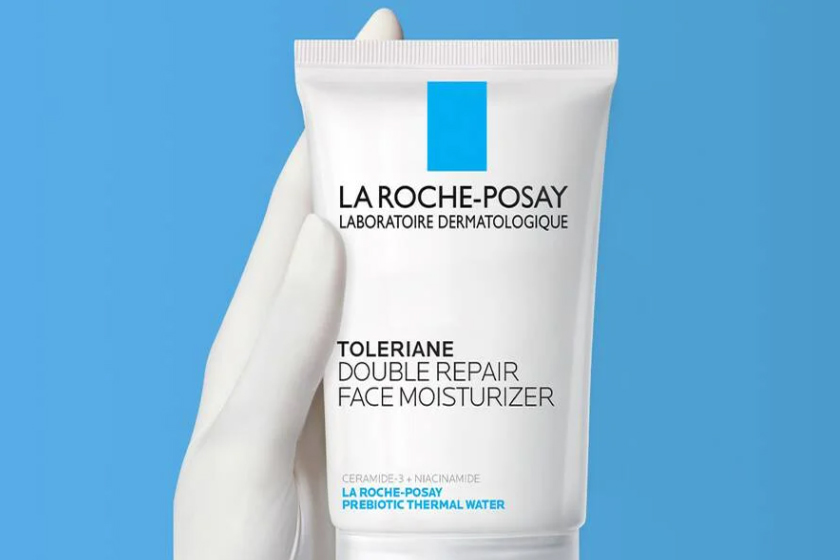 With dermatologist-recommended ingredients such as ceramide-3, niacinamide, glycerin and La Roche-Posay Prebiotic Thermal Water, Toleriane Double Repair Face Moisturizer minimizes the appearance of fine lines and wrinkles. All skin types can use it, including sensitive skin. It helps restore the appearance of healthy-looking skin.
What Helps Dry Skin in the Elderly?
Dry skin spots are common among older people, especially on their lower legs, elbows, and lower arms. As we age, our glands become less efficient at sweating and producing oil; besides that, the following factors may contribute to dry skin:
Feeling stressed
Being too exposed to the sun or tanning too much
An extremely dry, cold, or low in humidity environment
Dehydration
The use of harsh soaps and detergents
Smoking
Taking hot, and long showers
How to Prevent Dry Skin?
Dry skin is sometimes a temporary condition, but it can also be a lifelong problem. To prevent excessive dryness of skin, follow these tips:
Keep water exposure to a minimum.

Rubber gloves are helpful when immersing your hands in water or if you have to use harsh cleansers.

Cover your skin as much as possible when it's cold or windy.

Use cleansing creams, mild cleanser, and shower gels that include moisturizers.

Choose a sunscreen with at least SPF 15 protection. The best sunscreens have broad-spectrum labels.

Use a moisturizer for dry skin.
Ensure that your skin has some moisture left after bathing, showering, or shaving and then moisturize. First, apply the moisturizer and then sunscreen.
Best Moisturizer for Dry Skin
Skin becomes thinner, dryer, less elastic, and more challenging to protect against damage during ageing. Moisturizers can prevent and treat dry skin. As well as protecting sensitive skin, improving skin texture, and masking imperfections, they can also enhance the look of the skin. Here are the best moisturizers for seniors with dry skin.
8. Vichy Aqualia Thermal Rich Cream Moisturizer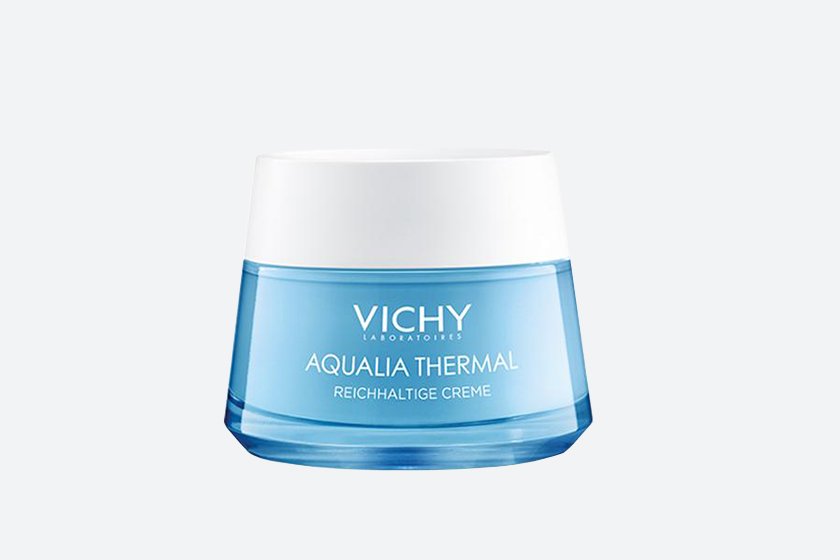 Aqualia Thermal Rich Cream is one of the best moisturizers for seniors with dry skin. This cream gives skin an instant glow, feels comfortable, stays hydrated for 48 hours, and keeps skin looking healthy. Using 97% natural ingredients and Hyaluronic Acid, this rich cream moisturizes and replenishes dry skin while fortifying it with Vichy mineralizing water and plant sugar mannose.
9. SkinFix Barrier+ Triple Lipid-Peptide Face Cream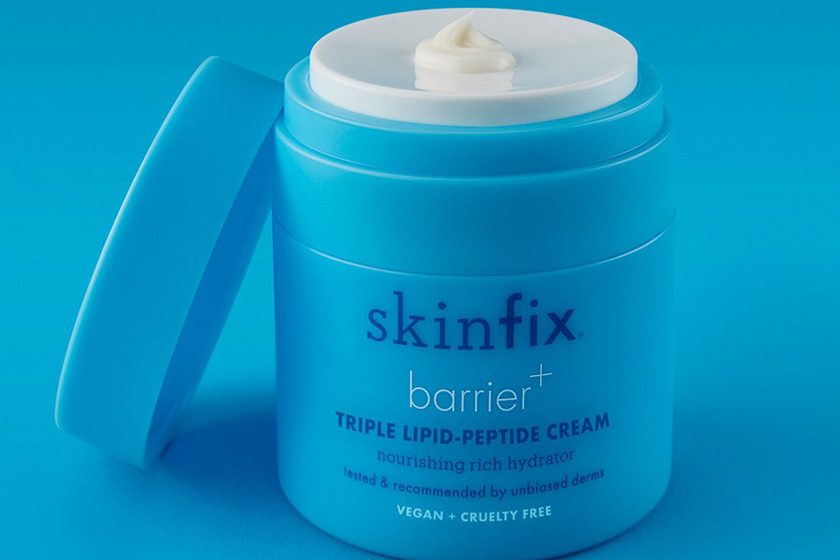 This nutrient-dense cream contains seaweed hyaluronate and lily root to maximize the cream's hydration. The 95-percent naturally-derived, nutrient-dense cream is made with a high concentration of active ingredients for optimal hydration. It moisturizes and enhances radiance for healthy-looking, nourished skin. Dermatologists have tested and recommended it, and it is noncomedogenic.
10. SkinCeuticals Triple Lipid Restore 2:4:2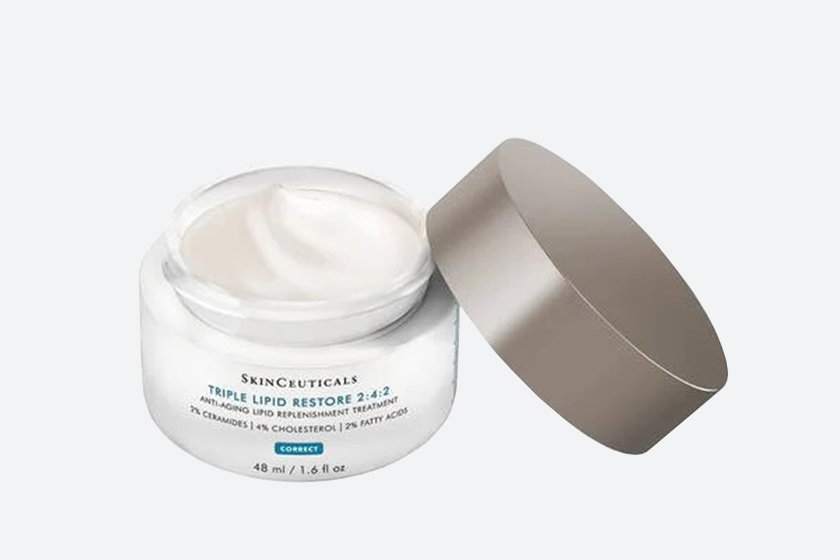 The Triple Lipid Restore 2:4:2 from SkinCeuticals is an anti-ageing cream formulated with 2% pure ceramides 1 and 3, 4% cholesterol, and 2% fatty acids. The formula nourishes dry skin and reverses signs of ageing. It helps to reduce the adjustment period to retinoids and combat dryness simultaneously. The product is ideal for skin types that are normal, ageing, and dry. Triple Lipid Restore is also paraben-and dye-free.
11. CeraVe Moisturizing Cream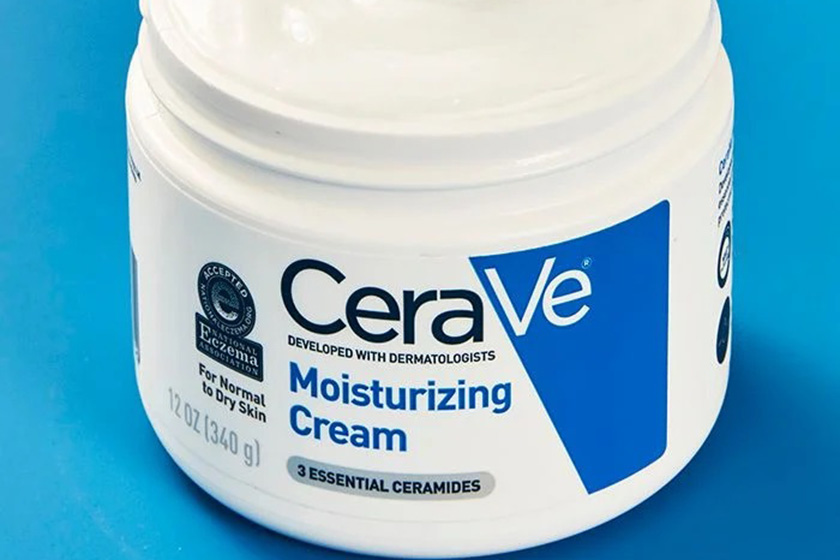 With its three essential ceramides and hyaluronic acid, CeraVe Moisturizing Cream effectively hydrates the skin and restores its protective barrier. A rich, non-greasy, fast-absorbing moisturizing cream developed by dermatologists and suitable for dry skin on the face and body. This moisturizing cream is fragrance-free and ideal for sensitive skin as it is oil-free and hypoallergenic.
12. La Roche-Posay Lipikar Balm AP+ Intense Repair Body Cream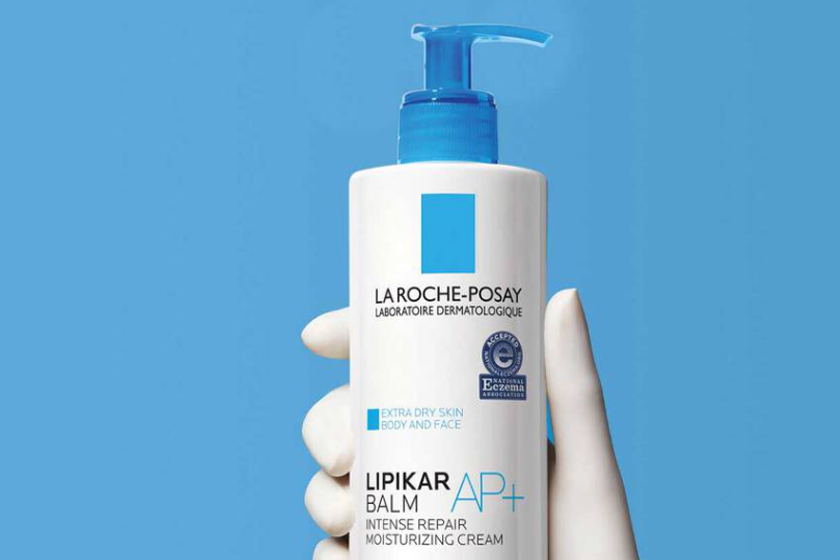 This body cream moisturizer features a unique prebiotic action for dry to extra-dry skin. For instance, clinical studies demonstrate that this product reduces dry skin, provides daily relief, and hydrates the skin for 48 hours. It contains Shea Butter, Glycerin, Niacinamide, and Aqua Posse Filiformis. Therefore, it relieves skin dryness and rebalances the skin microbiome.
Two tips for using a moisturizer:
Consult your doctor or dermatologist if regular moisturizing does not improve your skin's condition.
When using medicated creams, wait at least 30 minutes before applying a moisturizer. Be sure to follow the instructions on your medicine package.
Final Words
Using a moisturizer can help to minimize the appearance of wrinkles. Moisturizing creams cannot reverse decades of damage to the skin, but they can significantly reduce fine lines and wrinkles while improving hydration and delaying the signs of ageing. No single product can treat all signs of ageing skin, so choosing products that target your specific concerns is vital.