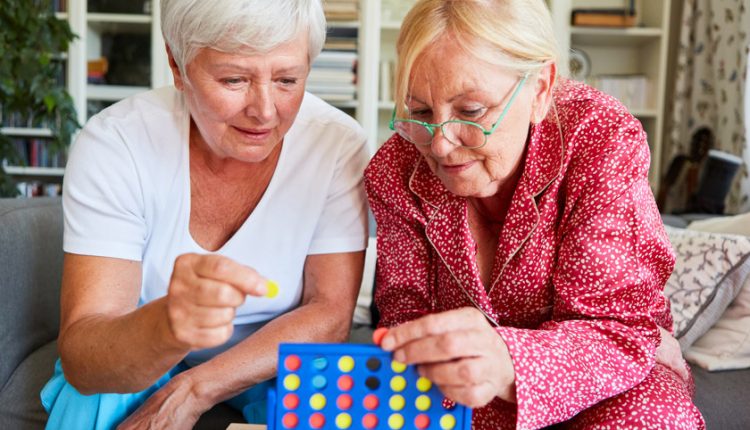 Mind Games and Brain Teasers for Seniors
At every stage of life, it is essential to keep the brain active. Playing brain games and solving puzzles provide mental exercise that reduces the risk of Alzheimer's and cognitive decline. There is no reason to assume that cognitive decline is inevitable with ageing. Practices and brain games for seniors can prevent memory loss and boost mental sharpness. Mind-teasers and strategy games for seniors provide a great mental challenge and enhance forming and retaining cognitive associations. In this article of Living Maples, we will read about the ten best mind games and brain teasers for seniors.
1. Word Games for Seniors
Playing word games for seniors is an excellent way to improve problem-solving skills. Word games such as crossword puzzles and Target Word help you expand your vocabulary as you discover new words and their meanings, but they have other unexpected benefits as well. Participating in mentally stimulating activities, such as word games, has been associated with improved cognitive function and may help reduce the risk of dementia. Are you a fan of word games? This is what we offer to you:
Witty Words Crossword Game For Seniors
2. Lumosity
Lumosity is an online program with games that claim to improve memory, attention, flexibility, speed of processing, and problem-solving capabilities. The minds behind this app were scientists and game designers who wanted to make entertaining games that stretch mental faculties. Initially, you take a "fit test," a basic game to see how you do and where your score falls based on your age. Once you complete a game, the app sends you the daily game that increases the difficulty as you progress. Lumosity shows you how well you're doing and where you need to improve by checking your dashboard.
3. Jigsaw Puzzles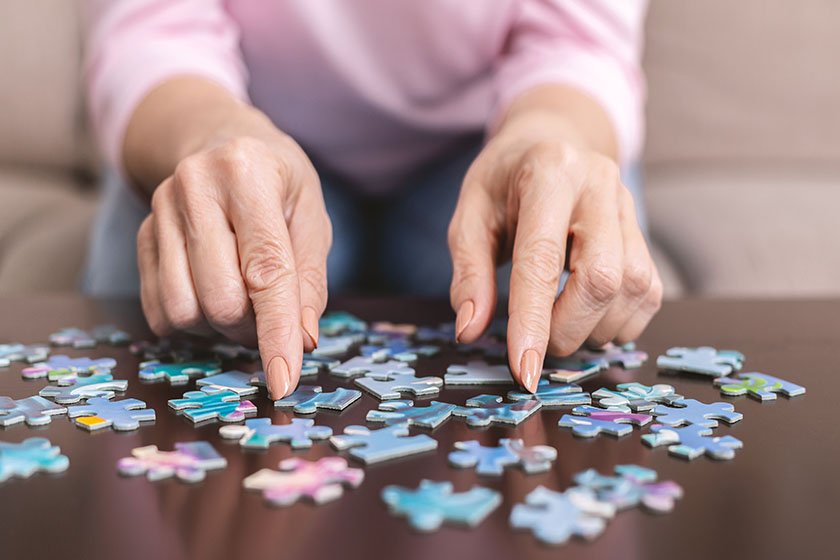 Since puzzles are so focused, they naturally relax the mind and body, making them a great option if you're feeling anxious. Jigsaw puzzles for seniors are an excellent brain exercise. Jigsaw puzzles are great for improving your cognitive abilities.
You can also improve your visual-spatial reasoning by solving jigsaw puzzles. As with a jigsaw puzzle, you need to figure out how each piece fits into the bigger picture. There are jigsaw puzzles of various difficulty levels, from a few dozen pieces to a few hundred.
4. Trivia Games
Trivia Games are among the most fun brain teasers for seniors. You can test your memory and review topics that interest you by playing trivia games. In addition to buying a trivia game, you can make your quizzes by coming up with the questions and answers yourself. You can also play trivia games on your computer, smartphone, or YouTube channels.
5. Chess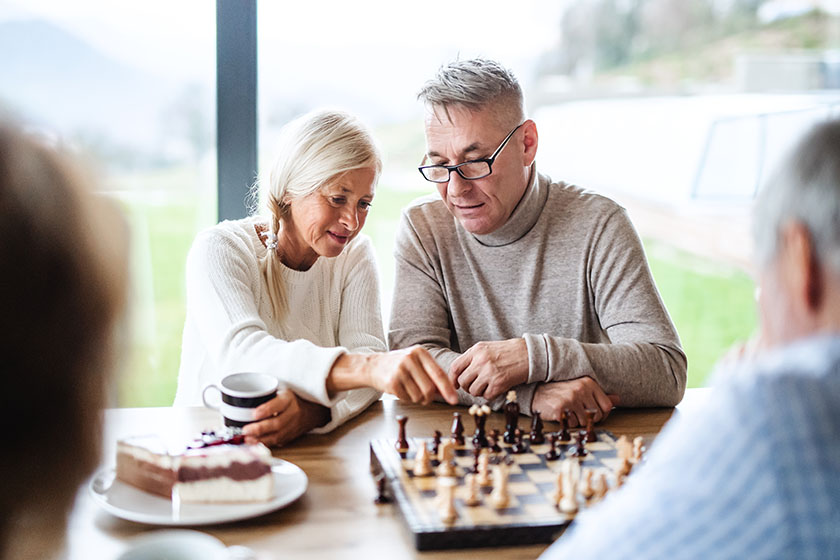 Chess is one of the best board games you can play to improve your mental health. Despite many people thinking you must be pretty intelligent to play it, it's pretty accessible. You can play chess on your computer or smartphone. You may even want to find a game at the seniors' center or a park so that you can get some social interaction as well. Playing this board game encourages creative thinking and strategy.
6. Use Your None Dominant Hand
It may sound unusual but using the non-dominant hand is a great brain teaser for seniors. Consider taking a different route or brushing with your non-dominant hand. Make it a habit to vary your patterns regularly to create new pathways in the brain.
7. Play an Instrument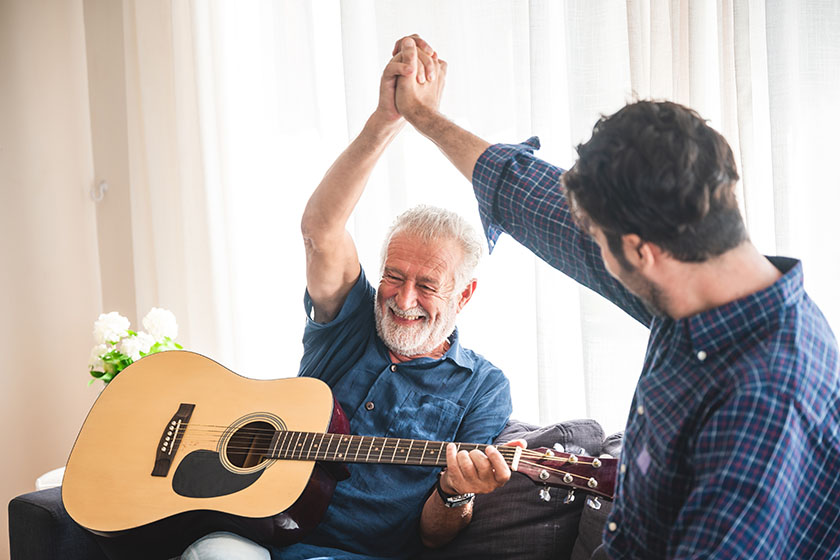 Playing an instrument can help you stay mentally and physically healthy regardless of your age. Playing any instrument provides a healthy mental workout for seniors. It improves memory and coordination. We are not aiming to become professional musicians. It is all about improving the mental state and continuing to grow. A musical instrument can serve as a distraction when you are feeling anxious. It occupies your thoughts until you feel more relaxed. Researchers have found that music can help with insomnia, depression, and anxiety.
8. Read
Reading is a great way to improve our brainpower. Among its many benefits is that it stimulates the brain and slows down cognitive decline. It's unclear which types of books you need to read to get the best mental stimulation, so pick whatever genre you enjoy most, whether romance, sci-fi, or non-fiction. Take a look at the best books for seniors. Here are some book suggestions:
9. Memory Card Games
If you have a deck of playing cards, you can create a memory game that one or more people can play. Arrange the cards in several even rows, face down, using the deck. Check the number and suit by flipping the cards over. You can play with a friend by taking turns matching up pairs. Flip each team over and remove them from the board as you find them. Memory card games are also available as applications to play on your phone.
10. Sudoku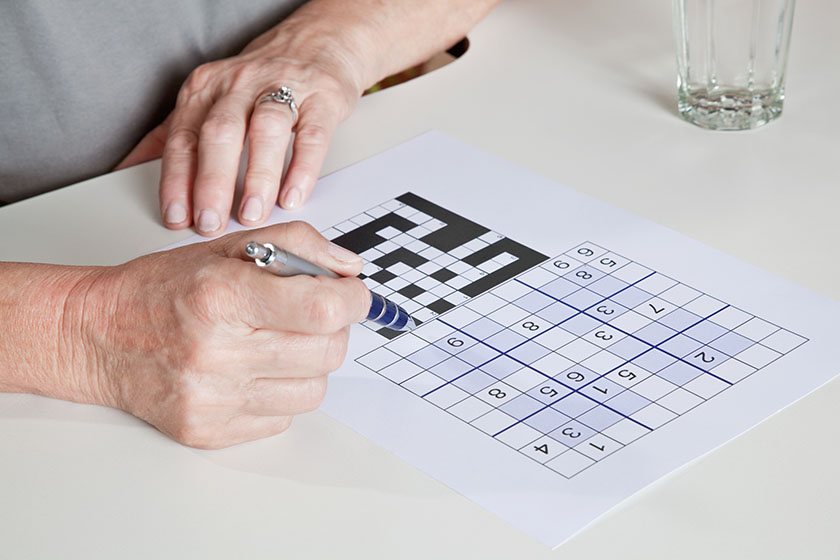 Sudoku is a popular free brain game for seniors. This game allows us to reconnect with different parts of our brains we might not usually use. By challenging the mind with Sudoku, we develop our logic and deductive reasoning skills while identifying patterns, filling in gaps, and recognizing opportunities. You can buy Sudoku board games, print Sudoku or download an app.
11. Arts and Crafts
Crafts come in many varieties, and each type has its benefits for our health. Taking part in creative activities helps with concentration and focus. Engaging in new activities helps stimulate the brain and exercise it. Art therapy can improve communication among senior adults. Arts and crafts like painting, knitting, and pottery making can also help slow cognitive decline in seniors.
12. Physical Activity

Some exercises can wake up your body and brain. Physical activity gives us a calming and relaxing effect by releasing serotonin. Therefore, regular exercise is necessary for senior citizens as it maintains brain chemicals, which reduce symptoms of mood disorders, reduce stress, and promote a sense of calmness. Regular exercise increases blood flow to the brain, keeping its cells healthy and improving memory and cognitive ability.
Final Words
Mind games and brain teasers for seniors can improve memory and problem-solving skills. Crossword or jigsaw puzzles or learning an instrument are only a few ways to keep our minds active and sharp.