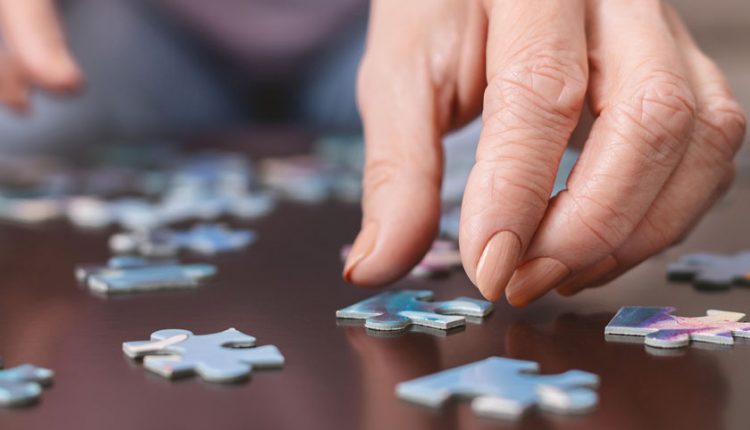 Caring for a loved one with dementia has its own challenges. One of these challenges is thinking of bonding activities so that your loved one can still enjoy your company. There are many activities to choose from, but solving puzzles for dementia patients is probably one of the best options.
But why are puzzles for dementia patients so beneficial, and how can you use them to your advantage? Read this article on the best puzzles for Alzheimer's patients and find out.
What is Alzheimer's?
Rather than being a specific disease, dementia refers to an impairment of memory, thinking, or making decisions that interfere with daily living. As far as dementia types go, Alzheimer's disease is the most common. It is important to note that dementia does not belong to the normal aging process, even though it affects mostly older adults. An estimated 5.0 million adults at least 65 years old had dementia in 2014, which is expected to reach nearly 14 million by 2060. Cognitive training or games seem to help older or middle-aged people improve some aspects of their memory and thinking, hopefully reducing the risk of dementia. This notion creates a list of games to prevent Alzheimer's disease.
The symptoms of Alzheimer's disease can be frightening and overwhelming for those who suffer from it. Many people may suffer from considerable anxiety and agitation. In these situations, seniors can concentrate on puzzles, which are great tools.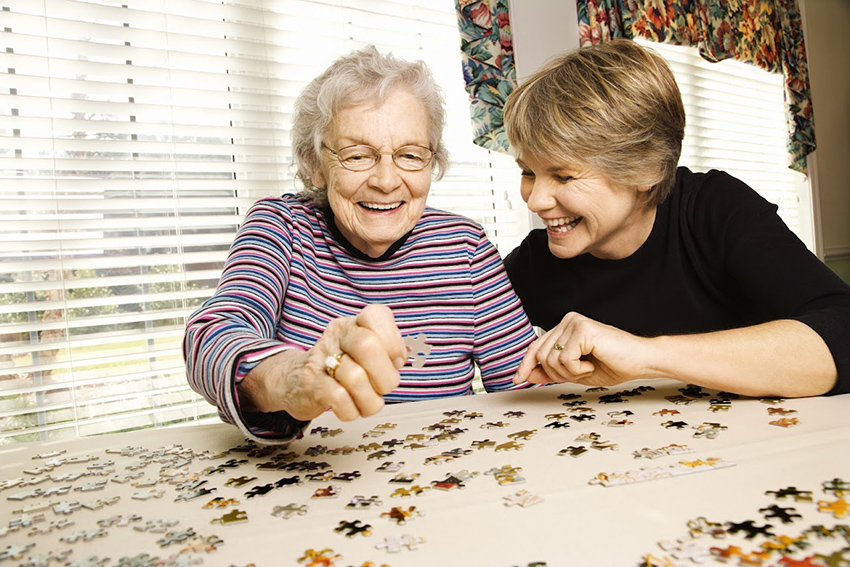 How Do Puzzles Help Dementia Patients?
Here are a few benefits of solving puzzles for dementia patients to assure you of their helpfulness:
Better Interactions
Interactions between people become more efficient through puzzles. As well as stimulating the brain, Jigsaw puzzles help to create positive emotional connections between the patient, caregivers, and loved ones. Jigsaw puzzles can help stabilize the decline of interest in activities for dementia patients. We all try to help one another when a puzzle is underway, after all.
Calming Effect
Puzzles stimulate the brain on both sides and provide a feeling of accomplishment. Puzzles also help patients feel good with a dopamine release upon finding a piece.
Lower Blood Pressure and Reduced Stress Level
Dementia patients also become more relaxed and calm by solving puzzles, similar to meditation. In addition to feeling good, these effects are highly beneficial to patients' health, lowering blood pressure and stress hormone levels.
Improved Hand-Eye Coordination
Puzzles also provide seniors with a hands-on activity. This practice is not only grounding, but it also improves hand-eye coordination. Dementia patients also benefit from fidget toys and fidget blankets for this reason.
Enhanced Cognition
Solving Puzzles can also improve short-term memory and brain function to work on solving a problem, which can keep seniors engaged and thinking.
Please note that puzzles will not cure Alzheimer's disease, nor will they stop the disease from progressing. It is still worthwhile for seniors and their families to take advantage of the short-term benefits.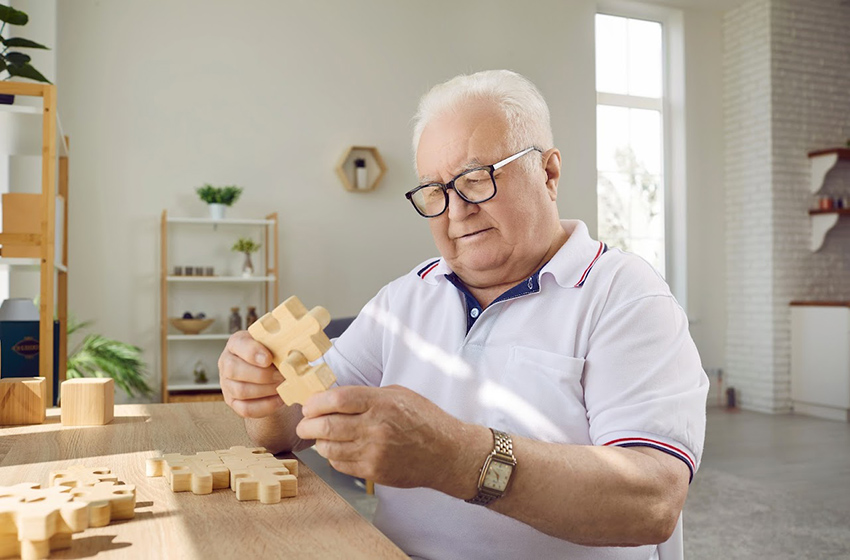 Does and Don'ts of Puzzles for Dementia Patients
Puzzles, especially custom photo puzzles, can reactivate memories in patients and improve their mental speed and thinking abilities. If you have a loved one with dementia, here are some things to consider when choosing a puzzle and solving it with the patient:
Make sure the puzzle you choose will evoke memories of your beloved. There is no better way to do this than with personalized puzzles.

Help them assemble the puzzle in a place with adequate lighting that is not frequently used for other activities.

Cover the tables with a white tablecloth. People with vision difficulties can see better with this added contrast.

Make a wise choice when it comes to the pattern. A complicated puzzle or a puzzle with repeating patterns is not what we recommend. Choose puzzles with large pieces that are easy to complete.
Check whether they have completed the puzzle as well. Some seniors may not tell you that they're having difficulties. Alternatively, they might abandon the puzzle or act bored.
The Best Puzzles to Choose
Through trial and error, you can find puzzles that fit the needs of a senior. Watch them as they work on a puzzle to see if they seem to enjoy it or are frustrated.
Relish Puzzles for Dementia Patients
You might find these suggestions helpful if you're trying to find puzzles for dementia patients:
Specifically designed for dementia patients, Relish is an excellent brand. The products they make follow a strict design process, and they consider the changing needs of people with dementia as they age. The puzzles that are available on their Amazon store range in size from 13 pieces to 100 pieces. Dementia patients enjoy these puzzles because of their nostalgic designs and bright colours.
Puzzles Based on the Past
Some puzzles about the past can be helpful to Alzheimer's patients. To a degree, relish puzzles achieve this because some of the images are nostalgic and will be instantly recognizable.
This can, however, be taken a step further by creating custom puzzles from an image. Choosing meaningful images allows you to make the senior feel special. Using such puzzles can help seniors reminisce about comforting memories. You can also use them as a talking point, reminiscing about past events or what the picture represents to them.
Sequenced Puzzles for Dementia Patients
Seniors may find it easier to solve the puzzle using sequenced puzzles. Many puzzle pieces come with an image on the backing board, so seniors only need to match them up with the image. Also, pieces may be colour-coded to facilitate matching.
Final Words
As the symptoms of dementia and Alzheimer's progress, simple puzzles seem to provide stimulation and comfort to the patients, as well as a sense of control.
Therefore, choosing an activity that involves jigsaw puzzles is both enjoyable and therapeutic. People who have experienced dealing with dementia patients know how difficult it is to think of suitable activities for them. Feel free to use puzzles to your advantage since they can provide a great therapy session for both you and your loved ones.