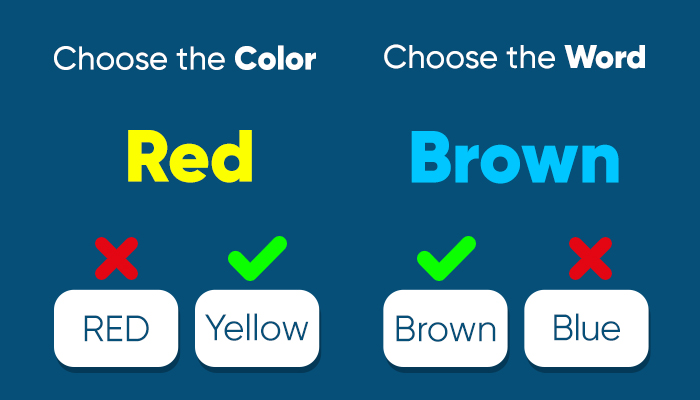 What Is Stroop Test? Check Your Reaction Speed with This Cognitive Test
Colours are beautiful elements all around us, but they might also have other benefits rather than just pleasing our eyes. Believe it or not, colours can tell us facts, and the Stroop Effect is one perfect example of this. Keep reading this article to get familiar with this amusing psychological effect, how it helped design an extensively used cognitive test called the Stroop test, and learn how you can gain cognitive awareness with its help.
How Do You Explain the Stroop Effect?
In 1935, John Ridley Stroop published a paper about this interesting effect, explaining that it takes longer for the brain to recall the name of one colour when someone uses it to spell the word for another colour. For example, think of the word "Blue" written in blue ink and then again in red ink. Which case would make it harder to think of the colour red?
In simple terms, it is easier for us to say a colour out loud when it spells its own name rather than the name of another colour, which is the main idea of the Stroop Effect.
This simple yet intriguing effect has helped scientists design a neuropsychological test known as the "Stroop Test," which we will introduce in the following section.
What Is an Example of the Stroop Effect?
As we said before, the Stroop test assesses the cognitive ability to process colour with a separate name simultaneously, without any conflict. This test usually has a simple structure with two possible requests:
You need to look at a word in one form and name the colour regardless.

Another form requires you to name the word, regardless of the colour.
*Sometimes, these two setups are combined for better, more accurate results.        
The Goal is clear: You need to be as quick and accurate as possible. A high and stable score hints at good cognitive performance.
How Does the Stroop Test Work?
The main factor the Stroop test measures is your processing speed. The test will give you a score based on how well you can distinguish colour and a name and separate these two. In addition to assessing a person's selective attention capacity and skills, this test can also be helpful in evaluating their overall executive functioning abilities when taken with other tests.
We can keep on describing the Stroop test, but nothing works like taking the test and seeing it for yourself. If you're interested in assessing your cognitive well-being, click on the link below and check out our Stroop test.
What Does the Stroop Test Demonstrate?
But why would we need a cognitive test like this? As previously stated, when you look at the name of a colour written in another colour, your reaction is more delayed than usual when the colour spells its own name. That delay can tell you a lot about your cognitive ability. The key idea behind the entire test is that when you have to process two things simultaneously (In this case, the name and the colour), your brain will have a hard time preventing these two processes from interfering with each other. The Stroop test is a tool to see how well your brain can stop this interference and process both things correctly.
Why Is the Stroop Test Significant?
And now, another question comes to mind. Why do we even need to be aware of our cognitive condition? Taking the Stroop test allows you to measure your processing speed and precision. Keeping track of these stats helps you have a clearer picture of your brain's performance. This way, you can seek professional diagnosis and help when you notice the performance level drop. With the right action at the right time, you will be a step ahead of any possible mental issue and disorder, making the diagnosis and treatment procedure much easier. In a way, the Stroop test can help you prevent or slow down the onset of many disorders, even something as intense as dementia.
What Can the Stroop Test Diagnose?
As we said, the Stroop test measures response time and motor response time. Now, the result of a one-time test may not cast light on any critical discovery. Still, over time, this information can come in handy and determine whether a patient is showing cognitive decline or not.
Can the Stroop Test Really Diagnose Dementia?
In recent years, experts have used this test to examine the pattern of cognitive decline in dementia patients, both Alzheimer-type and non-Alzheimer. Turns out that dementia patients in moderate stages show a slower reaction while naming the colours or words than patients with mild dementia. Undoubtedly, this test is a valuable tool that helps us find out about issues while they are still finding their roots inside our brains. But keep in mind that a simple psychological and cognitive test is nowhere near enough when it comes to diagnosing a severe disease. It's better to notice the changes in performance while taking the test regularly and report these changes to a doctor in case of sudden declines in performance. It is best to leave the diagnosis to healthcare professionals.
Final Words
Obviously, Dementia is way more complex to be prevented just by a simple test. But keeping track of your performance on the Stroop test can prove very useful if one day you find yourself seeking a diagnosis and possible treatments. The sooner you notice changes in your cognitive ability, the sooner you can take action and slow down the disease process.
Needless to say, the key to diagnosis is to take the Stroop test in regular intervals and keep a record of the stats. Taking the test only one time is just a fun activity and will not be effective in giving you hints about your current cognitive performance.
So take this fun test regularly to increase your awareness of your cognitive ability. We suggest consulting a doctor if you witness any frequent and drastic changes in the test scores.