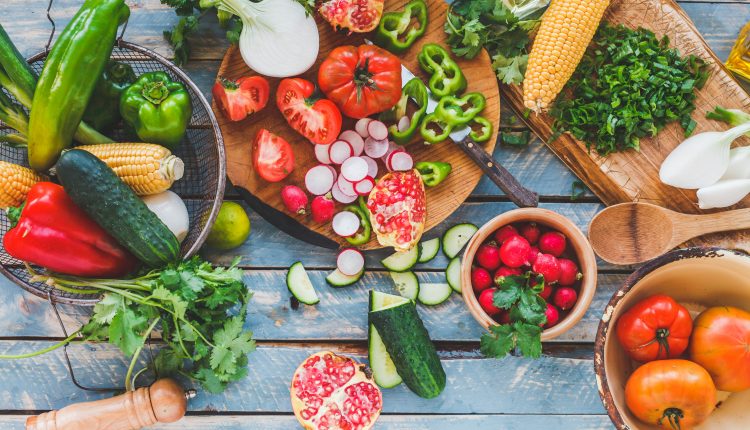 High blood pressure is considered one of the most common issues and challenges among seniors. Before going through anything else, let's learn a little about the meaning of blood pressure and the definition of high blood pressure!
Blood pressure is the average pressure against the body's arteries caused by blood movements. Some factors like overusing salts and saturated fats or unhealthy high cholesterol diets cause high blood pressure. The pressure is not normal and more than the capacity of the arteries. High blood pressure causes heart diseases and raises the risk of different heart issues in the long term.
However, despite being the most common health issue among seniors, it's also the most preventable one!
Healthy Recipes to Fight High Blood Pressure
As we mentioned before, the main reason for high blood pressure is an unhealthy diet. So the easiest way to prevent or control high blood pressure is to choose a healthy diet. A healthy diet to fight high blood pressure or control it is mainly salt and saturated fat-free. But is it possible to have a healthy and enjoyable diet without these two factors? The answer is yes. If you don't know how to start, here is the list of the most delicious recipes for people with high blood pressure. The following recipes are high in fibre and essential nutrients and low in salt and cholesterol. All you need to do is provide the ingredients and follow the directions. Bon Appetit!
Stuffed Sweet Potato with Hummus Dressing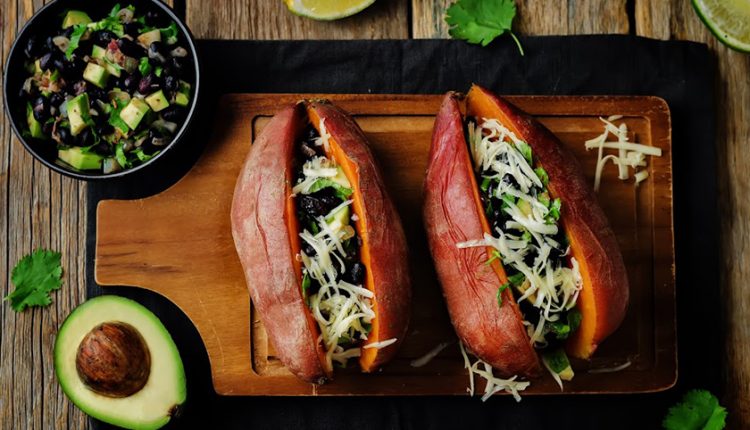 Nutrients amount in each serve: 
Calories: 472
Protein: 21.1g
Carbohydrates: 85.3g
Fibre: 22.1g
Sugars: 19.9g
Sodium: 489.1mg
Saturated fat: 1.2g
Ingredients for one plate:
One large scrubbed sweet potato, chopped kale (3/4 cup), rinsed canned black beans (1 cup), hummus (1/4 cup), water (2 tablespoons)
Direction:
Make various pores all over the potato with a fork and then put it in the microwave for about 7 to 10 minutes until well cooked. Drain and wash each kale leaf correctly, but don't let it dry. Put the kale leaves in a pan and cook them over medium heat. Don't forget to stir them a couple of times. Next, add the beans to the pan. Add the two tablespoons of water to the combination, and stir it until perfectly cooked. At the final level, open up the sweet potato and fill it with the mixture of bean and kale leaves. Merge the hummus with the required amount of water and stir well. Now it's time to drizzle the sauce to the stuffed sweet potato. The dinner is ready!
Bean & Pumpkin Chili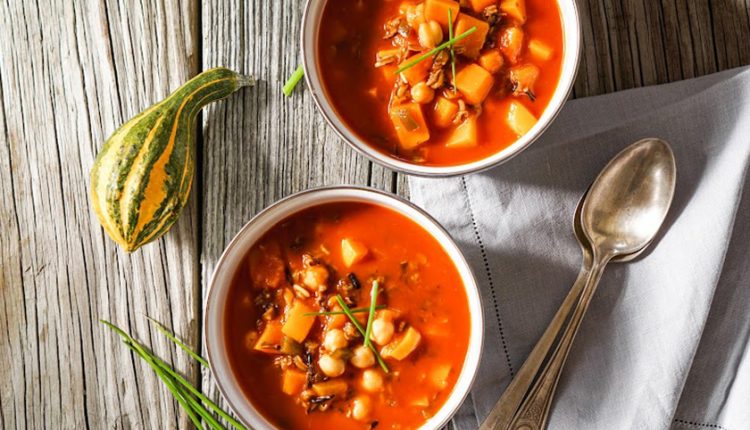 Nutrients amount in each serve: 
Calories: 276
Protein: 13.9g
Carbohydrates: 49.4g
Fibre: 16.5g
Sugars: 10.1g
Sodium: 508.8mg
Saturated fat: 0.4g
Ingredients for 8 cups:
Chopped onion (3 cups), chopped carrot (1/5 cups), extra virgin olive oil (1 tablespoon), water (2 tablespoons), minced garlic (3 large cloves), vegetable broth (4 cups),  diced pumpkin (3 cups), crushed tomatoes (1 can), low sodium rinsed beans (4 cans), chilli powder (3 tablespoons), ground cumin (2 teaspoons), ground cinnamon  (1 teaspoon), salt (3/4 teaspoon), pepper (1/4 teaspoon), diced onion and sliced jalapeños for garnish
Direction:
Cook onions in olive oil over medium heat for about 5 minutes until it turns brown. Lower the heat, add the carrots and continue the cooking process for another 5 minutes until the carrots get soft. Now it's time to add the garlic and stir for a minute. Add the vegetable broth to the mixture and boil over high heat. Bring the pumpkin, tomatoes, beans, chilli powder, cumin, cinnamon, salt, and pepper to the scene and let the mixture boils again. After that, reduce the heat and let it gently cook for about 30 minutes. Serve the food in different cups and garnish it with onions and jalapeños.
Chicken and Carrot Salad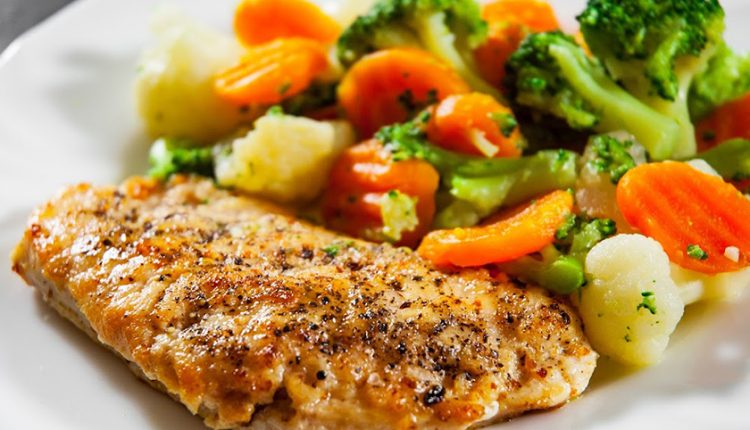 Nutrients amount in each serve: 
Calories: 347
Protein: 32.9g
Carbohydrates: 35.7g
Fibre: 7.1g
Sugars: 18.7g
Sodium: 549.7mg
Saturated fat:1.8g
Ingredients for four plates:
Thick-sliced carrots (2 pounds), trimmed boneless and skinless chicken breasts (1/25 pounds), extra virgin olive oil (4 teaspoons), grounded pepper (1/2 teaspoon), kosher salt (1 teaspoon), chicken broth (1/2 cup),  apricot preserves (1/4 cup), lemon juice (2 tablespoons), fresh rosemary (3 sprigs), minced garlic (1 clove), baby spinach (8 cups)
Direction:
Cook the carrots with two teaspoons of olive oil,1/2 teaspoon salt, and 1/4 teaspoon pepper for about 10 to 12 minutes till they get soft. Meanwhile, put the chicken with the two teaspoons olive oil and the remaining salt and pepper in a medium skillet and place it over medium heat. Let each side cook for about 2 to 3 minutes. Transfer the carrots and the chickens to the baking sheet and let the mixture roast for about 10 to 15 minutes. Blend the chicken broth, lemon juice, apricot preserves, garlic, and rosemary in another skillet and reduce the heat to cook gently. Add spinach after a couple of minutes. Everything is ready to serve. Just cut the chickens in pieces and remove the rosemary from the sauce before serving.
Winter Kale & Quinoa Salad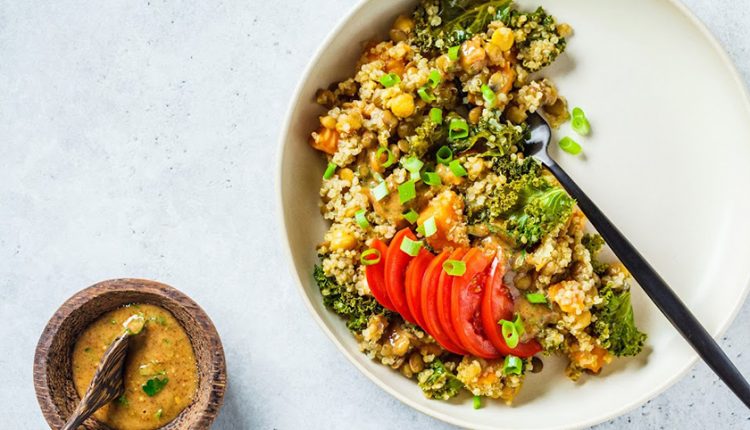 Nutrients amount in each serve: 
Calories: 439
Protein: 14.6g
Carbohydrates: 54.4g
Fibre: 13.8g
Sugars: 4.6g
Sodium: 252.6mg
Saturated fat:2.8g
Ingredients for two plates: 
One small peeled and cubed sweet potato, olive oil (2/5 teaspoons), avocado (1/2), lemon juice (1 tablespoon),  peeled garlic (1 clove),  ground cumin (1/2 teaspoon), salt (1/8 teaspoon), pepper (1/8 teaspoon), water (2 tablespoons), cooked quinoa (1 cup), rinsed and canned black beans (3/4 cup), chopped baby kale (1/5 cups), chopped scallion (1), pepitas (2 tablespoons)
Direction:
Put the potatoes with one teaspoon of olive oil on the large rimmed baking sheet, put the sheet in the preheated oven (400 degrees F), and let it roast for about 25 minutes. Meanwhile, mix the lemon juice, avocado, garlic, the remaining olive oil, and spices with a food blender until they get smooth and liquidy. At the final step, toss the potatoes, kale, and black beans into a bowl and drizzle with the avocado sauce you've provided in the previous level; done and done!
Chicken Curry Stuffed Sweet Potatoes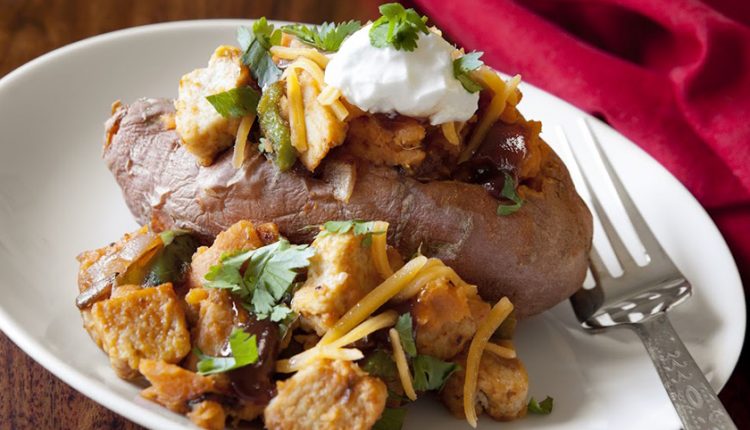 Calories: 257
Protein: 21.7g
Carbohydrates: 29.5g
Fibre: 5.3g
Sugars: 10.8g
Sodium: 240.1mg
Saturated fat:0.7g
Ingredients for four servings: 
Four medium sweet potatoes, curry sauce (1/2 cup), chopped and cooked cauliflower (1/5 cups),  warmed, chopped and cooked chicken (8 ounces),  fresh and chopped cilantro (4 teaspoons)
Direction:
Make various pores all over the potato with a fork, and then put it in the microwave for about 20 minutes until it's well done. Bring it out and let it cool. Open up the potatoes by their length, but avoid cutting them in half. Use your hands to expose their flesh. Fill the potatoes with cooked chickens, curry sauce, cauliflower, and cilantro.
Conclusion
There are so many diet and health tips for different health conditions. You can browse them on the internet or consult with your doctor to catch more about the foods and nutrients you are allowed to use in your diet. The critical matter is to boost your information about the nutrients found in each meal to know whether they're safe for your particular health condition or not.
Do you suffer from high blood pressure too? If yes, we would appreciate it if you shared your diet tips and unique recipes with other readers and us.
Read more: