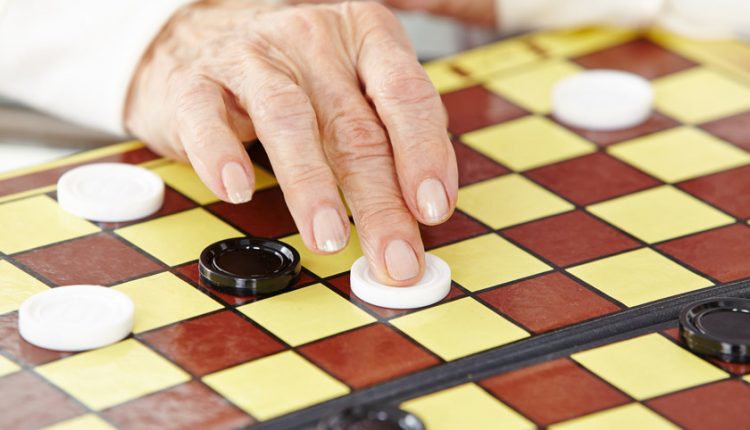 The Most Popular Board Games for Seniors (2023)
Board games for seniors are one of the most entertaining and engaging group activities around. As we grow older, we must improve our mental and cognitive functions by engaging in puzzles, board games, and brain teasers. 
Seniors can prevent various types of dementia like Alzheimer's by staying mentally active. Board games can provide seniors with various physical, cognitive, and social benefits that can contribute to seniors overall health and well-being. Board games offer an excellent opportunity for seniors to socialize with friends and family members, which is essential for their mental and emotional well-being. Besides, playing board games can help seniors improve their cognitive function, including memory, attention, and problem-solving skills. We have picked the best board games for seniors and loved ones!
What Are the Best Board Games for Seniors to Play?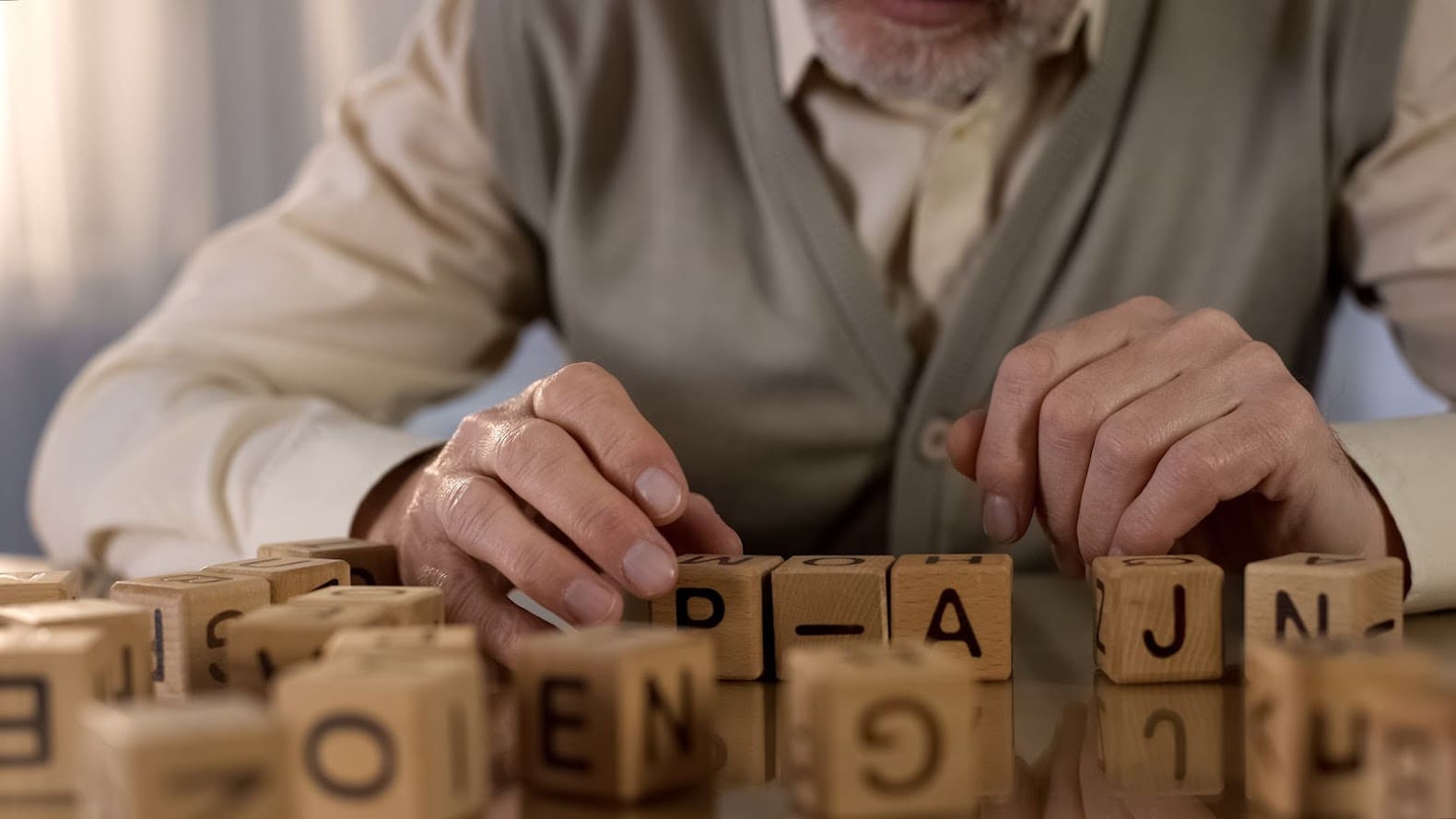 Choosing the best board games for seniors can be challenging because of many factors. Professionals believe that one should consider a few factors before making a shortlist for the next board games for seniors to try. After all, games can improve cognitive skills and help seniors' minds stay sharp.
We're going to take a look at the most popular board games that have been at the top of the most played games of the past few years. 
1. Dixit: A Board Game for Seniors who Enjoy Poetry and Arts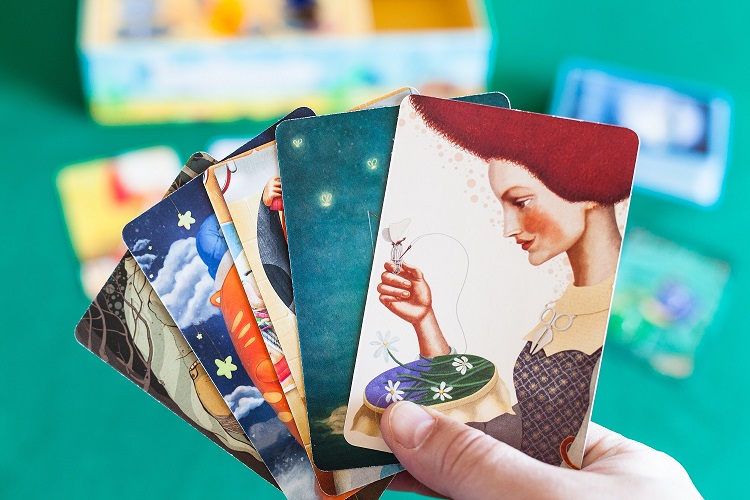 Dixit is a board game about telling stories. This board game is not only a fun and engaging game for seniors, but it also offers significant social skills benefits. It promotes empathy and creativity—an excellent match for individuals who find specific skills difficult. If you love literature, poetry, and arts, this game is for you!
Players choose cards from a deck of cards with dreamy pictures that match a title supplied by the "storyteller" and try to guess which card the "storyteller" chose. The tricky part is that if everyone or no one thinks correctly, the storyteller loses points, so they have to be subtle with their ideas.
2. Bananagrams (Big Letter Version)

Bananagrams is an all-time favourite for the best board games for seniors. The "Big Letter" version of this game benefits from the increased size and contrast of the letters and the pieces, making it easier for people with impaired vision.
The objective and rules of this challenging yet straightforward board game are direct. Players need to continue creating words horizontally or vertically on the board until they have no other spots left to fill with their tiles. After reaching this goal, the first person to have used all their letters needs to shout "Bananas!" before securing their win.
3. Hive: Most Challenging Board Game for Seniors
Bees are one of the most curious cases of our nature, from their hexagon building style to how they interact with one another. Hive is a cognitive-challenging board game inspired by beehives, as you have to focus on your hive while trying to defeat the queen bee of your opponent's side.
Some might say this game is relatively more complex than other board games, but that's its idea. It helps seniors' minds stay sharp and focused while interacting with their friends and loved ones.
4. Yahtzee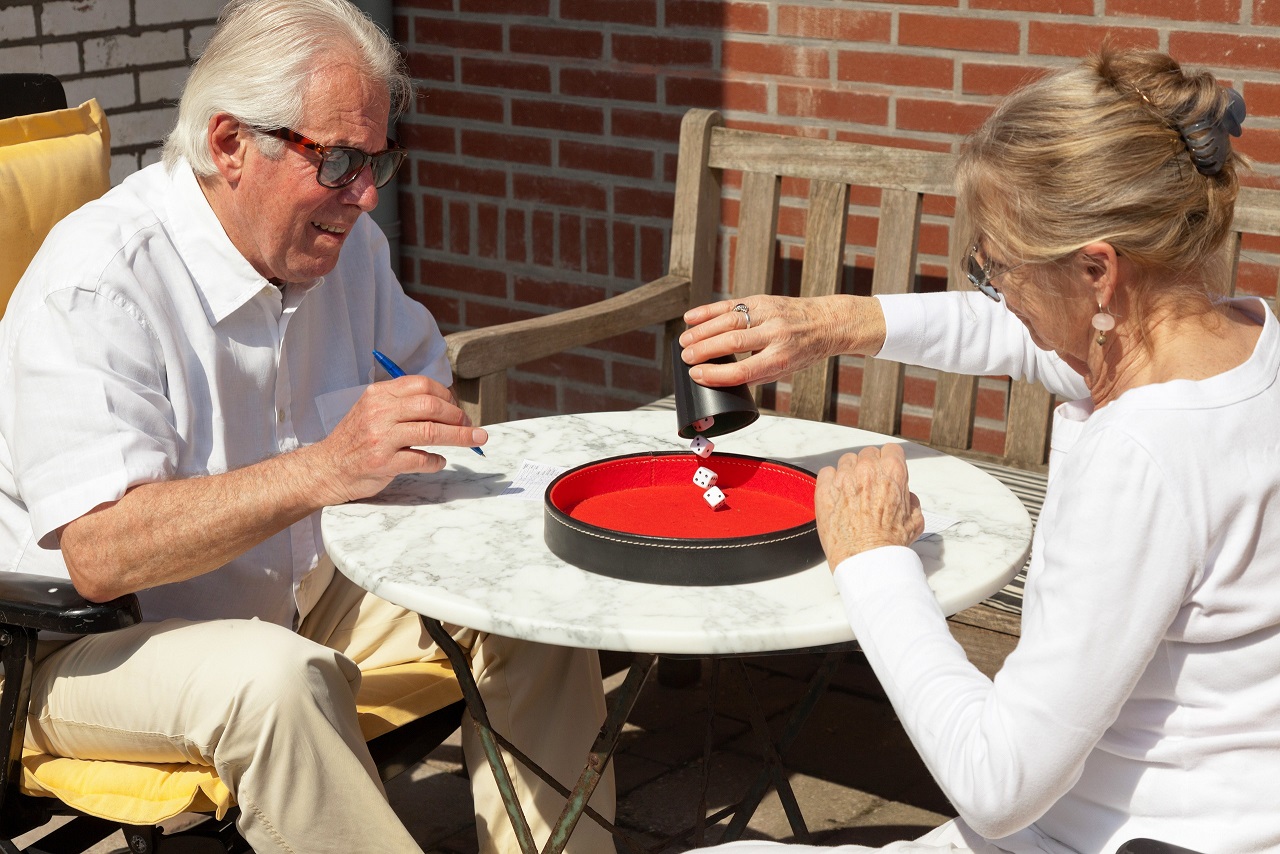 Yahtzee is a dice game played with five six-sided dice. Players take turns rolling the dice to get certain types of rolls, each with a specific point value.
All games require a mix of skill and chance for players to win. Certain games, however, require higher levels of skill than others. Contrary to popular belief, Yahtzee is more about skill than luck! This game is a popular skill game around the world. It is a relatively simple and enjoyable game for seniors.
If you don't have a game available, try this online version of Yahtzee. Scoring is automatically tracked from you. Additionally, while you can play against the computer, you can also play against others in multiplayer mode.
5. Qwirkle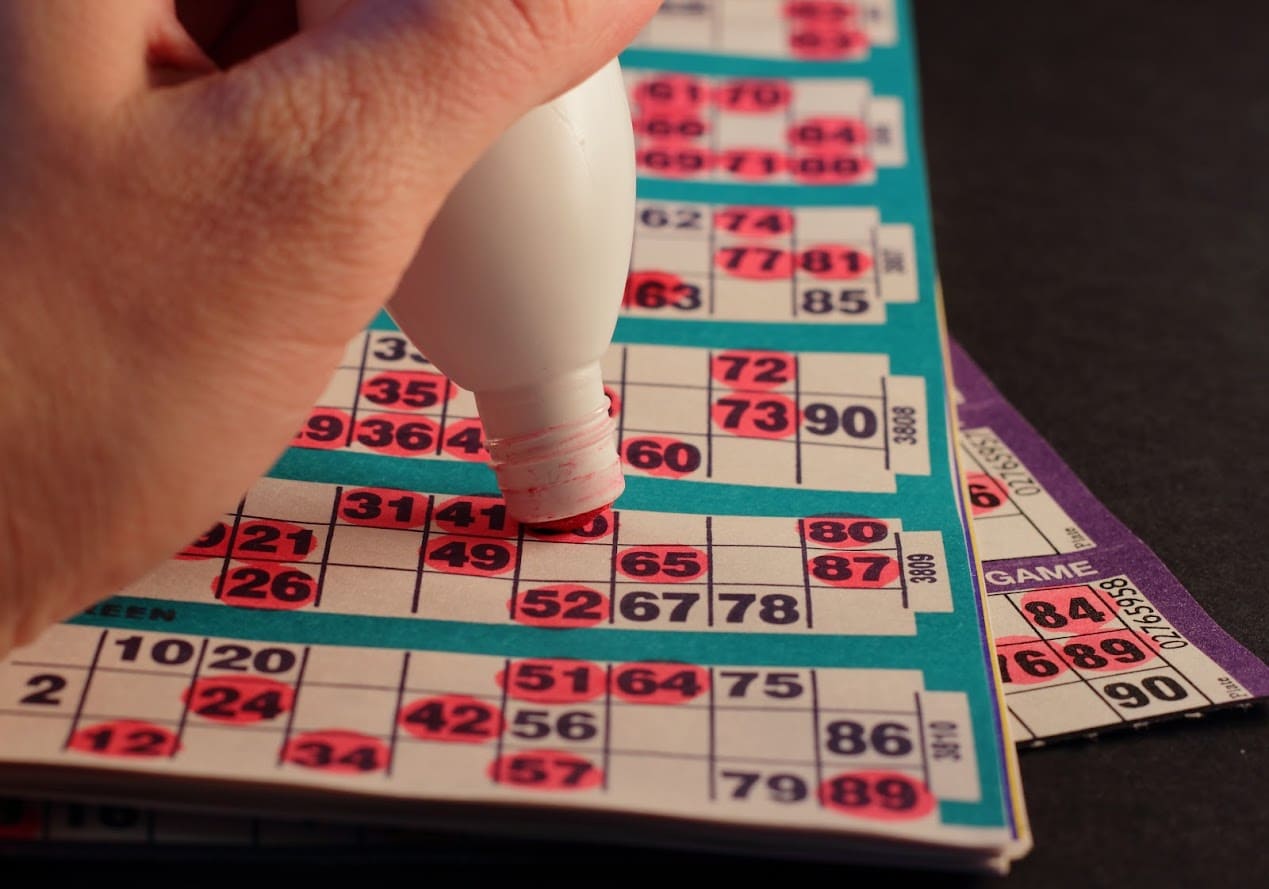 Qwirkle is about to change the game for those who love Scrabble, as it adds a twist to how you usually play games like Dominoes and Scrabble by taking in aspects like colours and shapes.
If you create a line with all the colours and shapes with your share of pieces out of 108 wooden blocks, you have a better chance of winning the game. Qwirkle is the perfect game for seniors who like to keep it simple and follow straightforward rules.
6. Dominoes
Some people enjoy games where you can choose different ways and styles to play, and Dominoes is one of the best games for seniors who like these alternative-rich games. Dominoes is one of the most world-renowned board games that many associations, organizations, and clubs dedicate their time and resources to hosting its professional events.
7. GO! Widely Known as the Best Board Game for Seniors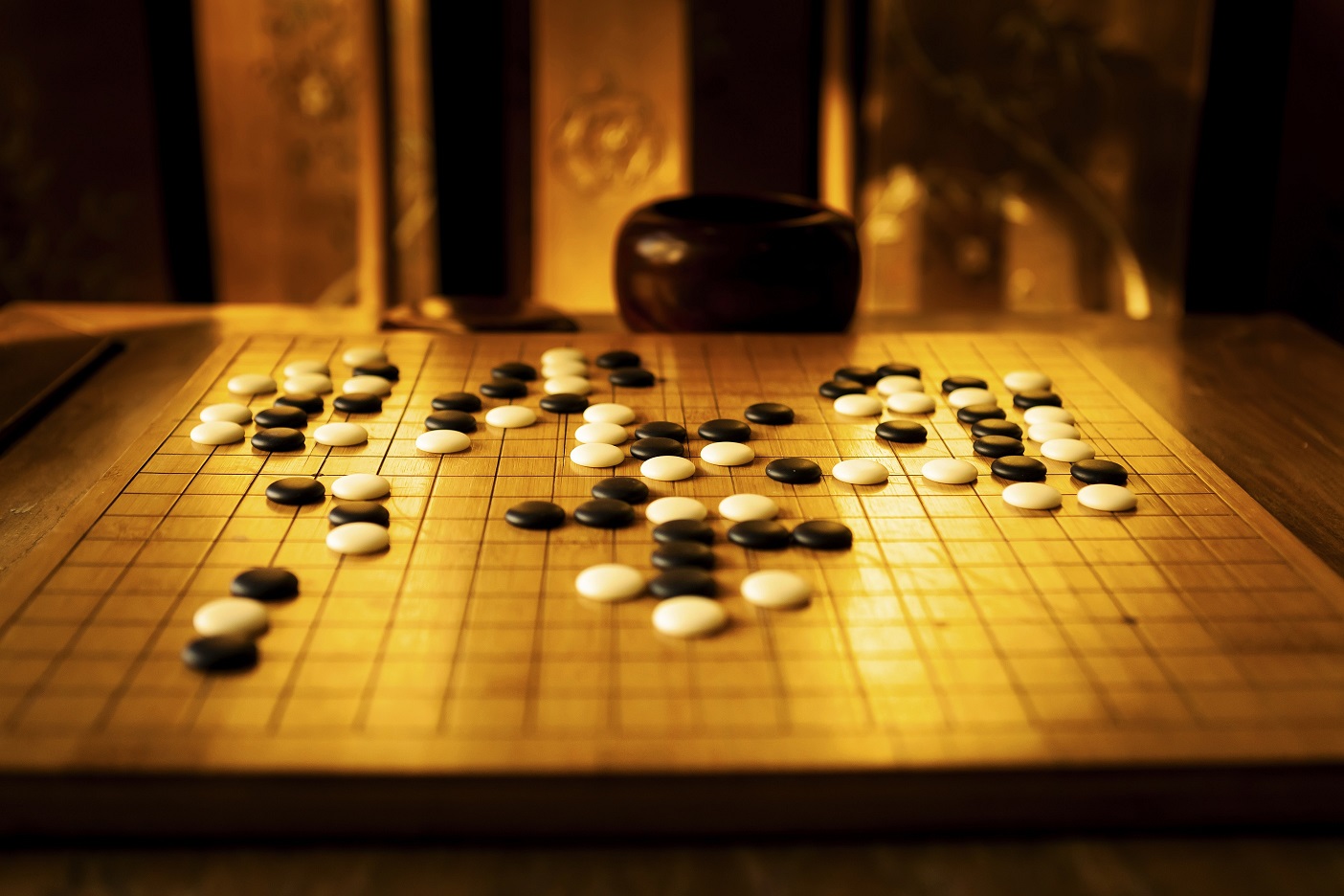 Go is an ancient board game comparable to Othello and Reversi in many ways. This board game emphasizes patience, discipline, and open-mindedness, among other mental abilities. GO can also improve cognitive skills. Because of these, GO is among the best board games for seniors.
The game's goal is to encircle vacant parts of the board with your stones to build territories. By doing so, You can surround your opponent's stones and capture them.
Read more about the benefits of games for older adults.
8. Backgammon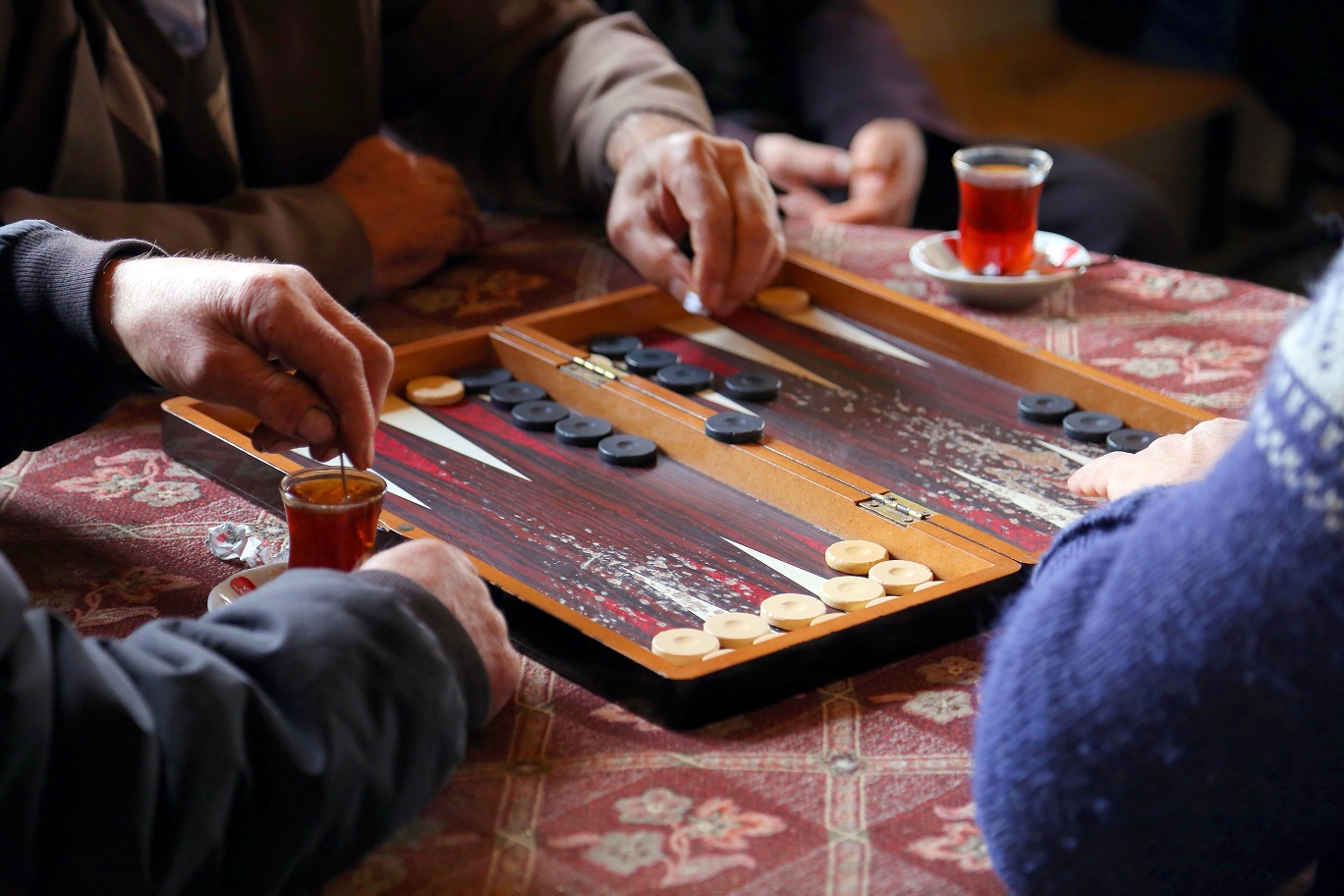 This board game's goal is to move all their checkers from the board. Backgammon is one of the best mind challenging and strategic board games for seniors to boost their cognitive functions while improving their reasoning skills. If you enjoy checkers and interacting with friends, you will love Backgammon.
How to Choose the Best Board Games for Different Seniors
Personal opinion plays a significant role in determining the best board game for seniors because you won't be able to enjoy a game if you don't like the genre or overall gameplay. Still, professionals usually recommend seniors take it easy and focus on playing board games.
The difference comes down to whether or not you want to spend your free time playing board games without pressure or if you want to play them professionally. All that matters is how you feel in the moment and afterwards, playing the game of your choice if it gives you a positive feeling and helps you reconnect with your soul.
Final Words
Besides being an excellent entertainment, board games for seniors can help with memory formation and cognitive skills. Most games can help lower blood pressure because they are low-stress and soothing. So, next time you're thinking about spending quality time with your loved ones, consider playing board games!