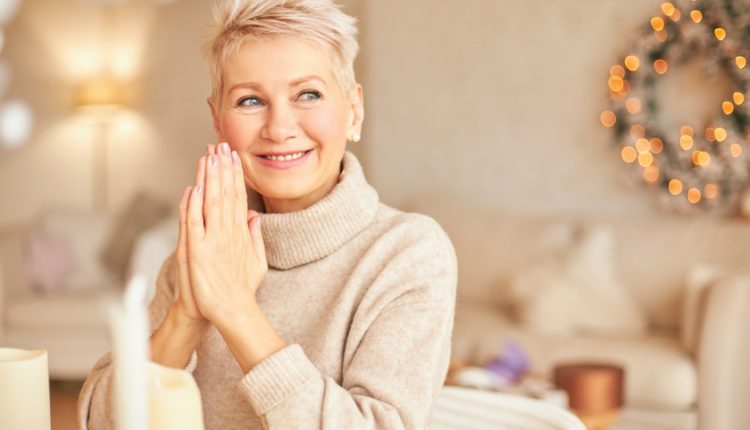 12 Things to Wear over 60: Simple Fashion Tips
Who said following fashion trends is only for younger people? No matter how old you are, you can still look chic and glamorous; you need to know what to wear at this age. The purpose of this article is to give you a few fashion tips that can transform your look even if you are over 60.
How Should I Dress at the Age of 60?
Previously, we talked about what not to wear after 60. Today, we will make a list of 12 things 60-year-olds and older should wear. If you want a satisfactory appearance in your 60s, it is a good idea to include these suggestions in your wardrobe.
Black Dress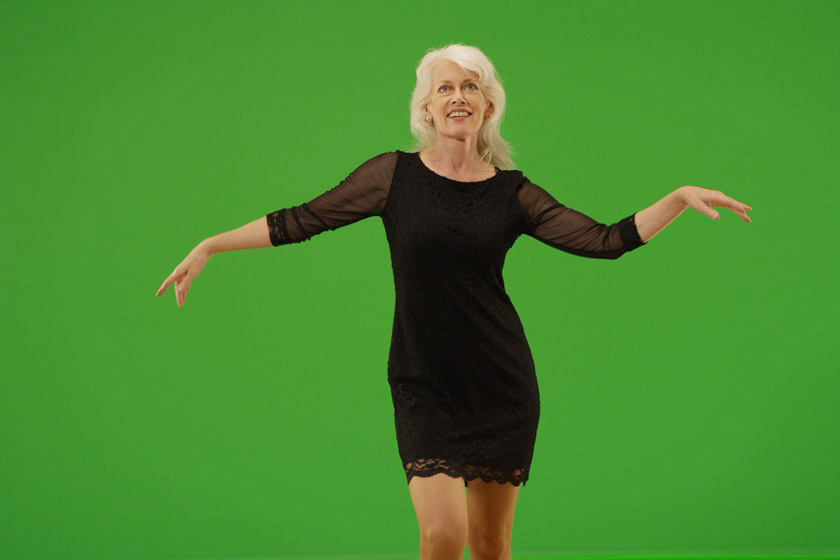 Black dress is a classic no one can reject. You can wear it for many occasions, and it never looks bad. True, styles and cuts develop with time. But a black dress, in its essence, is never out of style.
As we said, the main reason is that it can be a valuable addition to your closet. You can wear it to a party, a friendly gathering, or even a date.  No matter how old you are, a stylish black dress will show your beauty to the world.
Floral Patterns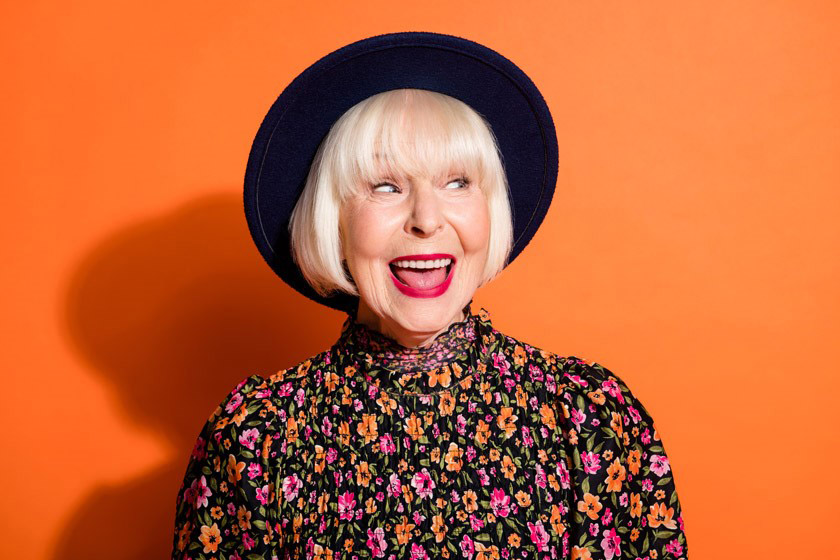 Dresses or tops with floral prints tend to catch many eyes because it never truly goes out of style. Although some patterns may replace outdated ones, floral prints are always a good choice.
Especially during spring and summer, clothes with floral parents are immensely popular. Even in the colder seasons, there are ways to wear a jacket or scarf with floral patterns.
Minimal Accessories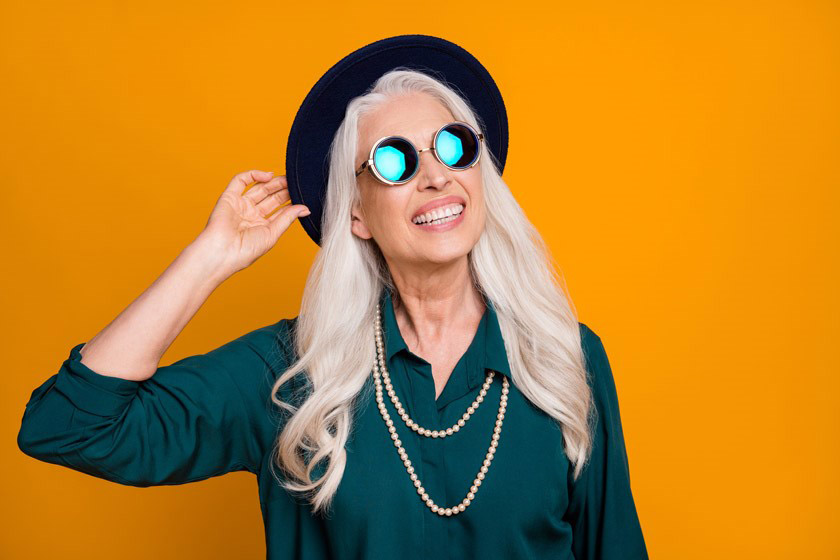 Yes, picking what to wear is important. But sometimes, it all comes down to accessories to make a look stand out. Make sure you pay as much attention to the accessories as the outfits because they are equally important.
The best accessory type for older adults is probably those with minimalistic designs since they can easily go out with any outfit. Although picking an eye-catching and unusual accessory with an elaborate design can be exciting, it also brings with it the challenge of finding a suitable outfit to match it. You can keep this in mind if you ever decide to buy a classy accessory since it is one of the gift ideas for senior loved ones.
Monochromatic Outfits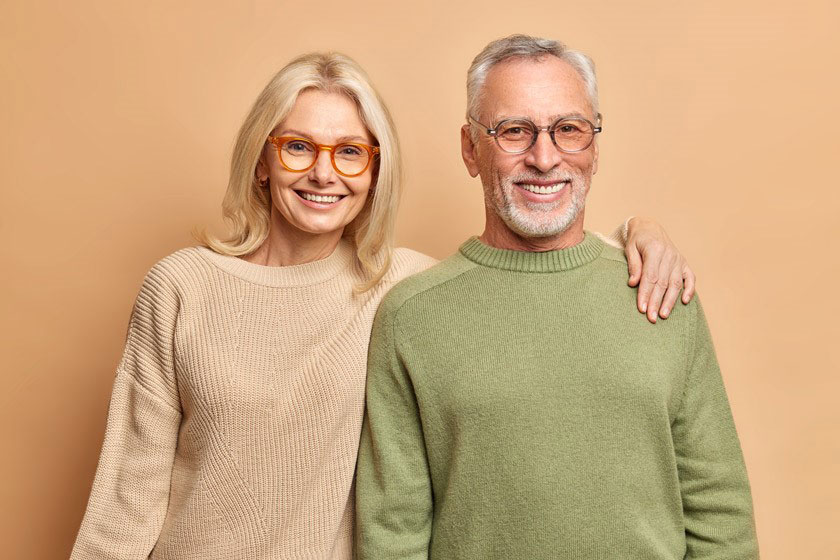 Wearing a monochromatic outfit means picking clothing items from the same colour or similar shades. The result will be an outfit that has an overall tonal look.
When shopping for clothes, try to make at least one outfit from the same colour scheme. Not only does it create an attractive look, but it makes choosing what to wear a lot easier.
Monochrome is the perfect choice for when you are not in the mood or have enough time to explore your wardrobe and mix and match.
Long Cardigans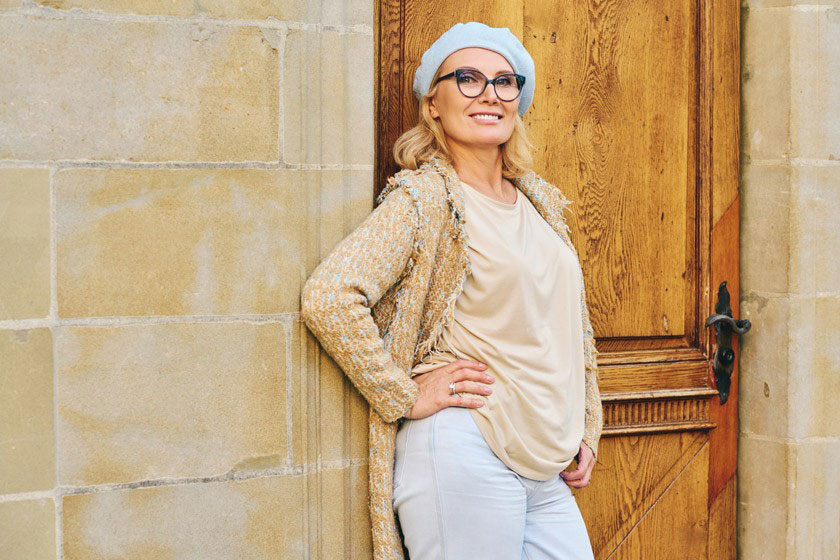 No one is trying to say short cardigans are not attractive. It is just that longer cardigans give you an elegant and classy look that goes well with the mature style.
Wearing a long cardigan over a combination of t-shirts and jeans will look so attractive on a senior lady. If you wear an oversized t-shirt with a high-waisted pair of jeans, you can tuck it into the trousers; it will make you look slimmer.
A-Line Skirts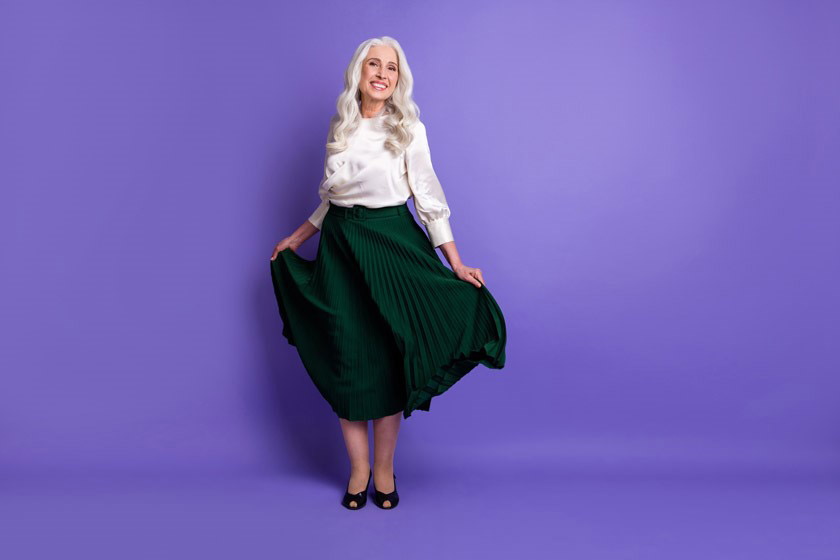 As its name suggests, an A-line skirt has a slim waistline that goes more comprehensive and wider as it reaches the bottom, just like the letter A.
In no way are we saying that other skirt models do not look good on seniors. To a great extent, that depends on your body shape. Skirts below or at the knee balance your figure and give you a modest look while drinking.
Denim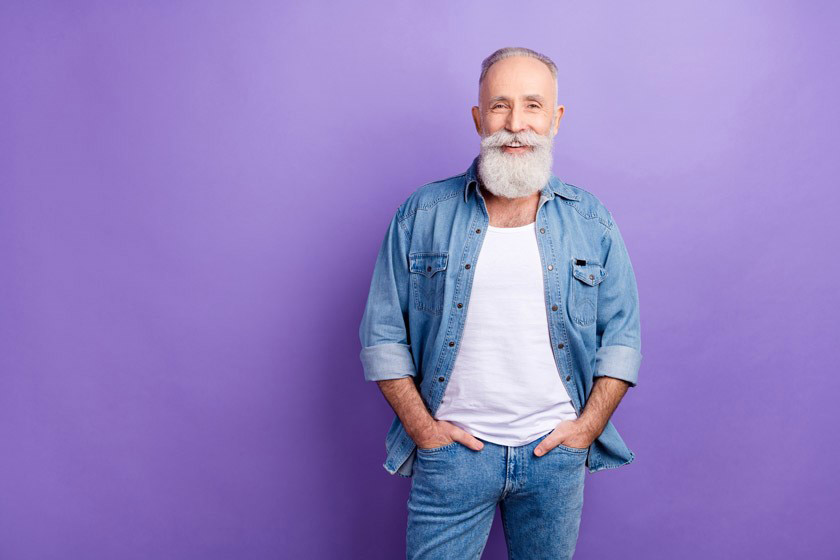 There are several items made of denim that can make you look good, not just jeans. Denim jackets or skirts also give you a good look. A denim combination easily goes with any colour, especially white.
A senior in denim will look cool and fashionable. Denim is a very popular fabric with almost any age group because it is comfortable and stylish, so no one can question why you like it so much.
Jeans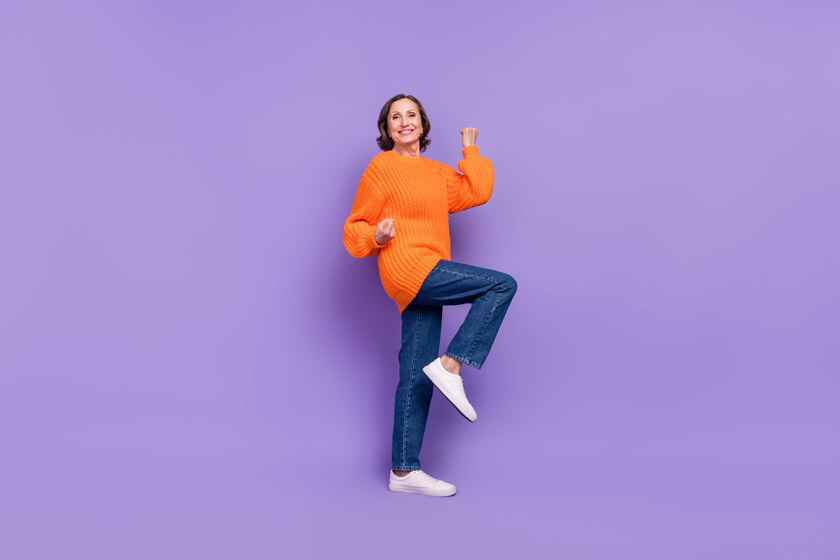 You cannot go wrong with jeans. Of course, we are not referring to skinny ripped jeans popular with teenage popstars. But a pair of straight-leg or wide-leg jeans will look fabulous on you. Of course, if your lower body is smaller, there is no good reason why you would not look good in skinny jeans too. But frankly, wearing skinny jeans can prevent normal blood flow in your legs, so it is safer to avoid them after a certain age.
Also, if you feel like jeans are a bit uncomfortable to wear, you can go for a nice pair of jeggings (jean leggings). They give the impression of denim but are generally more comfortable.
Bold and Colourful Outfits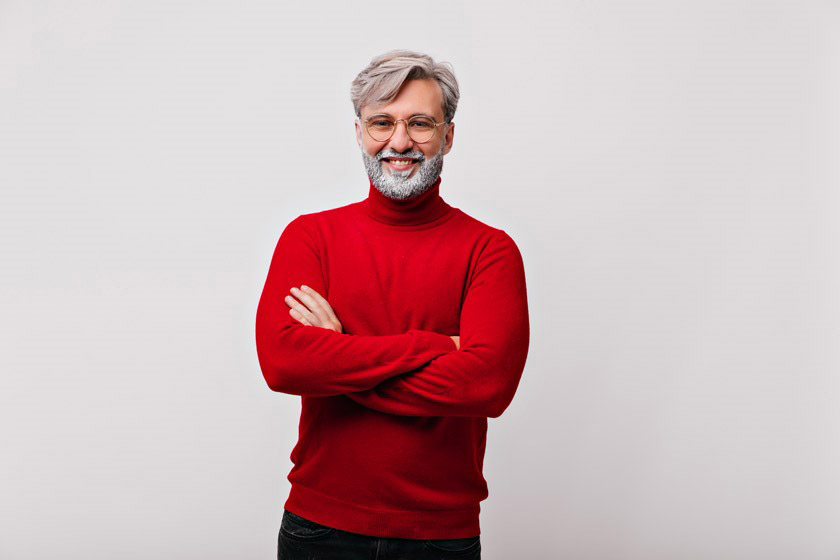 Many people believe that we should only wear pale or neutral shades once we hit a certain age. Well, let me tell you that is not true at all.
Nothing looks more attractive than bold colours that show confidence and make you stand out from the crowd. Also, bold and bright colours give positive vibes and affect your mood.
Scarves and Wraps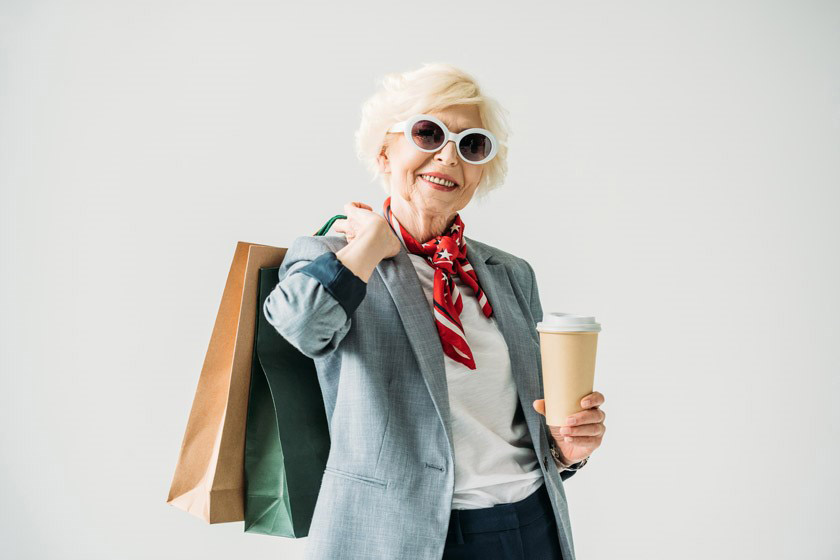 Scarves are an essential item in any wardrobe because sometimes they can add a magical touch to a simple outfit. When it comes to wraps, the pattern, colour, and texture are entirely up to you and the outfits you have. Nevertheless, no one can deny that wearing a nice scarf makes you look chic and charming.  Besides, wearing a scarf shows that you pay attention to details and can be very attractive.
Belts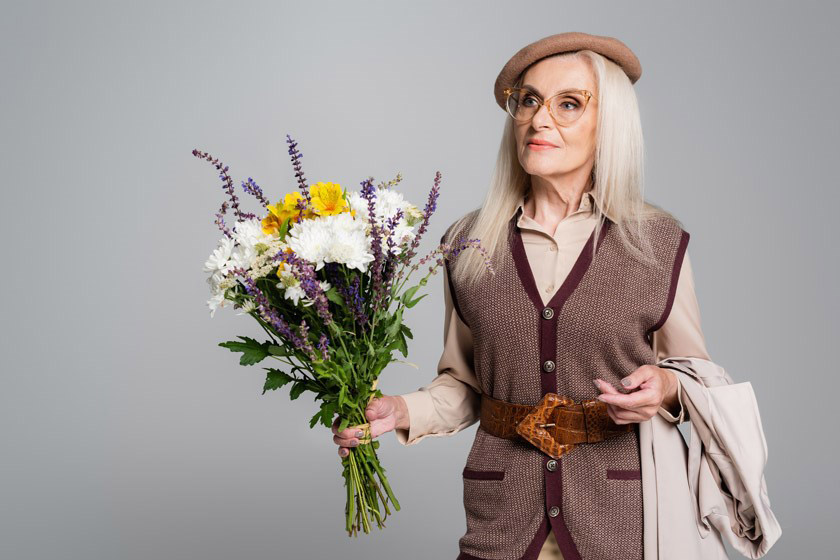 Belts can improve the look in a matter of seconds. Especially when you are wearing an oversized shirt or dress, you can use belts to look more stylish and shape your dress as you wish.
Belts emphasize your look and define the shape of your waist. Try to have a few belts in various colours. Someday, you will thank yourself for purchasing them.
Trench Coat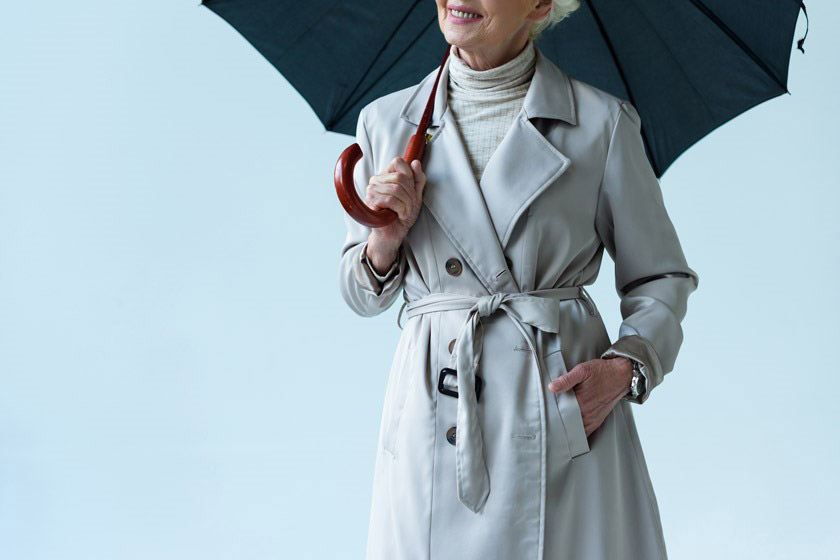 Having a good trench coat is a must since it is stylish and functional in cold weather. Imagine wearing an elegant trench coat with a chic scarf and a pair of well-fitting trousers. Anyone would fall in love with a combination like that.  Plus, trench coats are probably one of the most popular clothing items for seniors over 60.
Final Words
It is always a good idea to make a few changes to your style. You can reinvent yourself at 60 by taking care of your appearance and choosing what to wear and what not to wear.
It is never too late to follow the trends and adjust your style. But do not forget that the biggest trend you can follow is your fashion taste.