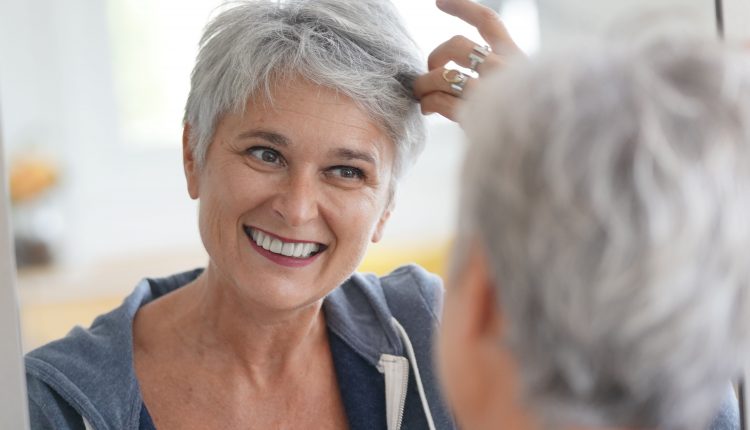 10 Best Shampoos for Grey Hair
Having shiny and vibrant grey hair needs using proper shampoos specifically formulated for grey hair.
Going grey is a natural process that all of us experience in our life. Some people embark on their grey hairs and love their natural look instead of covering grey roots. Grey hairs are structurally different and need specific hair care products to keep them shiny and smooth. This article introduces some of the best shampoos to have healthy, shiny grey hair.
Going Grey Changes Hair Structure
Our hair goes grey due to a lack of pigment production in hair follicles. However, colour is not the only change. The grey hair structure also gradually changes. More precisely, when we age, our hair follicles get smaller, and natural oil production in hairs decreases. In addition, changes in hormone levels in older adults cause the new growing hairs to get thinner and dryer. All these phenomena mean that you should choose hair care products suitable for your age.

Choosing the Right Shampoo for Grey Hair
You need different kinds of shampoos if you want to keep the greys. First of all, you need a moisturizing shampoo. This kind of shampoo maintains the hydration of hair. It would be best to have a purple-blue shampoo since grey hairs tend to turn slightly yellowish. Generally, grey hair turns yellow due to external factors like pollution, sunlight, wind, etc. So, you should use the purple-blue shampoo once a week if you want to keep your hair looking clean and shiny. It is noteworthy that if you have just a few patches or strands of silver throughout your hair, choosing a lighter shade of purple shampoo is better. However, if your hair is icier grey or your strands are very white, the best option is a darker purple or indigo-hued shampoo.
Following up, we introduce some of the best brands for grey hairs:
Pureology Hydrate Shampoo
This shampoo adds moisture to your hair and is the best option for grey, dry strands. It also protects hair scalps and provides extra care for them. Moreover, this product comes with a 100% vegan formulation appropriate for medium to thick hair types. Its main ingredients are emollient Jojoba, which moisturizes hair. Green tea extract supports a healthy scalp, and Sage extract stimulates hair follicles. In this shampoo, a blend of Lavender, Bergamot, and Patchouli aromas is used that helps you to relax while using.
The main advantages of this shampoo are
Suitable for all hair textures

Pleasant scent

Concentrated formula
Philip Kingsley Pure Blonde/Silver Brightening Daily Shampoo
As mentioned earlier, grey hair turns dull and loses its shine due to external factors. Philip Kingsley claims that this daily shampoo is formulated to dramatically enhance shine and tone yellow hair without staining. It uses optical brighteners and violet hues to reduce discoloration tones. Its formulation is also vegan and cruelty-free.
SACHAJUAN Silver Shampoo
This shampoo has too violet pigments, so it is suitable for people with lots of grey hairs. The other advantages of this shampoo are that it has UV protection. UV light is one of the factors that cause the colour to fade or the grey hairs to turn yellowish. This shampoo is formulated to hydrate the strands and increase shine. You can use this shampoo for all hair types and textures.
Oribe Silverati Shampoo
This is one of the shampoos formulated explicitly for grey and white strands. It is an illuminating shampoo that fades dullness and yellowish tones and makes your hair softer and brighter. The formulation contains blue and silver pigments and has a complex of protective antioxidants against environmental stressors. The brand claims that it can strengthen hair keratin.
Aveda Blue Malva Color Shampoo
This gentle cleanser shampoo has a bluish-purple tint that is the best to keep grey hair vibrant. The bonus point of this shampoo is that it works on all hair colours, from blonde to brunette to red. The other positive point is its environment-friendly packaging made of 80% of used plastic.
L'Oréal Metal Detox Shampoo
This shampoo is specifically designed to dissolve and neutralize trace minerals and metals inside your hair; thereby, it can protect the hair colour's vibrancy. This shampoo is excellent if you live in areas with hard water or spend a lot of time in chlorinated water. Such chemicals cause your hair to look dull over time.

René Furterer Okara Silver Shampoo
This shampoo uses natural Okara extract and violet pigments for grey or white hairs. This is a perfect option for various shades of grey hair and can instantly add more shine to dull grey hair. However, you can't use this shampoo daily.
SACHAJUAN Moisturizing Shampoo
This gentle shampoo is excellent for dry hairs since it can intensively moisturize hair strands. The formulation contains argan oil, which provides optimal hydration and shine without weighing down the roots. These features are essential for grey and white hairs since the structure of grey hair changes and gets dryer. You can use this shampoo daily.
Redken Color Extend Greydiant Purple Shampoo
This shampoo is one of the best for grey hair. Whether you are naturally grey or dyed hair silver, this shampoo can remove yellow and brassy tones with purple pigments and vibrant grey strands. This brand uses amino acids in the formulation to help strengthen your hair. Redken Colour Extend is best for grey hairs rather than white.
Klorane Plant-Based Purple Shampoo with Centaury
This anti-yellowing shampoo uses plant-based ingredients that have natural blue and violet tones instead of synthetic pigments. The blue tints of the shampoo come from Centaury flowers and successfully reduce dullness and brassiness while gently neutralizing yellow tones. This shampoo is suitable for all grey shades and doesn't use parabens, silicone, and sulphates in its formulation.

Final Words
Using a proper shampoo formulated exclusively for grey hairs is pretty vital to have vibrant, shiny, and healthy grey strands. To do so, you should use a hydrating shampoo to rehydrate your dry grey hair. In addition, grey hairs tend to turn yellow. So to remove the yellowness and brassiness, you should use a shampoo that contains blue or purple pigments.
Read more:
Top 10 Hair Masks for Women over 60