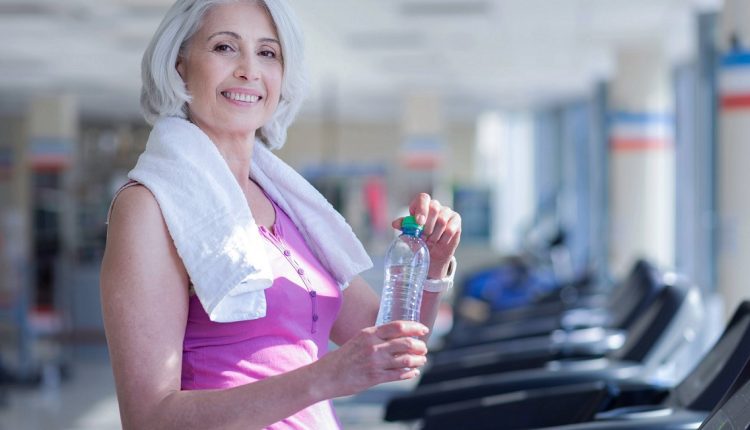 A Guide to Exercise during Menopause
Contrary to popular belief, exercise and regular physical activities are necessary during menopause. You can think of this time as an extra opportunity to take care of your health and fitness. 
Today's article will discuss the benefits of exercise during menopause.
Menopause is a different experience for each woman. Some women experience mild symptoms that quickly pass, while others might experience complex mood swings that are difficult to manage. However, the good news is that exercise during menopause can go a long way in reducing the symptoms.
The Importance of Exercise During Menopause
Although frequent exercise is not proven to reduce the symptoms of menopause, it can reduce the stress of this period and improve your quality of life. The main benefits of exercise during menopause are as follows:
Weight gain prevention: It is usual for women to gain abdominal fat during this period. Exercise during menopause helps decrease weight gain.
Cancer risk: Weight gain during menopause can pose several dangers, such as an increased rate of breast and colon cancer. Exercise during menopause is a great way to reduce weight and protect your body against various disorders.
Bone strength: After menopause, the body's ability to produce new bones is relatively reduced, making women susceptible to fractures and osteoporosis. Exercise is the best way to reduce the speed of bone loss both during and after this period.
Disease prevention: Conditions such as heart diseases and type II diabetes are common in women who have gained weight after menopause. By reducing weight, exercise during menopause can lower such risks.
Mood: Depression is a common issue the elderly face after menopause. However, regular exercise during menopause can reduce the symptoms of depression. Some women might experience mood swings that are difficult to manage in other ways except regular exercise.
Best Exercises During Menopause
As said earlier, regular exercise is a great way to stop weight gain and loss of muscle mass during menopause. Studies have shown that women with a BMI greater than 30 might experience hot flashes and sleep disturbance. Exercise is the best way to reduce these symptoms, maintain a healthy weight, and enhance your life quality.
Here is the list of exercises you can do in this period:
Cardio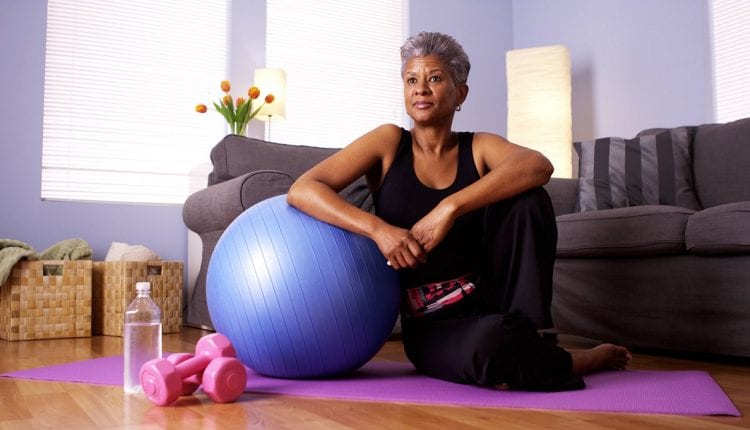 Aerobic activity can work your large muscles and increase your heart rate. It is recommended that you start with 10 minutes of light activity and gradually increase your exercise intensity to reduce your weight and improve your mood during menopause. The best cardio exercises are as follows:
Walking
Biking
Swimming
Jogging
Strength Training
Osteoporosis is one condition that starts with menopause in some women due to reduced bone production. Some women start taking vitamins and supplements, but strength training can also go a long way in helping menopausal symptoms by building bones and increasing muscle strength. Strength workouts are also suitable for burning body fat and enhancing metabolism.
You can use dumbbells to do strength training at home, or you can choose a gym and use various machines and free weights. Choose suitable weights and repeat the movements 10-12 times in each set.
Yoga: The Best Exercise During Menopause
As said earlier, the symptoms of menopause are different in women. Mood swings are common among women experiencing menopause. Yoga and meditation are the best exercise methods during menopause. These movements can calm your mind, and they are also suitable for reducing the following symptoms:
Irritability
Tiredness
Hot flashes
Difficulty sleeping.
Cognitive changes 
Dance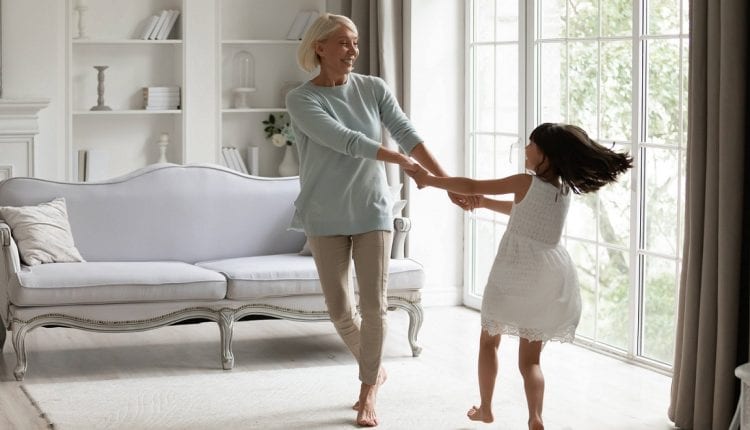 As long as you are active, you will be alleviating menopausal symptoms. Dancing is another alternative to exercise and can increase your calorie-burning power. If you find it difficult to run on a treadmill, then take up dancing. Various dancing styles such as ballet, salsa, and jazz are good choices to pep you up during menopausal days.
Balance and Stability Exercises
These two types of exercises can prevent falls. Try adding exercises such as standing on one leg. Tai chi is another method that is suitable for menopausal women.
Metabolism and Mood
Ageing is a process that reduces metabolism. Exercise makes you stronger, and it is good for the heart, bones, mental health and reduces symptoms of menopause. Improving metabolism is what you need to overcome your menopausal symptoms. Notably, increasing your muscle mass can help you burn more fat even while you are not doing any activity.
Exercise also activates some receptors in the brain, and they release endorphin. Hence, you will feel better and stave off mood swings frequently experienced by menopause. Women can feel healthier and happier during menopause if they add exercise to their daily routine.
Motivation to Exercise During Menopause
Motivation starts with setting realistic and achievable goals. You don't need to be an athlete to train or move, and adding a few exercises to your daily routine will go a long way in reducing the symptoms. You can also team with a friend, neighbour, or partner to exercise together to have higher motivation. 
Final words
You don't even need a gym membership for this to work; activities such as dancing or gardening can also improve your health. Just remember your sun safety tips, always warm-up before starting any exercise, and never forget to consult your doctor about starting new exercises.