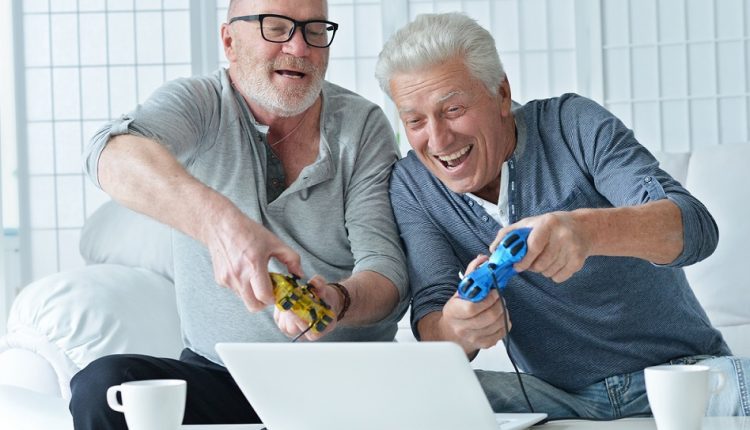 Top Must-Play Games for Seniors: You Don't Want to Miss!
Did you know that according to new research, brain games can slow down the brain's natural decline in old age? They can even restore some of the brain's power. The director of a center for designing brain games says that games can make the brain healthier and more alert. These interventions include physical and mental exercises. The brain is not a fixed structure, and like a computer, it constantly changes. 
The brain can increase its size and even improve its efficiency with age. Games and other hobbies for seniors can have wonderful effects during old age, which is why companies are developing various brain games for seniors. This article will introduce the best games for seniors.
Benefits of Games for Seniors
The benefits of games for seniors are diverse, and some games can help seniors improve their cognitive abilities such as judgment, decision-making, and memory. A study at the University of Illinois at Urbana-Champaign shows that strategic computer games can help strengthen seniors' critical thinking. Games that require strategic thinking or decision-making can be particularly beneficial.  There is a wide variety of strategic online games for seniors that can revitalize their mental functioning.
There are various video games for seniors, but due to the rapid growth of new technologies, especially the rapid changes in mobile phones, many older people do not feel good about them. Hence, they do not have enough confidence to use them. Studies show that playing with a mobile phone can improve the confidence of the elderly and reduce their sense of inability to cope with new technologies. So it is advisable to familiarize the elderly with new technologies and provide them with different video games to help them have a better life quality.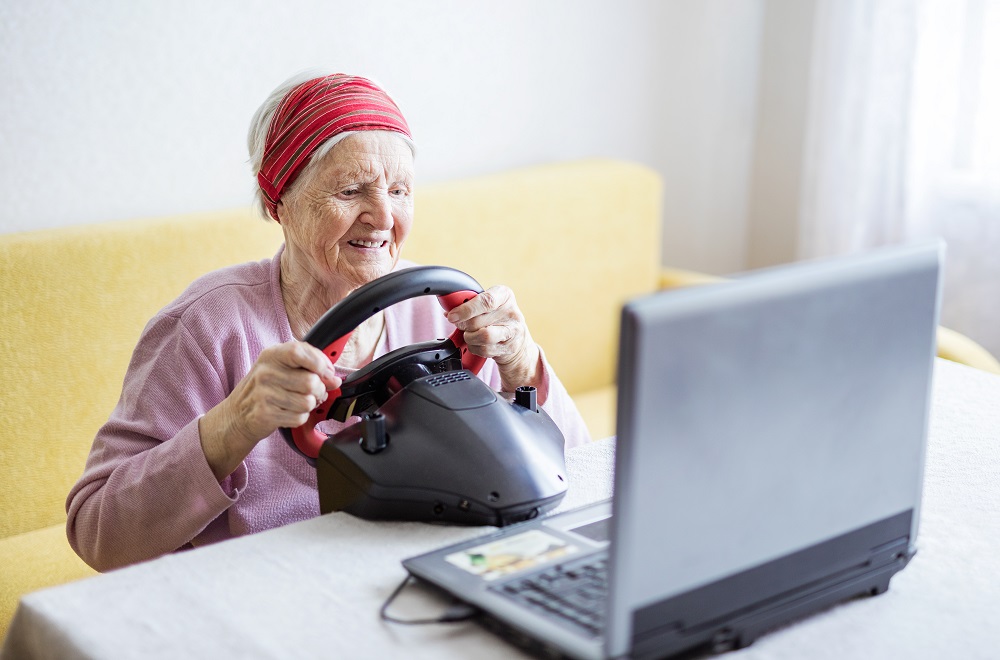 The mobility of seniors is more limited than younger people. It drives some of them to become bored, especially in the cold seasons of the year. 
Researchers found that older people who played computer games were happier and experienced fewer depressive symptoms. Another study by the University of California researchers shows that we can even use some computer games to treat depression in the elderly.
The question is, what games should the elderly pick to enjoy and benefit from? 
Here is a list of fun brain games for seniors.
Happy Cube: One of the Games Seniors Would Love
Happy Cube is one of the most popular memory games for seniors. To play this game and entertain the elderly, you have to separate the pieces from the screen and make coloured cubes. Then open the cubes to put them back on the flat screen as before. Although it may seem simple, this physical game for seniors is more challenging than you think.
Pentaball
This game was suitable for the elderly and was the best intellectual game globally for five years and has won eight international awards. In this simple game, all you have to do is turn the pieces and turn the screen ninety degrees. But these simple moves can easily change the place of the winner and the loser. Although Pentaball seems a simple game, it can get complicated. A simple move can keep you busy for a long time. This game can strengthen your speed and decision-making power, logical thinking ability, and problem-solving. This game challenges your mind and boosts your memory. Every moment and with every movement and rotation, all your plans fall apart, and you might lose the game.
Othello
This game is entirely strategic for the elderly, and you should have a plan to win and be able to guess the opponents' movements. Othello is one of the fun party games for seniors, and they can play it with their peers or their children. If you play Othello with your friends or family, you will have a great time laughing because you will have a lot of fun. You will be able to laugh with them and have fun. It is the best way through which you can promote trust and compassion with the people to whom you are playing the game. In this game, if the beads' colour on the screen prevails over the colour of your beads, you win. Sometimes a few moves can make you a winner or loser. 
Funnector
It's a simple word game that you can play on your own or with a loved one. You can even play with your grandchildren. Test it out and see if you like it.
Sudoku: One of Favourite Games for Seniors
Sudoku is one of the most popular mind games for seniors and other adults. In classic sudoku, the objective is to fill a 9×9 grid with digits so that each column, each row, and each of the nine 3×3 subgrids that compose the grid contain all of the digits from 1 to 9.
Kabaleo
Kabaleo is in the list of our memory games for seniors in which each player is given a colour without the other players knowing it. The winner of the game is the one who collects more pieces of his colour. To win the game, no one must know what your colour is.
Hive
This game is one of the most popular strategy games in the world, which is effective for strengthening memory. This game is also held every year in world competitions and has many participants. Hayo is somewhat similar to a chess game, but it is more exciting because it has no page. Each player's goal is to surround the opponent's queen bee and protect the queen in this game. Players' pieces can surround the queen bee.
Storytelling with Word Limit
Word games can also be interesting, and there are hundreds of word games for seniors. Choose a few words, and then try to write a story with these words with your imagination's help. The story should not belong and may even be in the form of one or more sentences in which you have used the selected words.
Online Games for Seniors
The list of games for the elderly is endless, and the games are not limited to physical or mental ones. Hence, the following are some online games for seniors that they can play either on a PC or smartphone.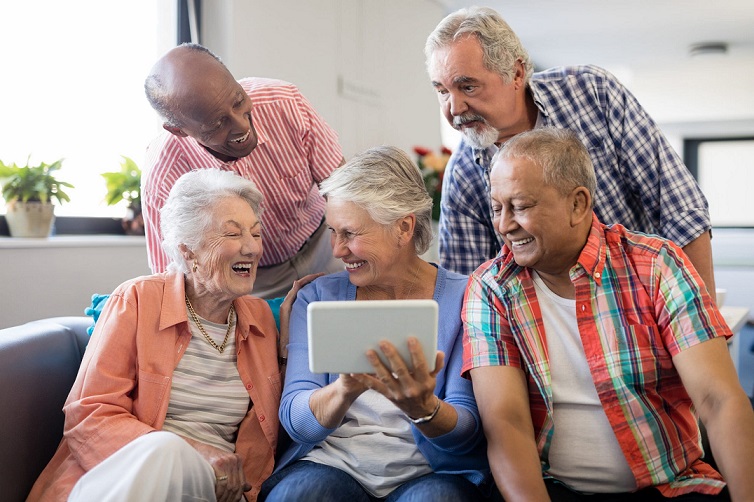 Elevate
This game is one of the best brain teasers on Android phones. Furthermore, Elevate is designed to enhance speaking skills, math skills, and memory. Elevate provides daily brain training with three to five games in the professional version. In addition, the most exciting thing is that each game describes its goal, and you will receive monthly, weekly, and daily performance reports. It will put you in a position to compete with other users in your age group.
Witty Words
The Witty Words game is designed specifically for seniors. It can stimulate the brain, improve cognitive function, enhance memory, and be entertaining. It challenges seniors' memory, tests their vocabulary, and helps them discover new words with crossword puzzles and word connections.
Witty words aim to provide a better experience for visually impaired people by including large buttons and sufficient contrast during the design process. Players can see the words for a limited period and then remember and solve the puzzle.
Lumosity
You can download Lumosity for free from the iOS and Android Play Store. Lumosity is one of the most popular brain games among seniors, and it is played by more than 60 million people worldwide. After installing this game, you should first do a 10-minute mental test for free to see how smart and alert you are and then challenge your mind with more than 40 games, including puzzles, math, memory, problem-solving, and more.
Brains Trainer
Brain Trainer is another online game for seniors, and it helps them strengthen their memory and speed by accessing eight types of games (face recognition, math skills, concentration, colour, quick search, etc.). This game is cleverly designed to get harder the further you go, so your mind is always challenged to find the answers. Brains Trainer is available for free on Google Play and the iOS App Store.
Brain Matrix
Brain Metrix is a free web service that helps you strengthen your mind. This program offers an extensive collection of games related to colour recognition, IQ, spatial intelligence, memory, and creativity to help the elderly strengthen their brains. So if you are interested in playing games that help prevent Alzheimer's and dementia, Brain Matrix is one of the best games for you.
Brain Workout Trainer
This mind game focuses on memory, concentration, diagnosis, and problem-solving and helps strengthen the brain and prevent Alzheimer's. In this game, you have to memorize the people's emojis, designs, and faces and then create the same design over time. Also, focusing on moving objects at different speeds and the ability to quickly solve addition and subtraction are other features of this game to strengthen the mind.
The classic card game is available in an online colorful format. Spades is a great game for seniors as it offers mental stimulation and engages strategic thinking, helping to keep the mind active and sharp. The objective of the game has remained the same throughout the years, the player to score 500 points first wins.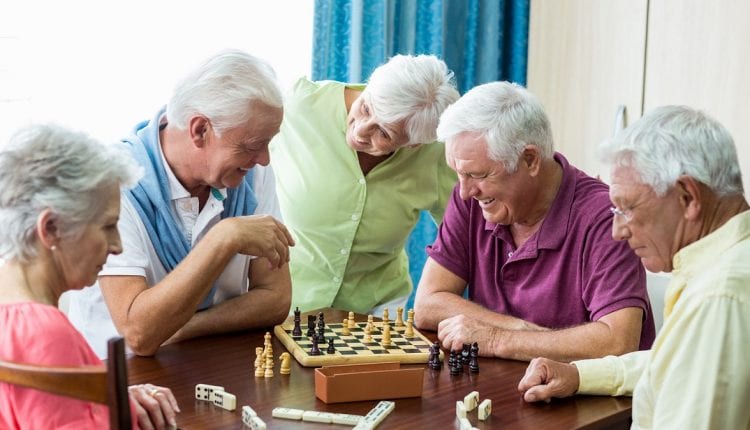 Final words
Games are not just for kids, and the elderly can enjoy them too. Brain games for the elderly can help prevent Alzheimer's disease. They also enhance the ability to focus and the speed of thought processing and analysis and strengthen your memory. Finding suitable physical games for seniors or downloading online games can entertain the elderly and prevent memory diseases.