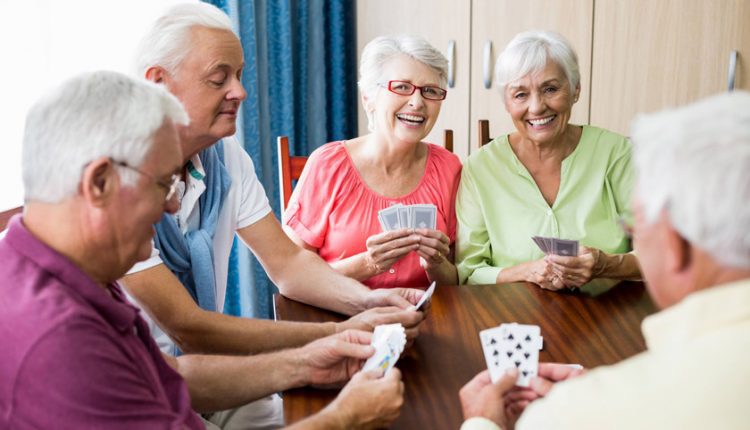 Best Card Games for Seniors
In the past, when people gathered in groups, they would get bored quickly. There were not many fun activities to do in a group, and if they wanted to spend all the time talking, they would soon run out of topics for conversations. Then one day, the invention of card games opened a new door to civilization. But, how about seniors, and how can the elderly be entertained?
When an activity is simple, fun, and doesn't consume much energy, we usually think it's just a way to kill time. We go on thinking that we don't benefit from such activities in any tangible way. You might have the same idea about playing games, card games, to be more specific.
But reality's something else. Playing games keeps you in a healthy state, physically and mentally. Since playing top games for seniors greatly affects one's memory and cognitive abilities, it reduces the risk of developing illnesses like dementia or Alzheimer's. Besides, group card games give you a great chance to improve your social life and help seniors feel useful and happy.
So playing card games is inexpensive, beneficial, and almost effortless. You cannot find many hobbies among hobbies for seniors who have all those traits at the same time.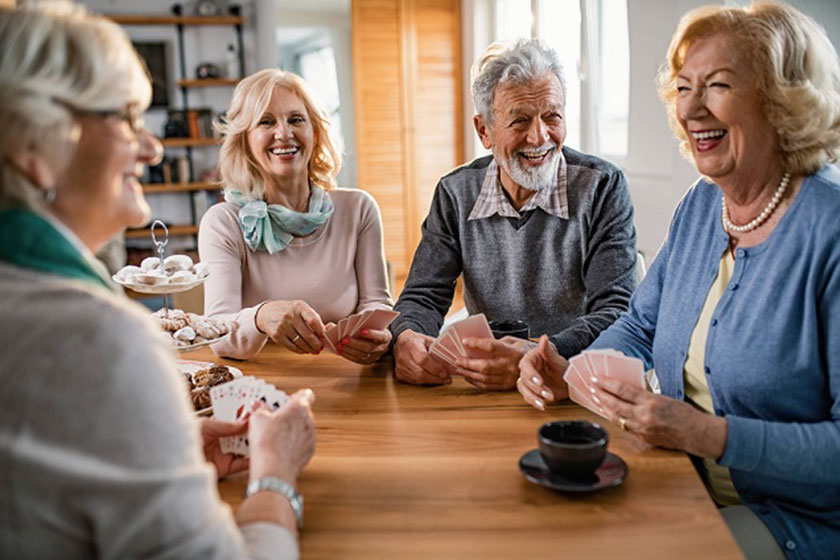 Group Card Games
Playing group card games is an excellent way to interact with your friends and family, and the benefits of games for seniors are enough to make them happy. It helps you spend some quality time with each other and keeps your mind sharp. This article will go through a few card games that you might want to try out if you already have not. Let's start with Canada's most popular card game.
Euchre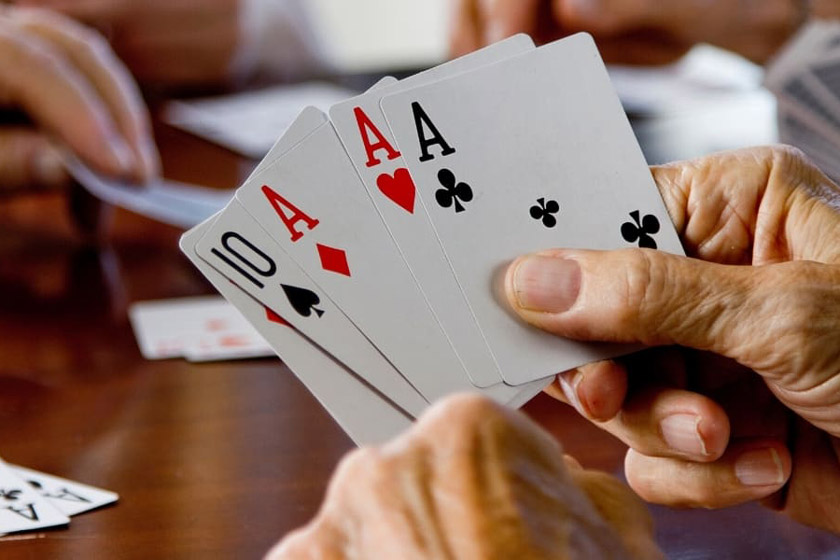 It is hard to find someone who has never played this game before. Euchre is a game played in many forms. Usually, four people are teaming against each other who try to win the most tricks.
To begin playing, you must choose a dealer. The players draw one card each from a shuffled deck. As a result, the player with the lowest card becomes the dealer. Each player receives five cards from the dealer in a clockwise direction after the deck is shuffled.
After setting the lead card in the center of the circle, the player on the left begins the game. All players must follow the clockwise direction. Based on the established trump suit, the player with the highest-ranking card takes the trick. In the next round, the trick winner takes the lead.
Bridge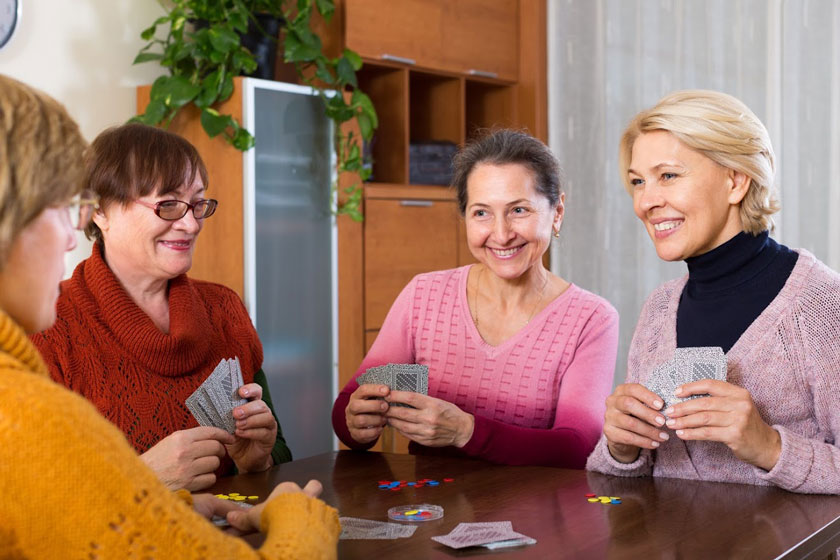 The second place belongs to another classic, Bridge. In this game, two people team against two other people and every team tries to win the tricks by bidding the highest. Of course, this is only the simplest form of the game, and you can play this game in other ways.
Gin Rummy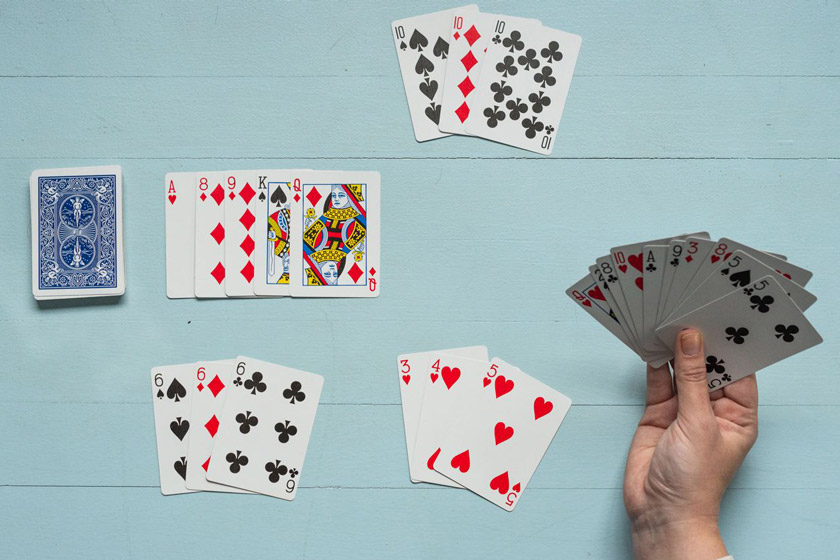 The next game is the third game in Gin Rummy. Two to four people can play this super popular game, and everyone tries to set the cards. The first player with no cards is the winner.
Gin Rummy or Gin's traditional card matching game requires two players and a standard 52 playing card deck. Aces are worth one in Gin Rummy, and face cards are worth ten. In Gin Rummy, the aim is to get 100 points first.
Canasta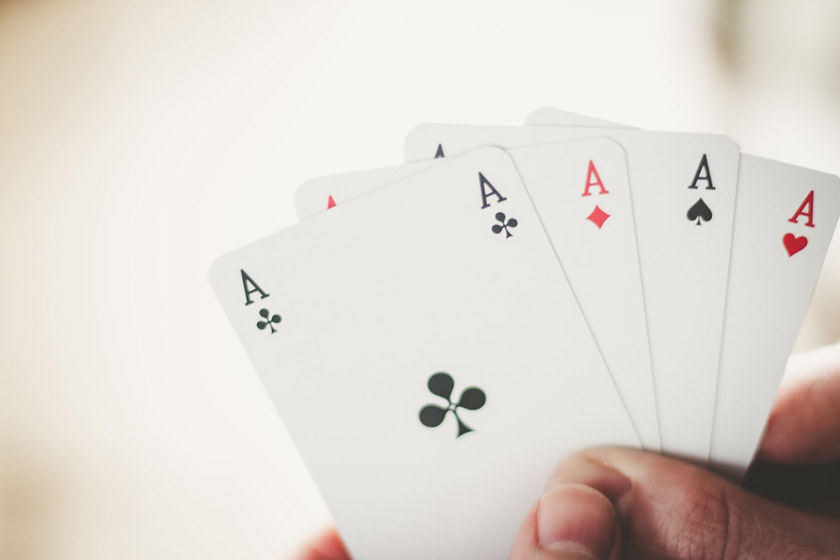 Canasta, a game from the Rummy family, was very popular in the 50s, so playing it will provide a sense of nostalgia. Each player puts one card on the pile based on the value or suit in clockwise order, and the one who finishes their cards sooner will be the winner.
Crazy Eights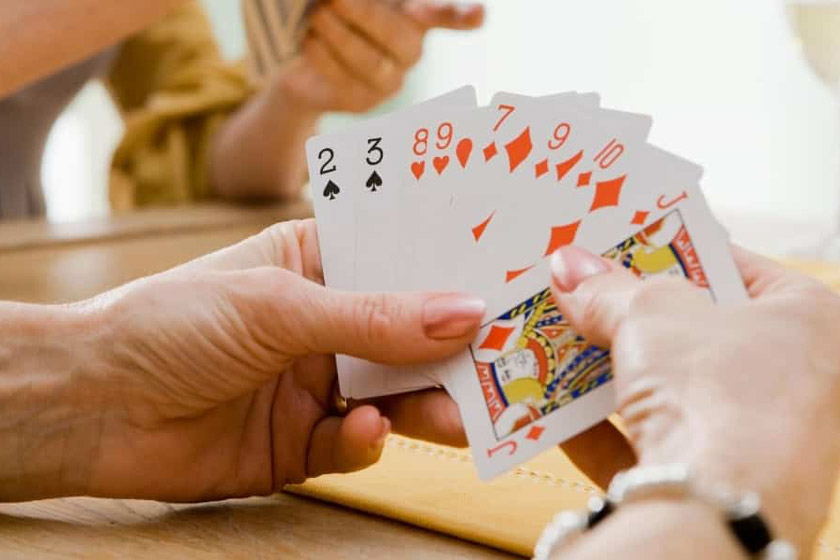 The next game is Crazy Eights. You can play this game in a team of two to five. You leave one card facing up, and then each player must put a card matching the suit or the number with the card underneath it. The crazy part about this game, as its name states, is the eights. When you play an Eight, you have the right to determine which suit players should continue putting cards down with that suit. You win when you are the first player who runs out of cards.
Slapjack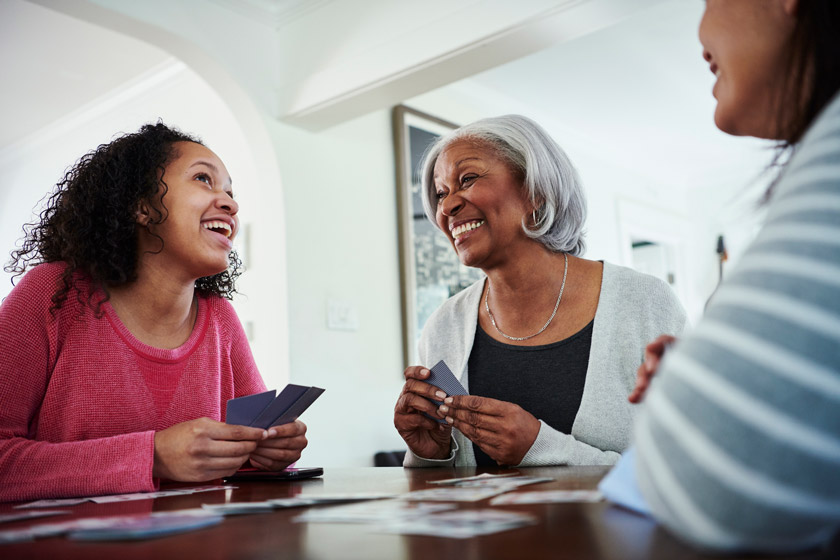 The next game we are going to talk about is Slapjack. As the name entitles, all you need to do is to slap the jack!  You and your team play in clockwise order, and when a jack is played, the one who slaps it sooner will own the whole stack of cards underneath it. The winner is the person who collects all the cards. Speed is key in this game.
Pinochle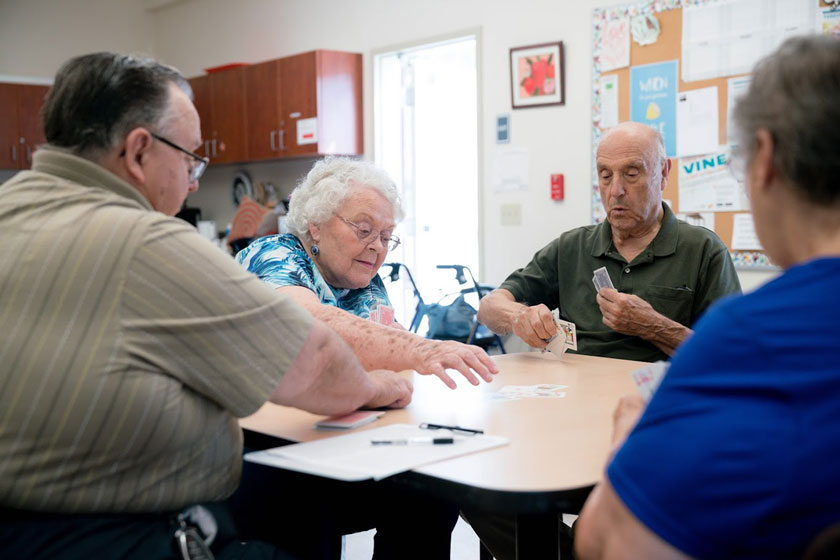 The next game coming up is Pinochle, a trick-and-meld game with the winner being the team who wins most tricks. Plays and leads make up each trick. It is the non-dealer that leads; following that, the winner of every trick follows. Unless the opponent plays a higher trump, the trump lead typically wins the trick. Other than the suit led, a card led wins unless the opponent plays a higher card of the same suit or a trump. Leaders and opponents may play any card. There is no need to follow suit.
Cribbage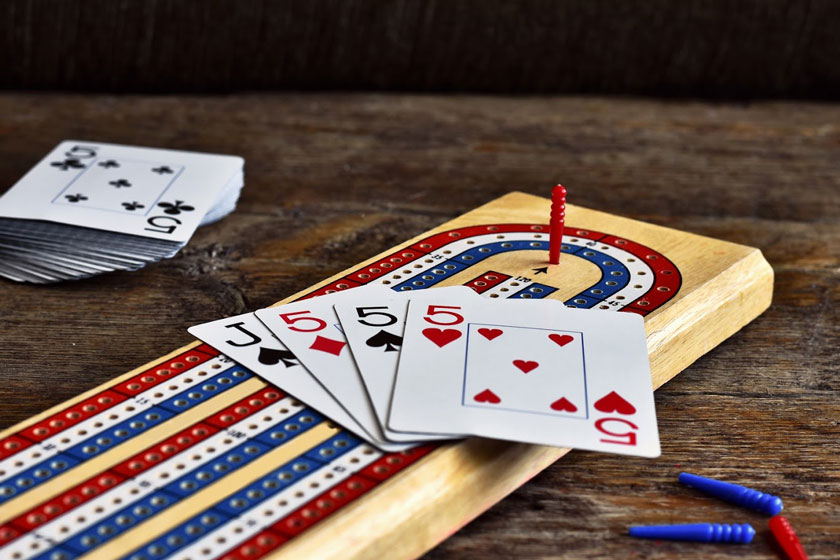 Cribbage is our next game. Although this game was initially designed for two people, more people can join the group with slight gameplay changes. In this game, players follow a deal-play-show pattern and try to get a score set before starting the game. The player who reaches the score sooner will be announced the winner.
Big Two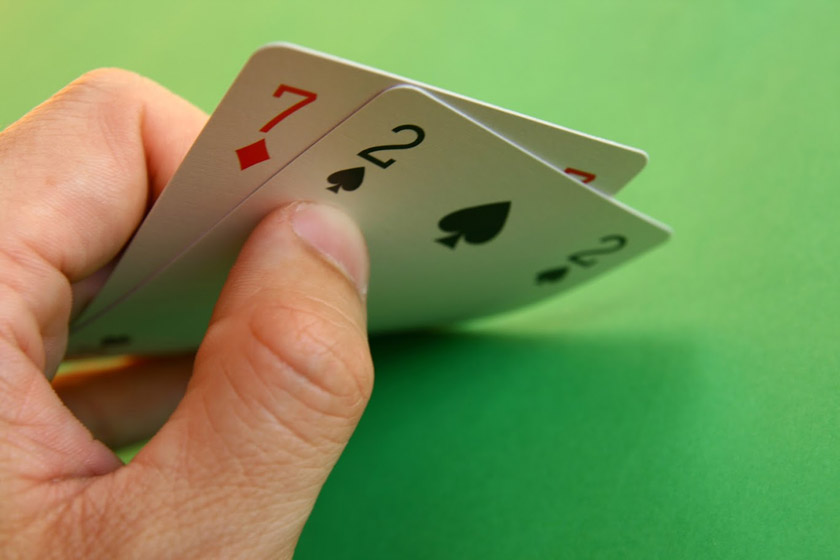 Our next on the list is Big Two. This game is poker, but the highest value in a deck does not belong to ace, but two. To win, you must be the first to get rid of all your cards. Among the several combinations, the 2 of spades by Big Two is always the highest card. In some cases, a five-card hand with a four-of-a-kind hand plus an extra card, a straight flush, or a royal flush can override the Big Two.
Old Maid
Another game you can play is Old Maid, which requires you to pair cards that match each other and go on until one player only has the Old Maid card.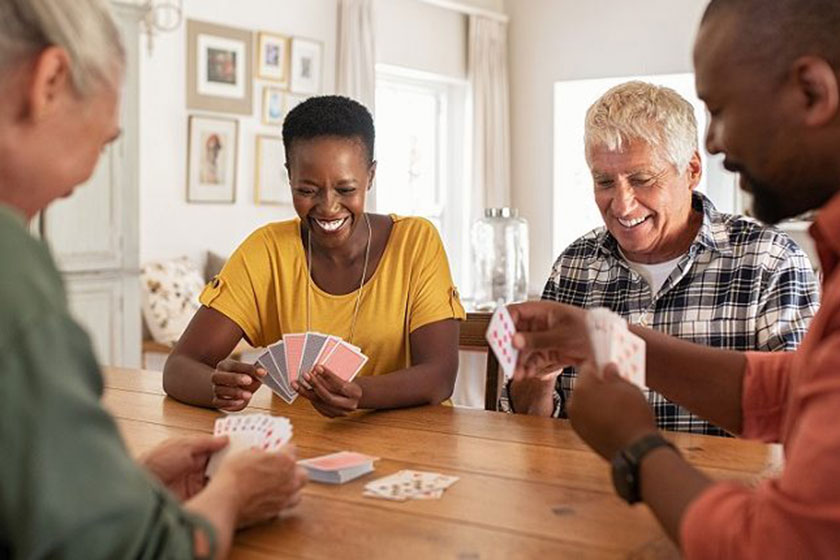 Other group card games worth mentioning are Go Fish, Uno, phase 10, Snap, Blackjack, and Poker.
Solo Card Games
Group card games have a tremendous effect on your socializing skills. But there are times when you want to spend your time alone on something challenging and fun, and that is when solo card games enter the show. Some of these games are only available on the computer. You can find the others in both physical and video formats.
We possibly cannot talk about one-player card games without mentioning Solitaire. Although you can play this in a two-player format, it is more typical to play it alone. What you have to do is rearrange the cards. This game has many variants, including Canfield, Chain Solitaire, March Same Rank, and Klondike.
Pile of 28, also called Pyramid, is another solo game you might want to try playing. In this game, you create rows of cards in the form of a pyramid and then take turns in drawing cards and combine them in a total value of 13.
Another game you can play on your own is Seahaven towers, in which you need to fill the spots with kings and complete the card sequence.
The next game is Devil's Grip which resembles a well-known variant of Solitaire called Freecell. The only difference is that you should put jacks on top and kings on the bottom while placing the piles. Queens go in the middle.
Deck of Cards
A deck of playing cards contains 52 cards in each of the four suits of Spades, Hearts, Diamonds, and Clubs. There are 13 cards in each case: Ace, 2, 3, 4, 5, 6, 7, 8, 9, 10, Jack, Queen, King. Jokers are also usually included in modern decks.
You can play many games with a deck of playing cards or playing cards. We have introduced some of these games to you in this list.
Keeping up with the Young
When it comes to playing card games, you might face problems seeing the cards properly and making out the value or suit on a card. These kinds of issues are solved easily. You can usually find card decks in larger prints, so you wouldn't have any problems reading them. Special card Holders and Card Shufflers are also available if you have issues like shaky or Arthritic hands. Remember that for most games, you have the option of playing them online, which is both cheaper and more comfortable.
These games are not the only ones that exist for you. We live in the age of entertainment, and almost every day, new games are getting added to this list. Finding a simple, inexpensive game that allows you to have fun with your loved ones will not be difficult and is sure worth it. Join the group, play games, have a great time, and keep your mind and body engaged in healthy activities for seniors.