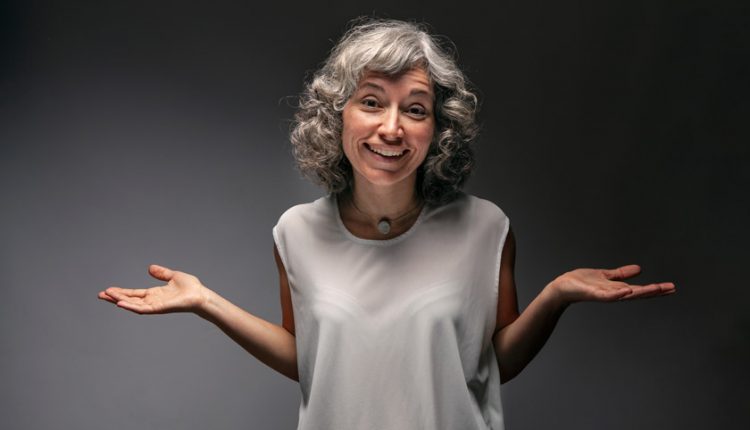 As attractive as it is, grey hair is associated with old age to a great extent. When our hair goes grey, we look for colouring and dying options because it is one of the ways to look younger at 60.
But there is one problem with dyed hair: it keeps growing. And when hair keeps growing, your roots reveal the natural grey colour again. As a result, you have grey roots while the rest of the hair is different.
Covering grey roots might be a challenge for any senior with dyed hair. This article will tell you about the easiest, quickest ways to cover your grey roots to maintain a good appearance for your dyed hair.
How to Cover Grey Hair Roots?
Following are the best products and methods for those who want to maintain a good appearance without worrying about grey hair.  Using each of these products has its advantages. The best way is to explore the option and see what works best for you.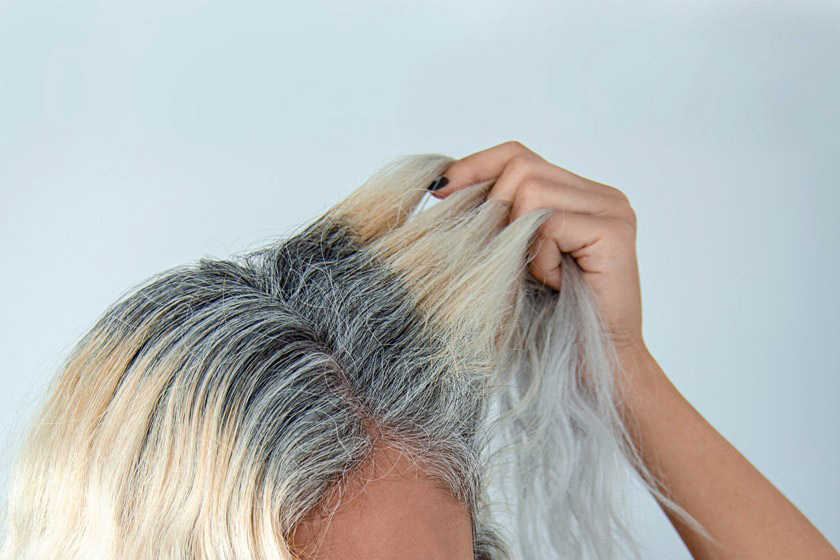 Using Root Touch-up Powders
See how quickly you can hide grey roots by using a pigmented powder that matches your current hair colour. Get a small brush and apply the powder to the grey area. Remember that your hair needs to be dry for the powder to last until washing.
Using Touch-up Sprays
Another quick way to cover your roots is to use sprays. Using a spray is easier, faster and more effective, so it is probably the best temporary coverage for grey roots. Even though it is only a temporary solution, it is ideal when you hurry and do not have time for more time-consuming covering methods.
If you do not wash the spray off after it dries, it will last forever. Moreover, you can use sprays to cover thin hair and make them appear thicker and fuller.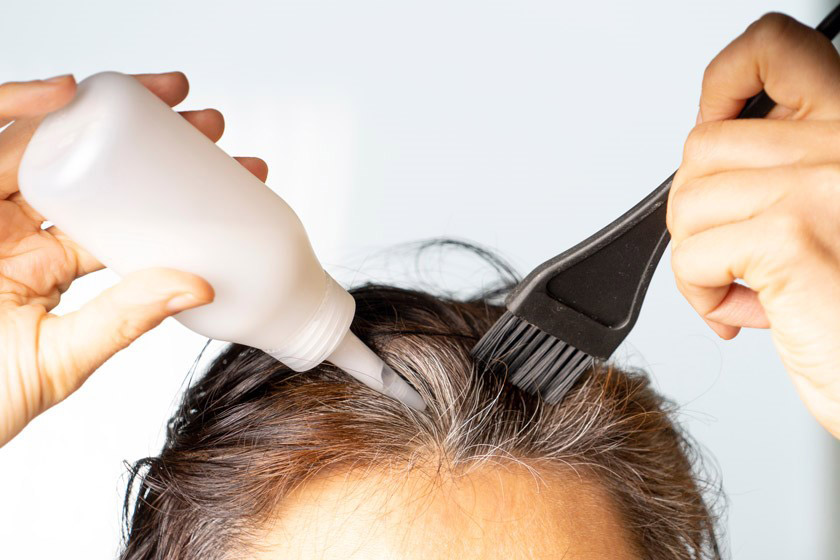 Using Root Concealer Touch-up Sticks
Typically, you can find these sticks in the shape of thick lipsticks or crayons. The touch-up sticks usually come in plastic tubes and resemble thick lipsticks. Some particular brands work better if you wet them before applying. Using a touch-up stick makes it easy to cover grey hairs along your hairline.
The shape of the sticks makes the application more straightforward, and they glide smoothly over hair. Touch-up sticks hide the grey roots until the next hair wash.
Using Hair Color Touch-up Markers
You can carry around markers with ease because of their shape and size. They are easy to use and are available in a variety of colours.  All you need to do is press a colour marker against your roots and watch the colour flow on your grey hair.
After application, it is best to brush hair and apply styling products afterwards.  Markers are probably the best product if you have a few grey hairs in between the coloured ones.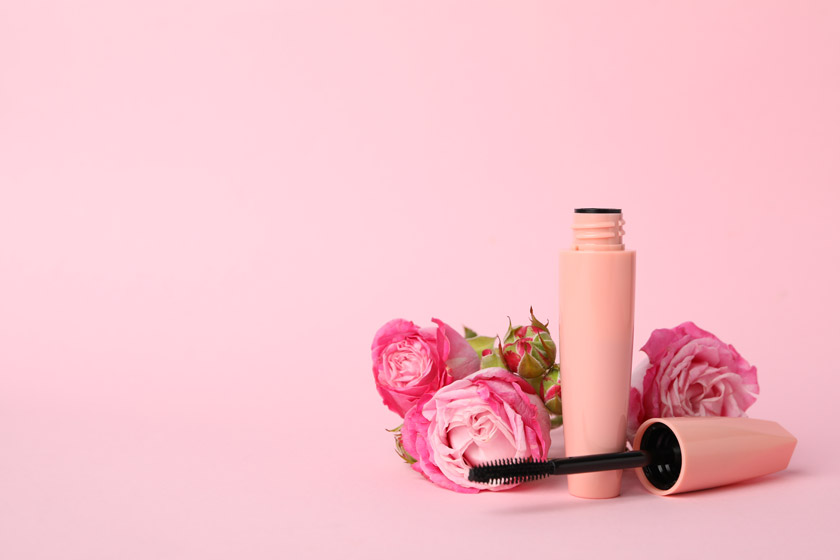 Using Hair Colour Touch-up Wands
This product comes in a tube with a wand that looks like mascara. If you would like to cover a few grey areas temporarily, a wand is a perfect choice. Its mascara shape allows you to apply the tinted content of the tube more carefully, so it is suitable for covering individual grey hair.
After application, leave the hair to dry naturally or use a dryer. Either way, the temporary colour will last until you wash it off. If you wish for a richer colour, you can enrich the product with argan oil or similar ingredients that straighten and nourish your hair.
It is also worth mentioning that if you know an older adult who wants to cover up their grey roots, you can buy one of these products and consider gift ideas for senior loved ones.
Using Root Touch-up Pens
It usually comes in a tube of liquid hair dye and a sponge or brush at the end.  If applied to dry hair, it will cover the roots until washing them off with shampoo.
Pens are great for concealing scattered grey hairs, and while their shape might not be ideal for covering large areas of hair, it sure does an excellent job on smaller areas.  You can also use one to create highlights and enjoy a new look.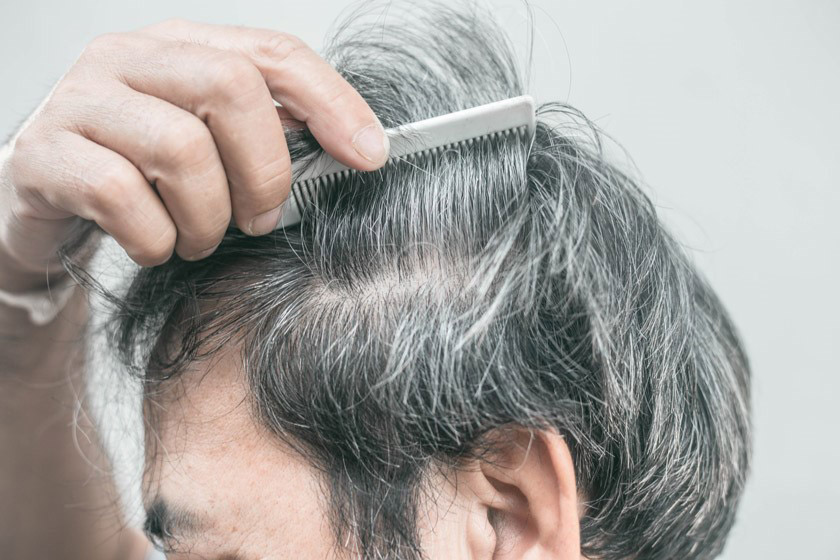 Other Ways to Cover Grey Hair Roots Without Dye
There are simple solutions that will give you enough time to cover your roots before recoloring them. Some of these tricks are:
Changing Your Hairstyle
That is right! How you wear your hair can help cover the roots. With a few touches, you can often model your hair in such a way that the roots are less noticeable, depending on the area of grey hair on your head.  For example, you might want to switch hair to a side part if your greys are in the middle of your crown.
Wearing Hair Accessories
There are all sorts of accessories like clips, headbands, or slides to help you hide grey areas.  Of course, this is a matter of personal choice. Many seniors prefer to let their hair down without anything extra, which is perfectly fine.
But if you don't have time to schedule another hair dye appointment or change your hairstyle, choosing an accessory that can cover your roots may be a good idea.
Adding Highlights
Instead of dying your hair all over again, you can add lowlights or highlights to hide grey areas.  This trick is excellent if you only need to conceal strands of grey hair scattered over your head.
You can also get a unique look by wearing highlights, easily competing with getting a new hair colour entirely.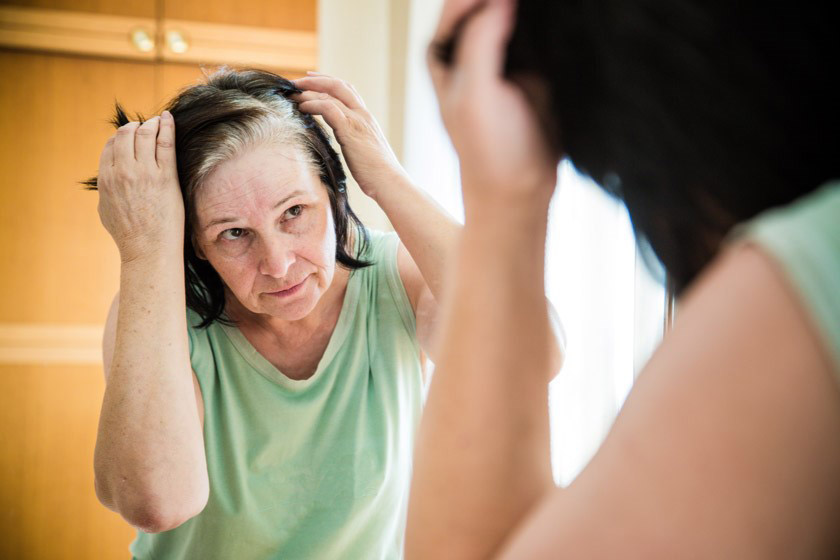 Conclusion
Dying grey hair is one of the simplest ways to reinvent yourself at 60 physically. And while changing the colour of your hair can be fun, it is not always easy.
Hiding grey roots has been a challenge for many and will remain so for a long time. There is no way to permanently hide grey roots because hair grows about 0.5 to 1.7 centimetres per month. So, the grey area you need to cover will get larger and larger every month.
Do you know how to remove grey roots permanently? If so, please tell us.
And congratulations on finding a billion-dollar idea!