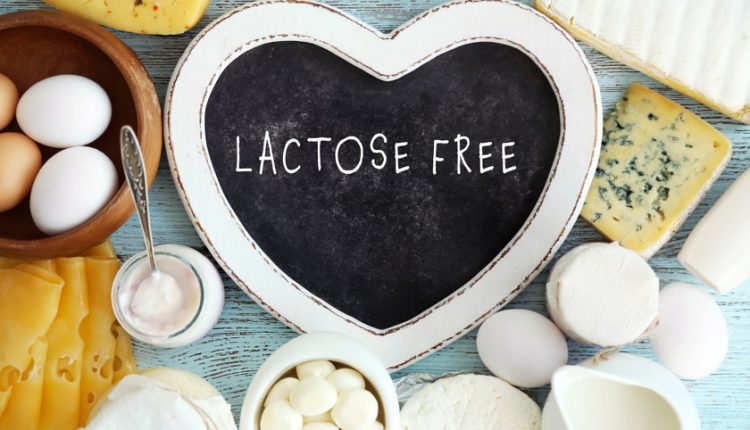 15 Best Lactose-Free Products for Lactose Intolerant Seniors
According to estimates, about 68% of the world population suffers from malabsorption, and there is also some evidence regarding developing lactose intolerance in old age. Although lactose intolerance is not a severe health condition, its symptoms can be uncomfortable and annoying.
What Is Lactose Intolerance, and What Are Its Symptoms?
Lactose is the primary sugar in milk and milk products. Lactose intolerance is a situation in which your small intestine cannot fully digest or break down all the lactose you eat. As a result, you may experience diarrhea, gas, bloating, etc., after drinking milk or eating dairy products like ice cream or cheese.
Signs of lactose malabsorption usually begin from 30 min to 2 hours after eating lactose-containing foods, and common symptoms are as follow:
Diarrhea
Nausea, sometimes vomiting
Cramp in stomach
Bloating
Gas
To find out if you are lactose intolerant or not, watch the video below from the Business Insider's YouTube channel.
Developing Lactose Intolerance in Old Age
There is some evidence that shows the relation between lactose intolerance and ageing. In general, most people have the highest lactase enzyme. This enzyme contributes to lactose digestion when they are an infant. However, as they age, the amount of this enzyme becomes lower and lower.
So, it is normal if you notice the sign of lactose intolerance and experience some degree of lactose intolerance as you get older.
Additionally, you may become lactose intolerant due to some illnesses, infections, or taking medications. Some of these conditions which may develop lactose intolerance later in life are as follows:
Crohn's disease
Ulcerative colitis (UC)
Celiac disease
Injury or trauma in the small intestine
Foods you should not eat when adopting a lactose-free diet
As lactose exists in dairy products, you should avoid consuming most of them if you adopt lactose-free products. Some of these foods to avoid are:
Milk (either cow milk, goat milk, buffalo milk, etc.)
Cheese- specifically soft cheese (cream cheese, cottage cheese, mozzarella, ricotta)
Butter
Yogurt and frozen yogurt
Ice cream and sherbets based on dairy
Buttermilk
Sour cream
Whipped cream
It is noteworthy that lactose-intolerant people can tolerate certain dairy products that contain low lactose. For instance, there is a low amount of lactose in butter, and lactose-intolerant people can consume it without experiencing any symptoms. Some other dairy products that contain a low amount of lactose are:
Keir
Skyr
Aged or hard cheese
Heavy cream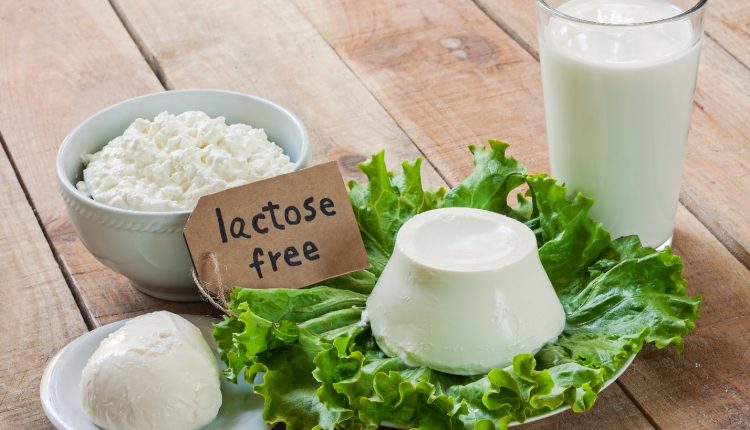 15 Best Lactose-Free Products
Vegans and lactose-intolerant people can find several non-dairy products on the market. However, some people with lactose intolerance still want to enjoy regular dairy products. Here are some dairy lactose-free products that you can consume without worry.
A2 Milk Whole Vitamin D Ultra-Pasteurized
Most dairy brands add lactase enzyme to the product to break down lactose and produce a lactase-free product. But this brand uses a new approach. This company claimed that a protein called A1 is behind the dairy digestive problems. This protein was produced due to a genetic mutation and spread through dairy cattle long ago. This brand claims that using A2 protein makes milk digestion easier than regular ones.
Beckon Ice Cream, Lactose-Free Chocolate Chip Cookie Dough
Beckon was one of the first companies to introduce lactose-free ice cream on the market. This company uses natural ingredients like hormone-free milk and cream, egg yolks, sugar cane and lactase to produce ice creams with different flavours.
Breyers Lactose-Free Vanilla Ice Cream
This brand produces lactose-free ice cream with two classic flavours: vanilla and chocolate. It uses lactase enzyme to break down lactose and has lactose-free ice cream.
Lactaid Lactose-Free 2% Milk
Lactaid is a classic brand for lactose-free milk and milk products. This brand was developed in 1970 by a dairyman who realized that more people could digest dairy products without a problem by incorporating lactase into the milk. Today this company produces nine types of milk, cottage cheese, ice cream, and eggnog.
Fairlife YUP! Low Fat, Ultra-Filtered Milk,
Fairlife uses a new strategy to produce lactose-free products using ultrafiltration. They put milk through an ultra-filter to remove all sugars while essential proteins and calcium remain in the milk.
Their milk beverages are made with 2% low-fat ultrafiltrated cow's milk and come in different natural flavours. It also has 16 g of protein calcium, plus vitamin A and D. Lactose and gluten-free products have 43% less fat and 25% less sugar.
Fairlife Creamer, Sweet Cream
Sweet cream of fairlife, a product of ultrafiltration, has 40% less sugar than regular coffee creamer. This Lactose-free product consists of just five ingredients, including non-fat ultra-filtrated milk, cream, sugar, natural flavour, and lactase enzymes.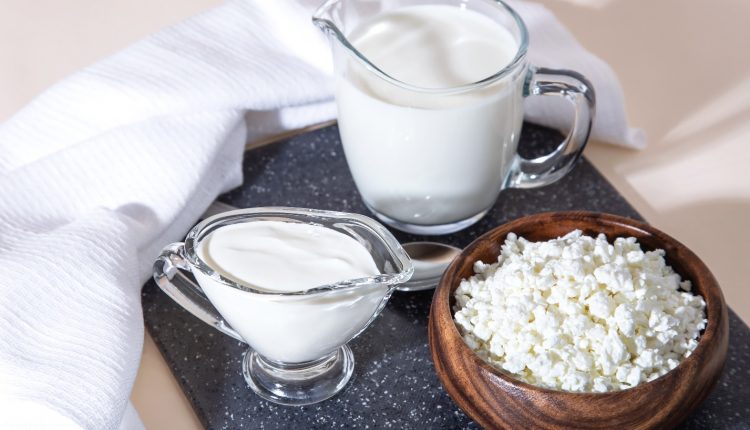 GoodBelly Probiotics Yogurt, Low Fat, Lactose-Free, Strawberry
Some yogurts naturally have low lactose due to the bacterial fermentation process. However, if you want to have a fully lactose-free diet, you can choose GoodBelly Probiotics Yogurt. The ingredients include pasteurized low-fat milk, lactase enzyme, bacterial culture, organic cane sugar, organic strawberry puree, water, pectin, natural flavours, and black carrot juice for colour. Additionally, it contains vitamin D3 and A.
Green Valley Creamery Cottage Cheese, Lactose-Free, Organic
Green Valley Company adds lactase to all its dairy products to produce lactose-free products. The cottage cheese ingredients are organic skim milk, whole milk, cream, Celtic sea salt, lactase enzyme, and bacterial culture.
Yoplait Lactose-Free Low Fat Yogurt
Like most brands, this brand uses lactase to produce lactose-free products. Their low-fat yogurt contains ingredients like reduced-fat milk, sugar, water, modified corn starch, and low-amount ingredients (less than 1%) such as preservatives and lactase enzymes. It is also enriched with vitamin A acetate and vitamin D3.
Activia Lactose-Free Probiotic Yogurt
Activia produces Lactose-free yogurt in various flavours: vanilla, berries, citrus, stone fruits, and mixed fruits. They use probiotic bacteria as a health-promoting ingredient in the product.
Liberté Lactose-Free Greek Yogurt
This brand uses traditional Greek methods to produce a rich, creamy, and fat-free Greek yogurt. In comparison to other yogurts, their products contain twice the protein. They use lactase to break down lactose into galactose and glucose.
LACTAID® Lactose-Free Sour Cream
The real dairy, Lactose-free sour cream, is produced by adding lactase. The main ingredients are cultured pasteurized light cream, non-fat milk, and lactase enzymes.
Green Valley Organic Lactose-Free Sour Cream
This organic product contains ingredients like organic pasteurized cultured cream (milk), lactase enzyme, microbial enzyme, and active microbial cultures.
Nestle Carnation Lactose-Free Evaporated Milk
This brand produces Lactose-free evaporated milk with enriched creamy texture and flavour. The main ingredients are milk, lactase, dipotassium phosphate, carrageenan, dextrose, vitamin D3.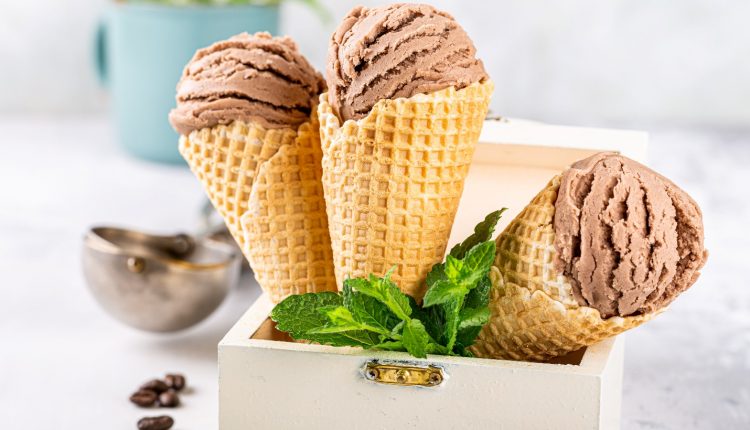 Arla LactoFREE Organic milk
Like most other dairy companies, Arla company adds lactose to reduce lactose-free milk. Their milk ingredients are fresh cow's milk (1.5% fat), lactase enzyme, vitamin A and D. their lactose-free products come in various flavours.
Liddells lactose-free cheese
Liddells makes all of its products from real dairy, and they are lactose-free. They use lactase to break down lactose; thereby, lactose-intolerant people can easily digest and absorb milk and other dairy products. They produce a variety of milk and cheese.
Final Words
Lactose intolerance is a common problem among people throughout the world. While many infants have no problem with dairy products, we may represent and develop lactose intolerance symptoms as we age. Although it is not a severe health condition, its symptoms may be uncomfortable.