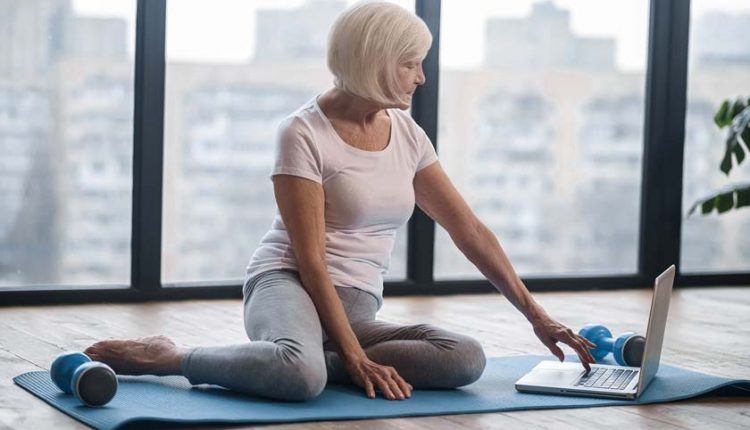 Yoga for seniors is one of the best ways to take care of their bodies. It enhances circulatory health and encourages deeper breathing patterns while increasing flexibility, strengthening and toning your muscles. We know why many people make a beeline for their local yoga class.
But you don't necessarily have to leave the house for a yoga session. Many online yoga classes help you gain the same benefits of yoga for seniors as performing the moves right in front of an instructor at a gym. 
To start, all you need is a yoga mat and a flat surface for practicing. Some sessions, however, use light dumbbells, yoga blocks, exercise bands, and other tools. 
Yoga can still be beneficial even if you don't have any yoga props. Here are some of our favourite online yoga classes for seniors if you'd like to try them.
Best Online Yoga Classes for Seniors
The benefits of these online yoga classes are core strength, flexibility, posture improvement, energy boost, and increased mind-body connection. And no matter how fit you are—beginner, moderate, or fitness fanatic—one of these online courses has a mat ready for you.
Yoga with Adriene
There are 30 days of different courses in Yoga with Adriene's 30-day program. Also, it's free.
Even if you know what you'll do each day, it can be hard to keep up with a daily yoga practice. Developing a daily yoga practice is what we recommend with Adriene Mishler's 30-Day Yoga Challenge. Still, there are sessions called Gentle Yoga, Wheelchair Yoga, and Chair Yoga for seniors who may not be able to keep up with that course.
Every class focuses on a particular set of postures, breathing exercises, and flows as part of this free course. The average length of a course is around 25 minutes, with some being considerably shorter and others lasting more than half an hour. This program is better suited for seniors due to the slower pacing, more manageable instructional levels, and other modifications.
YouTube has Adriene's show, HOME with Adriene, for free. If you like the month of routines, subscribe to Adrienne's Yoga YouTube channel, where she offers over 500 sessions, including yoga for runners, yoga for kids, yoga for back pain, and more.
Daily Burn
Daily Burn is an inexpensive yoga membership service that delivers weekly online yoga classes tailored to match your ability, requirements, and objectives.
Its workouts are different from other fitness and yoga apps because they give you a unique workout plan each week that you can do at your own pace. It offers senior-friendly yoga and pilates classes and a beginner's program.
Daily Burn will create a yoga schedule tailored to your specific fitness needs using your answers to a few simple questions. When you're done, you can search for routines from over 30 different categories, like weight loss and balance. You can also search for routines suitable for seniors.
Finding time for a session is simple, with workouts ranging from 15 to 45 minutes. The platform also has one of the most generous trial periods of any fitness app. Also, it offers a $10-per-month yoga-only membership. As an option, you can also pay around $20 per month to upgrade to the standard membership.
Yoga International
Its' demanding sessions and program are ideal for advanced yogis and instructors who want to learn more. We recommend the 'Yoga for seniors class bundle' on this platform, which you can purchase for 125$.
Yoga International can help you practice yoga with some of the top instructors in the world. The website bills itself as "the world's most diversified yoga site," connecting customers with over 500 experienced instructors in yoga, meditation, anatomy, and other subjects.
For example, you can take a 15-day yoga challenge or classes on Ayurveda and yoga for menopause or Jill Miller Core Integration. Some classes are only for premium members, but there are also some that you can buy for a one-time fee. Yoga International also provides multi-day training classes, such as Essentials of Prenatal and Postnatal Yoga with Sue Elkins.
There are two types of memberships available: $20 monthly or a $120 yearly fee charged all at once. You'll save nearly half of what you would pay every month for the year-long plan.
YogiApproved
Try Jennifer Pansa's Deep Relief if you need a break from the daily grind. This intermediate class received the highest rating for stress. 
Are you feeling a bit tense? Deep Relief is a 30-minute yoga practice designed to put your mind at ease.
Pansa guides you through a sequence of positions and breathwork to help harmonize and rebalance your energy. It has many senior-friendly yoga exercises, which you can find easily by searching.
If you've done yoga before, you should be able to flow through the postures with a few modifications in this class. Physical and mental stress should go away at the end of the class.
YogiApproved's online membership program includes Jennifer Pansa's Deep Relief. Yoga, barre, exercise and meditation sessions are all included in your $14 monthly subscription. Use the 14-day free trial to see whether you like it.
The Underbelly
Underbelly is one of the most robust platforms for promoting body positivity and inclusion in yoga practice.
This ancient practice is becoming more accessible thanks to Jessamyn Stanley's The Underbelly subscription platform that combines yoga courses, mindfulness, and love.
Stanley organizes lessons into three themes in The Underbelly: Air, Earth, and Fire. Air is an excellent place to start for beginners. The core postures, breathwork, and specific teaching are all parts of this theme. Earth combines everything you learned in Air with strengthening routines. With more advanced positions and a faster speed, fire cranks up the pace and adds heat.
The Underbelly embraces all bodies and ages and is suitable for anybody searching for a welcoming and judgment-free environment to practice yoga. After a 14-day free trial, the monthly fee is around $10.
Final Words
Try Yoga with Adriene if you want to include some yoga into your life without paying any money. Her YouTube videos will keep you entertained for months. If you prefer to follow a program, you can join one of her 1-month journeys or challenges.
Before picking our top picks, we looked over 20 online classes. We examined level, pricing, instructor options, specialty, presentation method (live and on-demand), customer feedback, and convenience while preparing the final list. We also observed the introductory lessons to ensure that the verbal cues were instructive and helpful while learning new poses. Online yoga classes that did not make it to the list were either too pricey, too challenging, or too judgmental for older students.