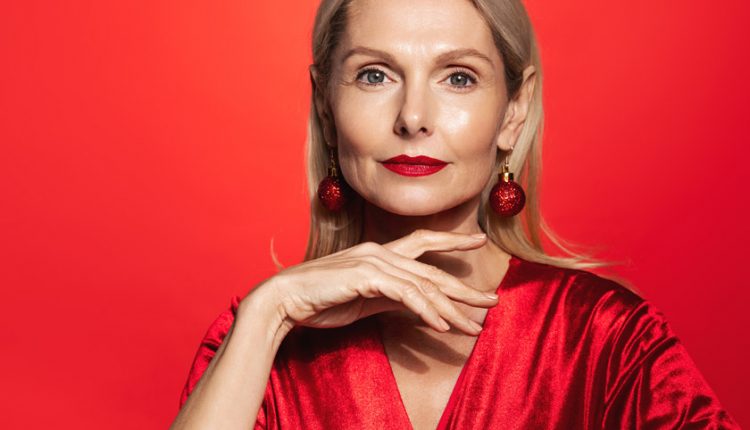 Essential Winter Skin Care Tips That You Should Follow
Skin care for seniors becomes more important as temperatures drop. When exposed to cold air for an extended period, the result can be dry, flaky skin or other problems. These skin problems can become itchy, painful, and negatively affect your appearance if you don't use additional moisturizers and protect against the elements. You may also experience skin irritation. As well as the frigid outdoor elements, winter can also cause the air in your home to become dry. Humidity in the house typically drops when the furnace is running. The loss of moisture can aggravate skin problems even further. But there's no need to worry. With a few changes and small steps, you can avoid skin dryness and have healthier skin.
What Skin Care Is Good for Winter?
Due to the dry winter air, if the skin on your face seems especially sensitive or irritated, you may want to simplify your skin care routine. It is important to note that serums, toners, and other beauty treatments work better if your skin's moisture barrier is healthy. You can gradually incorporate other treatments and ingredients into your routine once you feel confident that your skin's moisture barrier is healthy. You can adopt extra care like what was introduced in the "best coconut oil face masks recipes" article; you can have healthier skin. Even though many seniors have their skin regimen, there are additional ways to protect their skin during colder months. Here are some of the best ways to do so. 
1. Stay Hydrated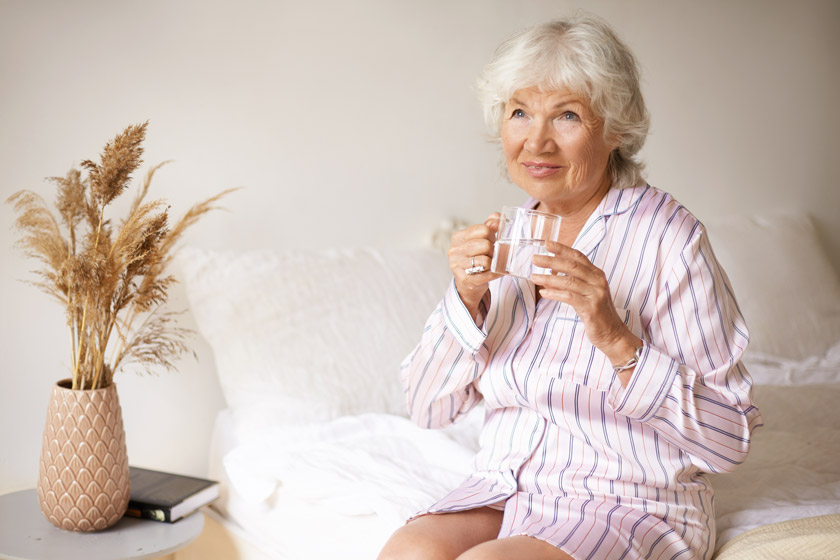 Drinking a sufficient amount of water daily is by far one of the essential dietary requirements for our bodies, and it is crucial to our survival. Drinking water is also a necessary part of skin care for seniors since it keeps your skin hydrated. Water is something we think about regularly in the warmer months. Still, it's equally crucial to stay hydrated in the cold weather, even if we're not as thirsty. Water in the system keeps our skin moist, which minimizes the appearance of fine wrinkles in the long run.
2. Moisturize Regularly
During the winter, moisturizers are great for preventing dehydration. It is imperative to keep your skin hydrated during the cold months since the dryness and stiffness of your skin will make it more susceptible to infections. Always use the best moisturizer for elderly skin that contains all-natural ingredients and best suits your skin type. When you wash your face, hands, or body, you remove the natural oils from your skin. Therefore, it is vital to moisturize your skin every time you wash it, especially in winter.
3. Wear Sunscreen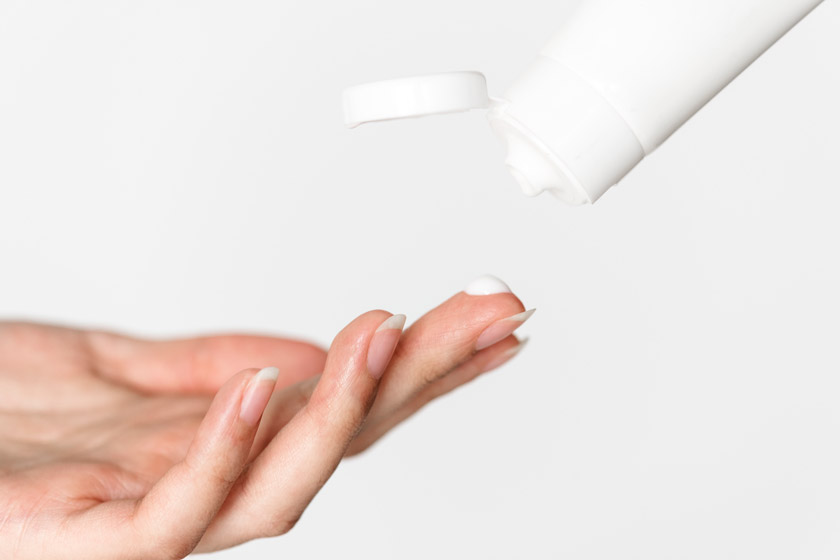 While it may be colder outside, your skin may absorb more ultraviolet rays during the winter. You should always wear sunscreen when you are outdoors, no matter how the weather is. With sunscreen, you will protect yourself from skin cancer and sunburn. Furthermore, you will prevent wrinkles and other signs of premature ageing. In winter, wear SPF30 minimum if you are out in bright but cold climates and reapply the sunscreen regularly just like you do in summer.
4. Take Care When Bathing
Although taking a long, steamy shower may be tempting, it's not that healthy when it comes to skin care for seniors during winter. It would be best for your skin if you took a 5- to 10-minute lukewarm shower or bath. It's also important not to wash your hands with hot water – if the water causes your skin to turn red, it's too hot. After bathing or showering, you should dry your skin carefully. Rather than firmly rubbing your skin, pat it lightly with a soft towel.
5. Cover as Much Exposed Skin as Possible
Dress in layers of clothing if you will be outdoors, such as hats, gloves, scarves, earmuffs, and other items to keep your skin protected. Additionally, choose clothing with fabrics that aren't scratchy or irritating to the skin. To reduce the risk of physical irritation, wear loose, comfortable, natural fabrics if the skin on your body is extra dry. It would help avoid regular washing when you have extra-dry skin. Ideally, it would help opt for detergents designed for sensitive skin since they won't likely contain harsh chemicals or scents.
6. Invest in a Humidifier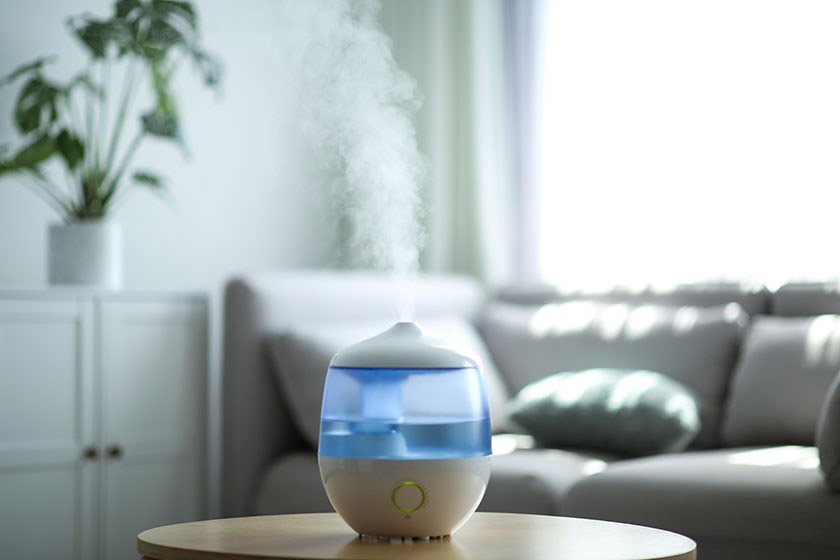 During the winter, we need a humidifier since the heated air is dry. Due to the low humidity level in dry air, you and everything in your house will absorb moisture. Most furnaces do not have built-in humidifiers, so you'll need to add moisture back into the air. Consider investing in a humidifier in the rooms you spend the most time in. Follow the manufacturer's instructions for care, including cleaning frequently and using distilled water.
7. Avoid Products That Irritate the Skin
Try simplifying your skin care routine. In the morning, use a moisturizer and sunscreen, and at night, use a mild cleanser and moisturizer. You should choose fragrance-free and gentle products on the skin rather than those containing harsher ingredients or scrubs. If possible, use those with built-in moisturizing ingredients.
If you use the wrong soap, you will have itchy, dry skin. Regular soaps, for example, may contain irritating ingredients. Use best soaps for elderly skin and a fragrance-free, moisturizing cleanser or gel instead. Use only soaps specifically labelled "fragrance-free." Using too much soap can cause winter skin problems, so limit your lathering to critical areas, such as your hands, armpits, genitals, and feet.
8. Keep a Healthy Diet
A healthy diet is another part of skin care for seniors that some people tend to forget. Make sure you eat seasonal fruit and vegetables. Pick your favourite fruit – strawberries, grapes, blueberries, raspberries, cherries. You can also cover up the lack of hydration you may be experiencing by eating fruits, vegetables, and other foods such as soups, salads, juices, and milk. By doing so, your body will receive the nutrients necessary for healthy skin. Vitamins for the elderly during winter can also be helpful.
Is a Cream or Lotion Better in Winter?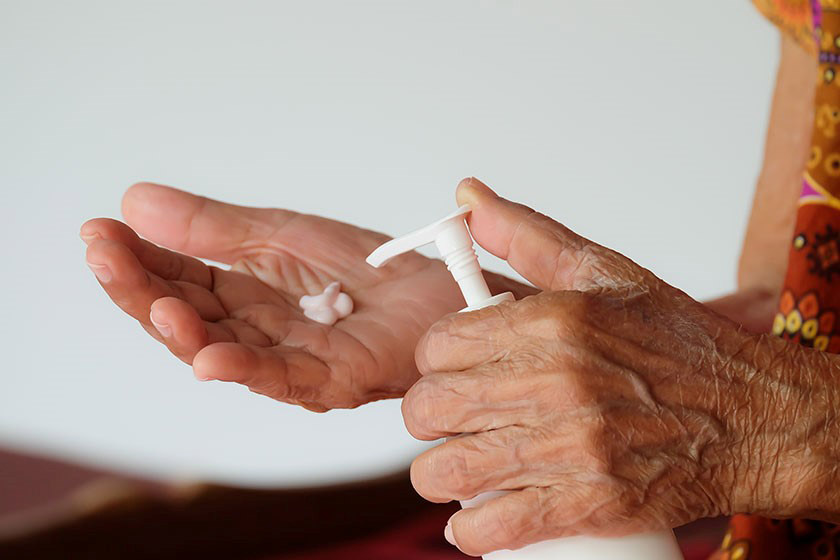 The main difference between lotion and cream is that lotion contains more water. Lotions usually contain a mix of water and oil, are lighter in weight than creams, and are non-greasy. Like lotions, creams blend oil and water with a higher oil concentration. The consistency of creams is thicker than lotions, and they provide a barrier that keeps the skin hydrated. Generally, body cream comes in tubs or jars due to its thickness. But what is the best skin care for seniors in winter?
The body lotion is more easily absorbed into the skin because it has a lower viscosity than cream; it is perfect for normal to slightly dry skin types. The cream does not leave a greasy residue and works best during the day and in the summer. Body cream aims to prevent and treat dry, cracked skin while keeping it supple and moisturized. Since it provides an ultra-hydrating barrier, it's ideal for dry to dehydrated skin, as well as normal skin during the colder months.
Final Words
It can be particularly harsh on sensitive skin during the winter. A cold wind or freezing temperature can quickly strip the skin of its moisture, leaving it prone to itching, cracking, and bleeding. Broken skin is prone to infection. Therefore, skin care for seniors during winter is a matter of importance.