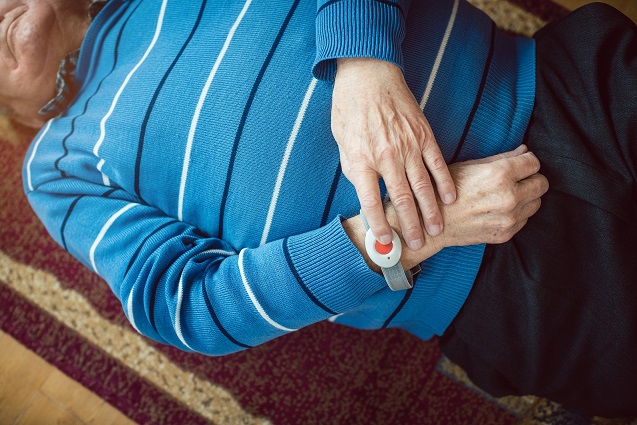 Emergency Buttons for Seniors
Emergency buttons for seniors have revolutionized the care system. They are great devices for people from all walks of life, especially seniors. They come in handy for those who have difficulty maintaining their balance or are at risk of falling, getting lost, or simply feeling unwell.
These convenient devices let users get help by pressing an easy-to-use button that sends an alarm to people in the very same house or the on-call response team. The support teams are e available for support 24/7, rain or shine. There are also various designs you can easily choose from.
Why Do We Need Them?
Emergency buttons can be practical choices for those needing medical help to remain independent and safe. On occasions like the ongoing pandemic, these personal alarms are helpful since family members are separated. This situation makes checking on our loved ones somewhat problematic.
However, emergency buttons for seniors started out consisting of just a big button to alert others in times of need. Nowadays, many brands manufacture high-tech SOS buttons. They are pretty easy to install, using a landline telephone connection and the central unit with a portable help button.
The instruction for use follows plugging the unit into the phone port by the very phone cord that comes in the package, then plugging the phone into the unit's secondary port. When done, plug in the power cord, and as the LED indicator turns green, the personal alarm is all set. In times of medical urge, pressing the button notifies the support team, so they take proper action to help the user.
Three of the best personal medical alarms of 2020 are listed below with a brief introduction.
 Three of the best personal medical alarms of 2020 are listed below with a brief introduction.
Bay Alarm Medical; Excellent Emergency Button
Aside from its unique technology, what makes Bay special, is its adherence to its code of ethics, ensuring that the customers' health and well-being outweigh the company's profit. To achieve this goal, the company strictly trains customer assistances who are professional at helping and supporting the users. This U.S based support system is available seven days a week.
The Bay Alarm Medical features top-notch types of products for divergent uses. The "In-home" device offers a system with a landline or a cellular connection that only differs in the slightly higher cellular connection price. Seniors can wear this waterproof device around their necks or wrists. It features an 800-foot range and battery life of 32 hours.
On-the-Go Medical Alert System with GPS and Fall Detection
The "On the Go" device works on a 4G LTE connection with a battery life of 72 hours. This product is also water-resistant and typically worn around the neck.
The "On the Road" device is the product that makes the company unique as it is the only one that offers such an option that is efficient for in-car use. As the device plugs into the cigarette lighter, it does not need charging. This device is pretty practical as it automatically sends a signal in times of accidents and crashes.
In short, Bay Alarm Medical is an affordable and satisfactory option for people of alternative tastes and needs.
Mobile Help; Independence with No Landline Needed
This medical alarm is the best option for seniors needing medical help who do not own a landline. It also enables users to add to their medication schedules and help them with a complex medication regimen.
The "Classic" device is a water-resistant in-home unit. Customers can wear it around the neck and wrist. They can also purchase additional fall detection at a reasonable price for a better user experience. The station covers 600 feet.
The "Wired Home"
This product operates with a landline connection and is quite similar to the "Classic" one but features an impeccable higher coverage of 1300 feet.
The "Solo"
This personal alarm has a two-way speaker. GPS detects the users' location. The type of pendant is the same as the "Classic" device. The battery life of this Model is 24 hours.
The "Mobile Duo"
This product offers the same base system for two mobile devices for two people like spouses, roommates, or friends,  making it cost-efficient compared to two separate systems. This model is a mixture of the "Classic" and "Solo" devices, including all the features and a reasonable price.
The "Touch"
This device includes an in-home button, a mobile device, and a tablet. Customers can use the tablets as the base unit and medication management. It has also provided various games and recreational activities to enhance users' well-being and joy.
 The above six alert systems with high technology and reasonable prices give decent options to meet customers' needs.
Medical Guardian; a Wide Variety of Options for Senior
In-Home Guardian Emergency Buttons
This personal care alarm is known for its extra features and options beyond other usual emergency buttons for seniors. Medical Guardian offers six devices, three of them being efficient for in-home use and 3 of them being appropriate for outdoor use. The in-home options are "Classic Guardian," "Home Guardian," and "Family Guardian." The main difference between these three devices is the base unit coverage and the type of connection. The "Classic Guardian" offers a range of 1300 feet but does not support cellular connectivity.
On the contrary, the "Home Guardian" supports a cellular network. The coverage of this device is 600 feet. The "Family Guardian" is the most expensive device since it provides various options such as motion and door sensors. Accessibility to a family or support app is another benefit.
Outdoor Guardian Emergency Buttons
Medical Guardian offers three emergency buttons for seniors named "Mobile Guardian for outdoor use." "Active Guardian," and "Freedom Guardian." The "Mobile Guardian" uses GPS to locate the user. The wearable pendant is waterproof, and the battery life is 4 hours. However, this model does not support fall detection. The "Active Guardian" is a water-resistant device. Users can put it in a purse, carry it in a pocket, or wear it around the neck. This personal alarm system uses Wi-Fi to locate the user and has a two-way speaker and a help button. The user can also add fall detection to the device.
"Freedom Guardian" is more of a smartwatch style with a voice-to-text message feature, adaptable alarms, and weather forecast. It also uses Wi-Fi to detect users' location. However, this device is not water-resistant and does not include automatic fall detection.
The brands mentioned above are only a few brands that manufacture emergency buttons with a fantastic range of options. There are other well-known brands such as "GetSafe," "Lifestation," and "Lifefone" that the customers can check for alternatives.
Final words
As people age, they may become more vulnerable to falls, accidents, and other health emergencies that require immediate assistance. Emergency buttons, also known as personal emergency response systems (PERS), allow seniors to quickly summon help from trained professionals or loved ones if they need it. Emergency buttons for seniors are undeniably efficient in today's life. More and more seniors tend to be independent but simultaneously are at the risk of falling or needing medical help. These easy-to-install and easy-to-use devices are significant bits of support, especially in times of difficulty, such as the pandemic. By merely pressing the designed button, a person in need sends an alarm to a family member or the support system and gets immediate help needed. Overall, they make life easier for seniors by offering independence, care, and joy.
Read More: