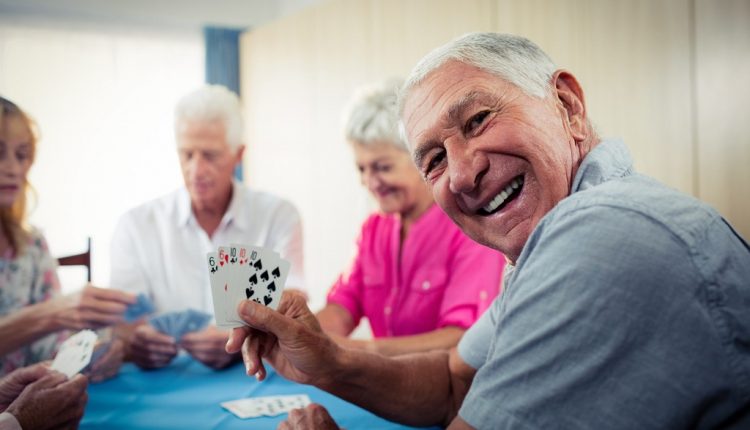 Did you know psychology researcher Sonja Lyubomirsky actually offered a formula for happiness? 
After years of research, she describes happiness as "the experience of joy or positive well-being, combined with a sense that one's life is good, meaningful, and worthwhile."
Now, whether you believe that happiness can be achieved by following some formula or not, your golden years should not be spent sitting around and waiting for days to be over. Even in old age, the path to happiness and peace of mind is not that complicated. And maybe, just maybe, professor Sonja Lyubomirsky was right, at least to an extent. 
Spending time with your family and friends, being an active member of the community, and taking care of your body and mind would result in gradual bliss. And That's how seniors should be entertained.
In today's world, seniors are looking for adventure, an opportunity to learn new things and be more active. Seniors need to be aware that things should not slow down just as they get older. On the contrary, they can have a variety of activities and hobbies. They can have a healthy lifestyle by doing their favourite fun activities or even creating a new hobby.
This article will suggest several reliable activities to bring excitement and joy back to your golden years.
1. Visiting Museums Helps You Learn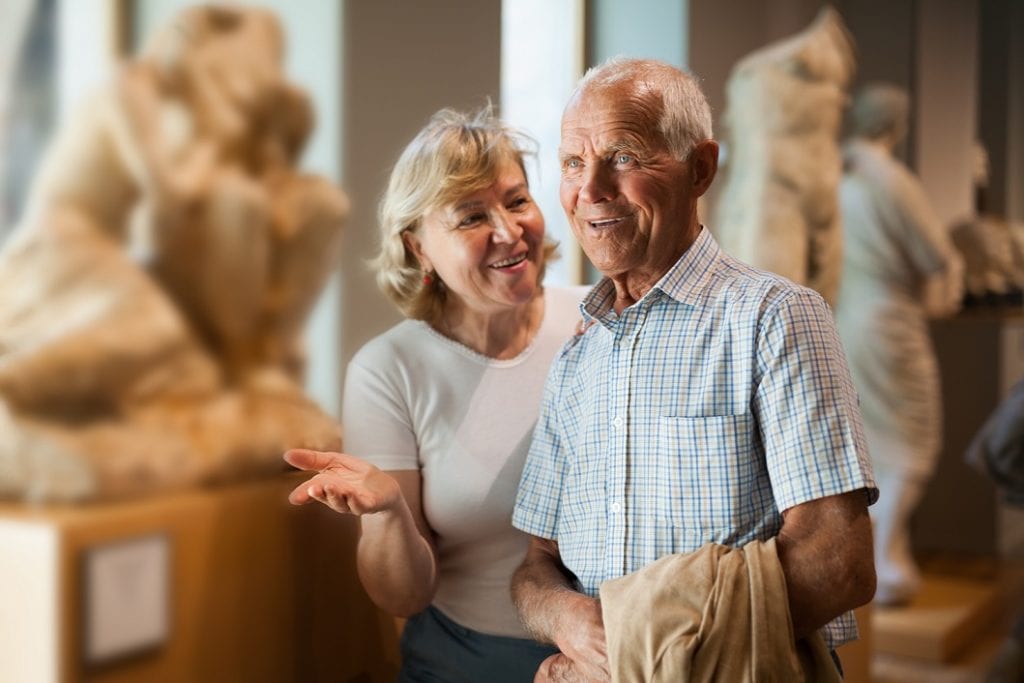 Visiting museums can be one of the most engaging social activities for the elderly. Many cities have excellent art, history, and cultural museums. Visit a museum every month. In this case, you do not have to wait for a special exhibition to enjoy what they show. Try using museum headsets or taking a tour and challenge yourself to learn more about what they have on display. Reading the description of each exhibited piece will make you know more about each piece, and it will be much more interesting for you.
2. Participating in Art Classes Keeps Your Mind Fresh
There are various fun classes for seniors, and art classes are among the most popular ones. Creativity is one of the best ways to keep your brain active. Whether you paint or do photography or pottery, art is entertaining, challenging, and mind-stimulating. Studies have shown that doing art helps the elderly reduce anxiety and depression. An art activity creates a new, thicker neural pathway with multiple branches of healthier nerve cells in your brain and allows your brain to adapt, function, and regenerate. 
3. Attending Social Classes Makes You Feel Useful
Politics is not fun for everyone, but it can be exciting to be aware of current events and the opportunity to learn about some of the challenges and global situations, ask questions, and attend discussion classes. Social activities for the elderly can be inspiring. They can entertain them, and at the same time, they can provide opportunities for the elderly to communicate with like-minded people. 
4. Walking Keeps You Healthy
If staying active, independent, and healthy is one of your old age goals, start walking. According to Harvard research, walking has other strange benefits, such as reducing the effect of weight gain genes, balancing your weight, reducing joint pain, and improving your immune system functioning. 
The sport you do does not have to be complicated. Choose light exercises that you enjoy doing that will help your strength, balance, and heart health, whether you work at home, at the club, or with a personal trainer practice in a way that keeps you interested.
If it is impossible to go out to walk, you can change walking to indoor activities. Walking in the yard or walking on a treadmill is among the indoor activities for seniors that can be exciting and enjoyable.
More Resources: Benefits of Mountain Climbing for the Elderly
5. Board Games Challenge Your Brain
Nothing like competition can get you out of your boredom. In old age, board games are a great way to challenge the brain and keep you entertained and social. A great feature of board games is that you can always find someone who matches your level. For example, you can try chess, backgammon, checkers, and other brain teasers and word games.
6. Start Gardening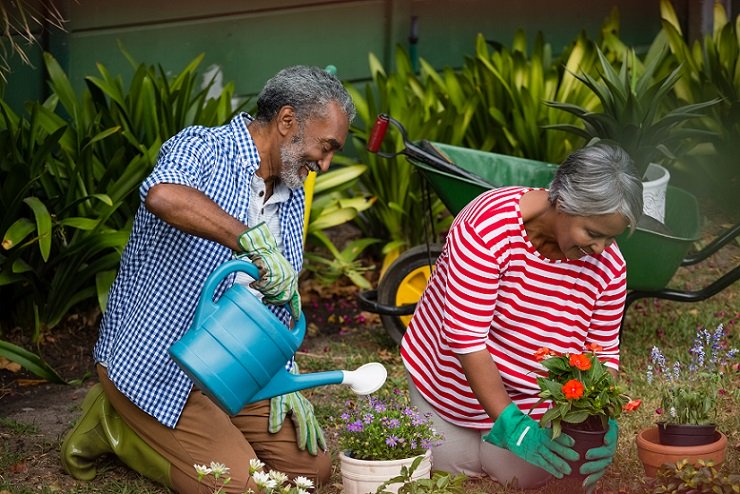 You can reach a few pots that you might have at your house or make a garden for yourself. Taking care of a seasonal or annual garden full of flowers and blossoms, a vegetable garden, or even a few pots can be a good activity for the elderly.
Choosing and buying flowers and plants, planting, weeding, fertilizing, pruning, and enjoying your hand-picked fruits is endless fun. Making a salad from your garden products can be a source of pride.
Put some flowers and plants on your window sill; pick a few fresh flower branches, place them on the table, and get energized by seeing their freshness and beauty.
More Resources: Benefits of Gardening for the Health of the Elderly
7. Spending Time with Your Grandchild Awakens the Child Inside You
Nothing can keep you happier and younger than you are as a child. Leaving aside helping your child can take care of your grandchild.
You can keep your grandchild at your home on the weekends and take him/her out in the morning for breakfast, games, etc. Spending time with your grandchild and his/her games and activities or just watching him/her is fun and enjoyable. Give Funnector a try. It's a simple game that you can play with your grandchildren.
Test it out and see if you like it.
8. Having a Pet Reduces Your Sense of Loneliness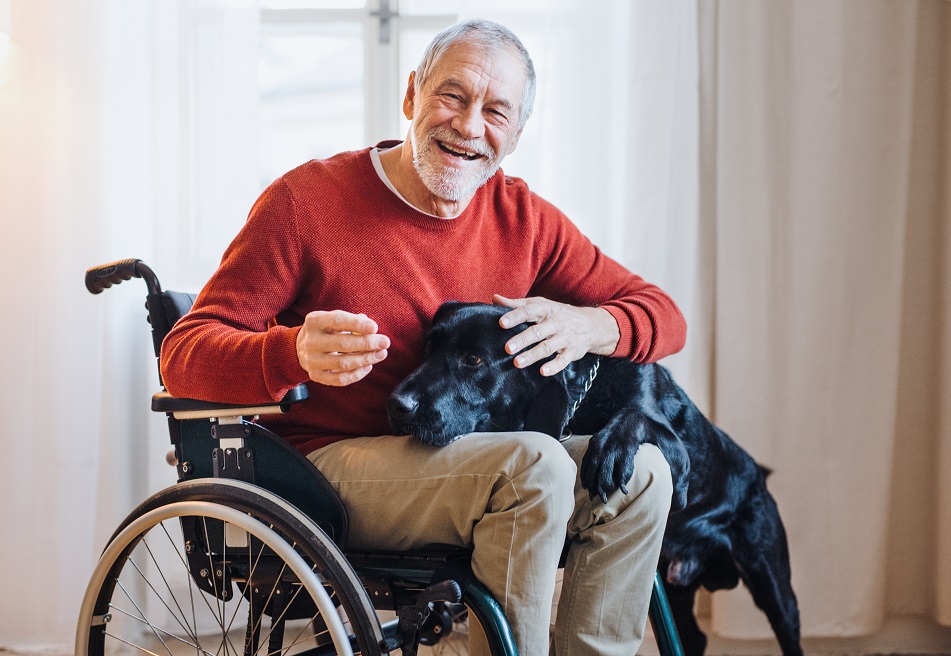 Pets have been shown to make older people feel better and improve their physical health. Nothing makes humans feel better than loving and being loved, and pets bring that feeling to you to a great extent.
Pets can make the elderly feel valuable and supportive. They can be active and make new friends by taking the dogs out and talking to other dog owners. Isolation from family members is usually a part of the aging period, and keeping pets is one of the best activities for isolated seniors. 
9. Try Yoga
Yoga can bring many mental and physical benefits to the elderly. From lowering blood pressure and stress to strengthening bones and balance, yoga is an excellent pastime for the elderly. Many sports clubs and leisure centers have yoga in their work plan because meditation has tremendous benefits.
More Resources: Yoga Helps Seniors Lose Weight
10. Subscribe to Social Networks
Social networks are used worldwide for entertainment and other purposes. They are prevalent among the younger generation, but according to a 2015 report, 50% of people aged 55 to 64 also use social networks.
Social networks like Facebook, Skype, and WhatsApp are great for seniors, particularly those living alone or away from their families. 
Social networks help re-establish communication between family members and friends, both near and far. 
11. Cook and Spend Time with Your Loved Ones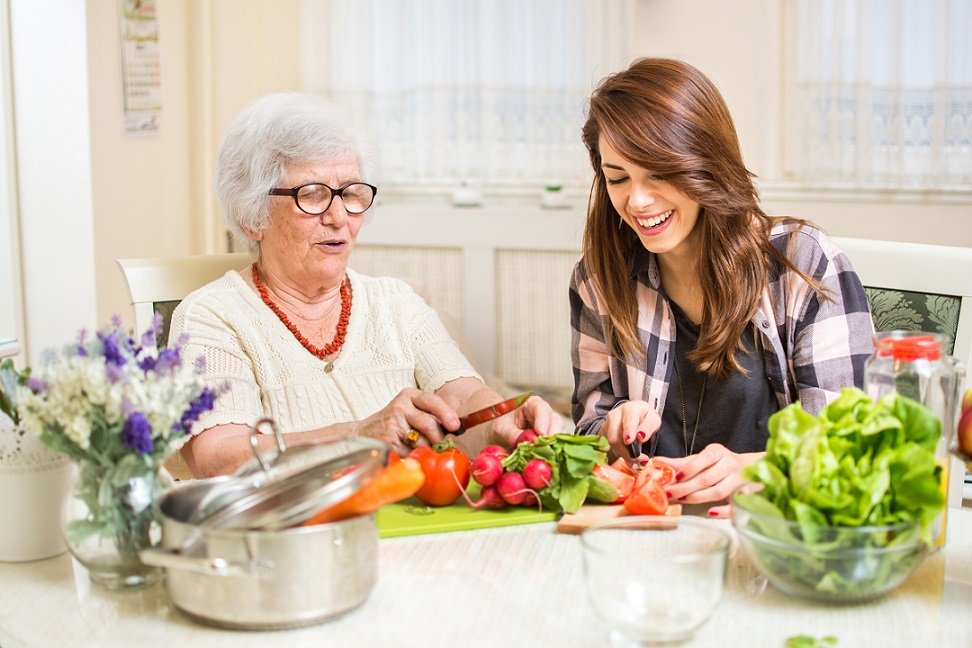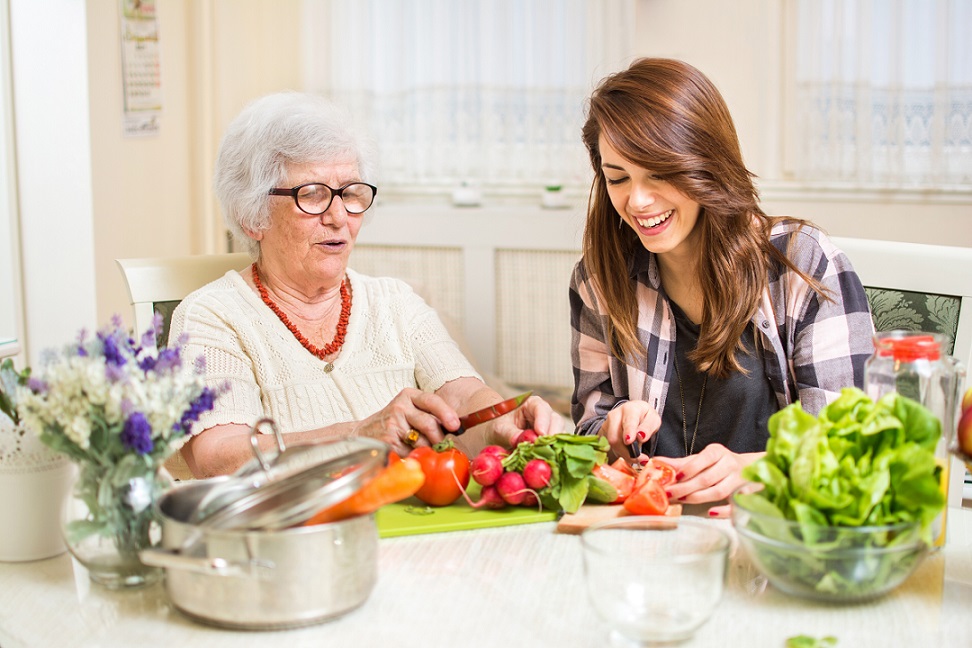 Cooking can give you a sense of accomplishment and happiness with the people you love and enjoy preparing food for. Make a diet plan, try to master healthy recipes, and learn how to make exotic foods. Instead of buying raw or frozen food and processed foods, eat lean meat with healthy vegetables instead of eating out.
12. Learn to Play a Musical Instrument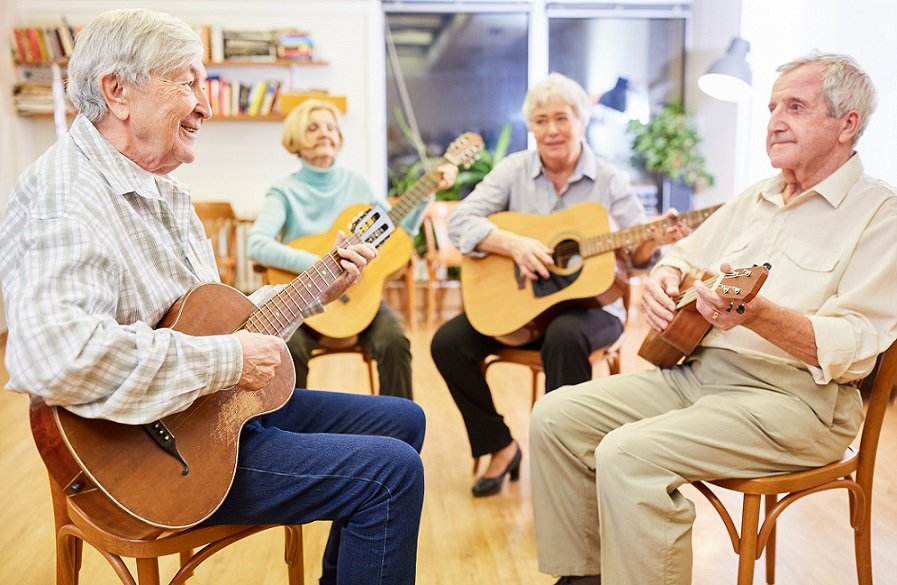 There are many instruments to choose from, such as guitar, drums, piano, saxophone, and violin.
Learning to play musical instruments challenges your mind, which is essential for fighting dementia. 
As your brain works to cover and examine the music you read on a particular page, eye-hand coordination improves. If you are interested, read here on "The Role of Music in Wellbeing of the Elderly"
13. Build an Aquarium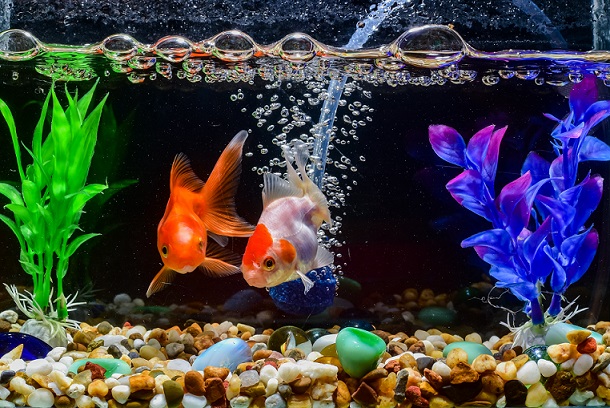 Making an aquarium is one of the best and easiest recreational activities for the elderly. If possible, make room for the aquarium in your living room. Watching colourful fish and hearing the sound of water is very relaxing and enjoyable and changes your mood entirely. Keeping fish is more manageable than keeping other pets.
14. Do Puzzles and Crosswords
Most newspapers or magazines have a section dedicated to crosswords. Crosswords magazines are also available. Take time each day to solve crosswords and have fun with it. If you are looking for more challenges, we suggest solving the puzzle. That has a positive effect on short-term memory and strengthens the mind.
15. Charity Work
If there are charitable organizations in your area, join them. Participating in charity work inspires some people and increases their inner satisfaction.
The elderly deserve a chance to relax, learn new things, and enjoy retirement. They have worked for many years, and now they have an opportunity to enjoy their free time. So, please provide them with the opportunity to make the best use of their time with these activities. 
There are also various locations in your neighbourhood that provide different facilities for the elderly. All you need to do is search the phrase "entertainment for seniors near me" in Google to see a list of these facilities to enjoy the company of other seniors while doing your favourite activities. 
More Resources: