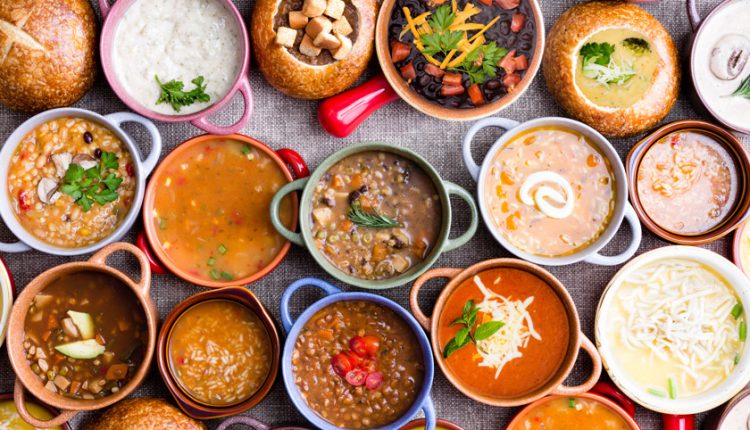 Immune Boosting Soup Recipes for Winter
Protecting our body from foreign or harmful substances is one of the functions of the immune system. Winter's cooler temperatures and shorter days can lead to an increase in cold and flu viruses. We need to take more care of our immune systems during these seasons. Simple preventative measures can help us boost our immunity and stay healthy, even in the coldest months.
Exercising is essential. Exercise boosts the immune system. We also need to eat healthy foods. Good nutrition is vital for maintaining a healthy immune system. We also need vitamins in colder seasons. Certain foods may strengthen our immune system if we eat them regularly.
You may want to watch this video showing how to make four immunity-boosting soups on the YouTube Channel of Flavourful Food.
Without further ado, here are the five best soups for the cold.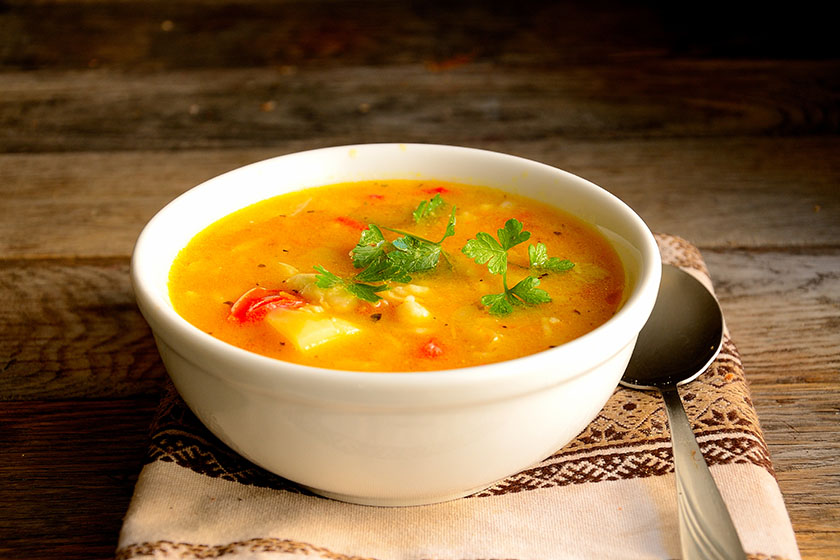 Turmeric Vegan Soup
This immune-boosting vegan soup is the best soup for the cold. The mixture is packed with multivitamins and antioxidants. Turmeric has multiple health benefits and is excellent for boosting our immunity system in winter. Vitamin A in zucchini and vitamin C in broccoli help our immune system function at its best during cold weather.
To make this immune-boosting vegan soup, you need:
4 cups vegetable broth
One medium zucchini
One large broccoli crown
1/2 red bell pepper
1/3 cup white rice
Three large carrots
1 cup full-fat coconut milk
One nub ginger,
One teaspoon ground turmeric
2 Tablespoons lime juice
2 Tablespoons coconut aminos
Sea salt, to taste
Feel free to add your favourite vegetables, like celery, sweet potatoes, and cauliflower. It is also fine to add garlic and chopped onions.
You can use gluten-free soy sauce instead of coconut aminos.
Instructions:
Chop broccoli, pepper, and carrots. Squash the zucchini to get the most health benefits, don't peel it.
Stir in the turmeric, ginger, and vegetable broth to the pot and bring it to a boil for a more flavorful broth. Pour the remaining ingredients into the pot and cook for another 20 minutes at a gentle boil before adding the remaining ingredients.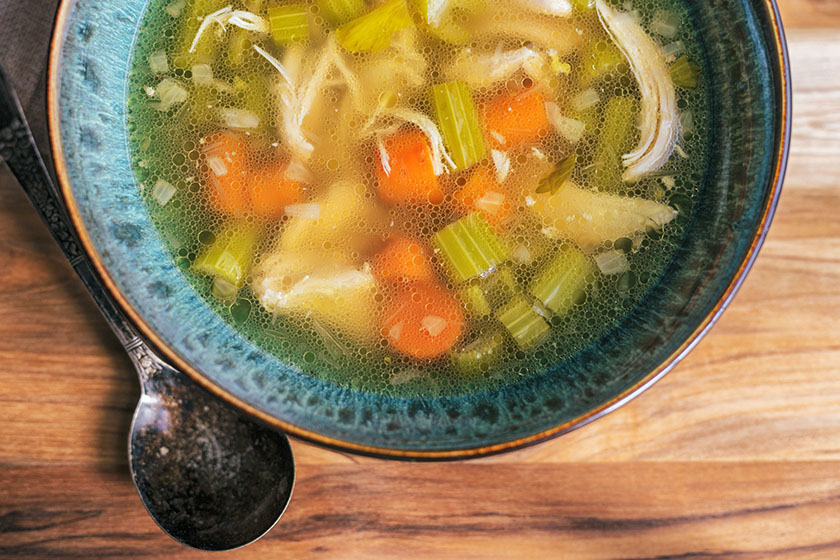 Chicken Soup
Chicken broth provides heat and hydration to the body as well as nutrients. In addition to being rich in vitamins and minerals, chicken broth is also helpful to treat illnesses such as the common cold and the flu. That's why chicken soup is considered the best soup for colds. Plus, super healthy ingredients such as ginger, turmeric, parsley and garlic make this soup the ultimate immune-boosting dish.
To make this immune-boosting chicken soup, you need:
Two large carrots
One small yellow onion
1 Tablespoon avocado oil
Three celery stalks
Three cloves garlic
One small head of kale
One large parsnip
450 g boneless, skinless chicken breasts
One teaspoon ground turmeric
Two teaspoons dried parsley
1/2 teaspoon ground ginger
Three cups chicken bone broth
2/3 cup full-fat canned coconut milk
Sea salt, to taste
You can add your favourite vegetables, like celery, sweet potatoes, and cauliflower.
Use bone broth for maximum nutrients or even vegetable broth.
Instructions:
Over medium heat, warm the avocado oil in a large stockpot. Once the avocado oil is hot, add the onions. Stir for 5 to 8 minutes until they are soft.
Add the parsnips, chopped carrots, celery, and garlic to the pot. Stir for about 5 minutes until vegetables are softened but still al dente (firm enough).
Chop the chicken and cook it just long enough to brown the meat, about 2 to 3 minutes.
Stir in the remaining ingredients and cover. Keep the mixture at a gentle simmer, stirring periodically, for up to one hour.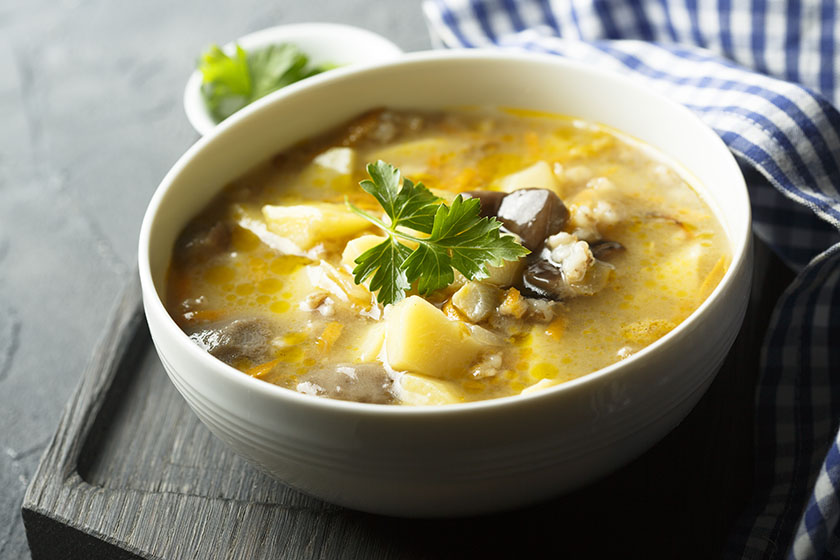 Mushroom Soup for Weakness
This mushroom soup is another best soup for cold. The main ingredient is mushroom which contains antioxidants that help eliminate free radicals. It is also a good source of Vitamin D. Coconut oil is excellent for fighting bacterial and viral infections.
In addition to the garlic and turmeric health benefits that boost our immune system, the iron in kale is essential to our body working at its highest potential. Along with many vitamins and antioxidants, this soup is a tasty one.
To make this immune-boosting mushroom soup, you need:
5 to 6 garlic cloves
One large yellow onion
1/4 tsp black pepper
Two celery stalks
1 Tablespoon coconut oil
450 g shiitake mushrooms
One teaspoon turmeric
1/2 head kale
4 heads of baby bok choy
12 cups of water
Sea salt, to taste
You can add one tablespoon of freshly grated ginger.
Instructions:
Remove the lower bottom of the stem from the mushrooms. Slice tops and stems, if necessary, into large pieces after separating stems and tops.
Heat coconut oil over medium heat. Add onions and fry for 4 to 6 minutes. Add the garlic and cook for up to 1 minute.
Stir in celery and mushrooms and cook for about 10 minutes until mushrooms wilt. Add spices and water, then bring to a boil.
Put the cover on and let the soup cook for one hour or more.
During the last 10 minutes of cooking, add the bok choy and kale.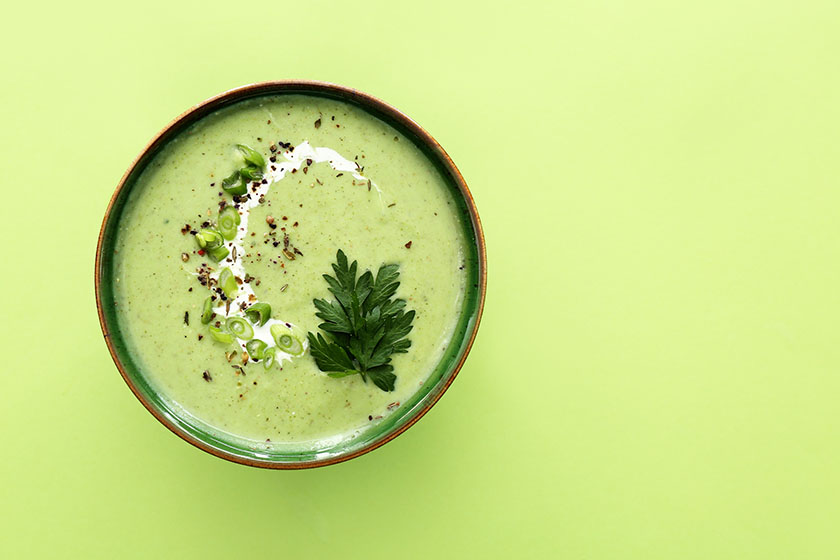 Ketogenic Soup
This soup is loaded with vitamins A, C and E, antioxidants, and immune-boosting ingredients like garlic and ginger. Another ingredient that makes this dish the best soup for cold is spinach. The leafy green isn't just high in vitamin C. It's also high in antioxidants and beta-carotene, which can boost the power of our immune systems to fight infection. This soup isn't just ketogenic and healthy; it's delicious too.
To make this immune-boosting ketogenic soup, you need:
2 tablespoons virgin coconut oil
450 g broccoli
250 g spinach
Two cloves of garlic
250 g kale
Three celery stalks
2 tablespoons grated fresh ginger
3 cups chicken stock or vegetable stock
400 ml full-fat coconut milk
One teaspoon ground turmeric
6 tablespoons Greek yogurt
1 cup of chopped parsley
6 tablespoons toasted hemp seeds or pumpkin seeds
Sea salt and ground pepper, to taste
Use fresh or frozen vegetables to make this soup.
Instead of Greek yogurt, you can use coconut yogurt.
Instructions:
Chop the kale and remove the thorny stems. Chop the celery finely and dice the garlic. Cook celery in coconut oil over medium-high heat until soft.
Add the grated ginger and cook for another minute or two. Then put the kale, spinach, and broccoli florets into the pot and add the coconut milk, the stock and the parsley.
Bring the mixture to a boil and then reduce heat and simmer for about 15 minutes until the broccoli is softened.

Use a high-speed blender blitz until the mixture is smooth and green.

You can serve this soup with a tablespoon of yogurt or coconut yogurt for each bowl. Top with a tablespoon of hemp seeds or pumpkin seeds.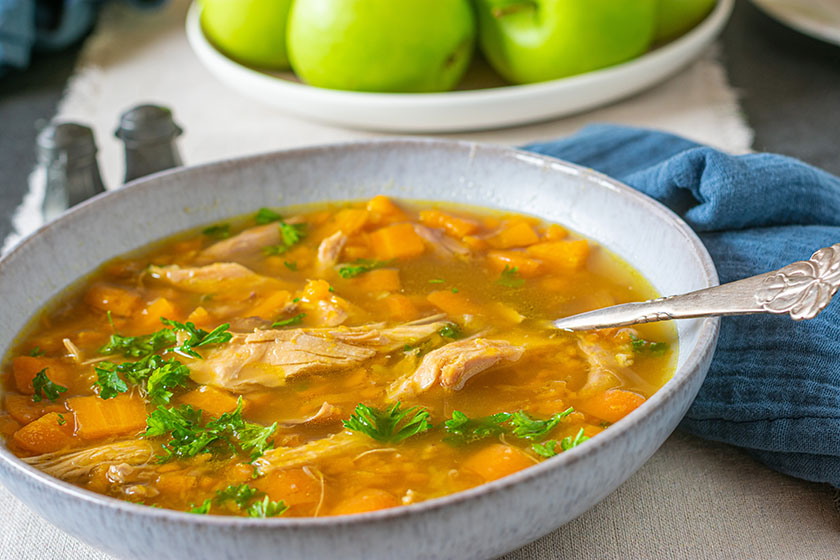 Gluten-Free Soup
This mixture is the best soup for colds because it is packed with vitamins and antioxidants. Along with the immune-boosting features of chicken, coconut oil, carrots and garlic, it has thyme. Thyme helps boost our immunity by reducing the possibility of infections, clearing toxins from our respiratory system, and fighting infections that slow us down.
To make this immune-boosting gluten-free soup, you need:
2 tablespoons coconut oil
Two chicken breasts
Six cloves of garlic
Three large carrots
Two large leeks
Two bay leaves
Three celery sticks
Two teaspoons fresh thyme
Two teaspoons fresh rosemary
1 cup vermouth
6 cups organic chicken stock
2-3 large yellow potatoes
4 cups winter greens such as swiss chard and kale
Two tablespoons gluten-free all-purpose flour
1/4 cup Italian parsley
You can use white wine instead of vermouth.
Instructions:
Heat coconut oil in a large pot. Salt and pepper the chicken and add to the pot. Turn chicken when each side is easily removed from the bottom of the pot after searing on all sides until golden brown. Set chicken aside and lower heat to medium.
Sauté sliced leeks, chopped carrots, and celery until soft, about 4-5 minutes, in the same pot used to cook chicken. Stir for another 30 seconds with half of the thinly sliced garlic and half of the minced herbs. Add the flour and stir for one more minute.
Stir in the vermouth and, using a wooden spoon, scrape up any tasty browned bits on the bottom of the pot. Let the vermouth reduce a little, then add the chicken stock.
Put the chicken back in the pot. Add the diced potatoes—cover and cook for about 20 minutes.
Discard the bay leaves from the pot. Remove the chicken, and chop or shred. Stir the remaining garlic, parsley, greens, and chicken meat into the

and cook

for about 5 minutes.
Final Words
To stay healthy during cold seasons, we need a solid immune system. Eating healthy is a great way to improve our immune system as we age. Regular exercise can also boost our immune system. We can have a healthier immune system and prevent diseases by taking these measures.