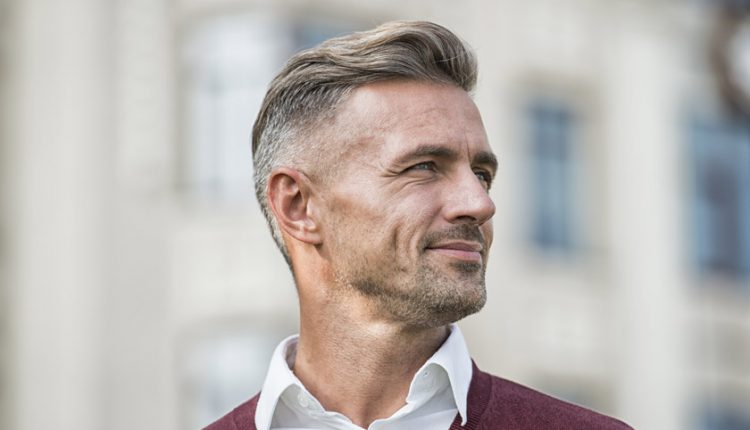 10 Things to Know About Men's Hair Color
Most people face gray hair when they turn 50. As we age, hair pigments produced in hair follicles drop. Although some people embark on going gray, others try to hide them. On the other hand, colouring techniques are different for men since they have shorter hair and can't hide their roots by flipping hairs. The other difference is rigid masculinity standards that force men not completely dye their hair to look more natural. For these reasons, this article provides some information to solve men's challenges when they decide to dye their hair.
1. DIY or Professional
The fact is that a professional colorist always delivers better and more professional coverage than any dye kit. If you still can't decide to choose which one, follow the below subsections:
Tips for Dying at Home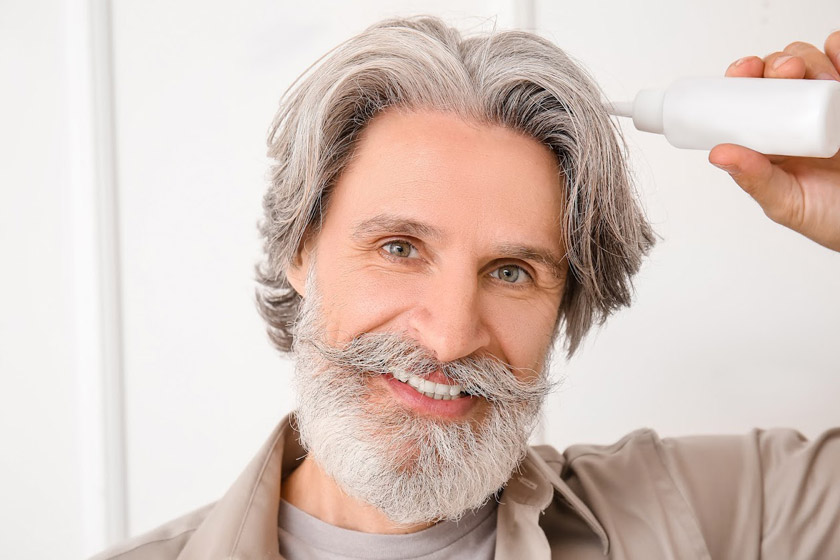 If your hair starts to gray and has salt and pepper hair, dyeing at home can be a good option. Although dyeing at home sounds tricky, but you can achieve great results by knowing some tips:
Before using any new hair dye, do a patch test.
Read the instructions precisely and if an instruction says to leave the colour for 20 minutes, leave it no more than 20 minutes.
Semi-permanent hair dye usually creates a natural look and can hide your gray.
To have a natural look, choose a hair dye one shade lighter than your natural hair colour.
Use Vaseline around your hairline to prevent staining the skin.
If your skin gets staining, gently rub the skin with a toner to remove it.
Note that the gray hair has less porous and oil than the rest of your hair, so it may be less receptive to dye. For this reason, the best option would be gray-hair targeting products than standard dyes.
Dyeing Your Hair Professionally in a Salon
No doubt that a professional hair colorist can professionally reduce your gray. If you find gray all over, dyeing in-salon may be the best option for you. A professional hair colorist decreases the risk of colour blocking by yourself. When you dye in a salon, you don't need to worry about choosing the right hair tone, balancing colours and dyeing technics.
2. Permanent Men's Hair Color
Permanent hair colourings are products that can change the pigment colour in your hair. They can penetrate the inner layer of hair, where the pigments are located, break down natural colour pigments and provide free rooms for new colour pigments. It is noteworthy that there is no difference between men's and women's permanent hair colour. Both have the same main chemical composition. However, women's dyes come in more variety shades than men's. Note that these kinds of dyes may damage your hair.
There are also semi-permanent hair colours that fade faster than permanent ones. This type is the best option for masking your gray hair and creating a more natural finish.
3. Temporary Men's Hair Color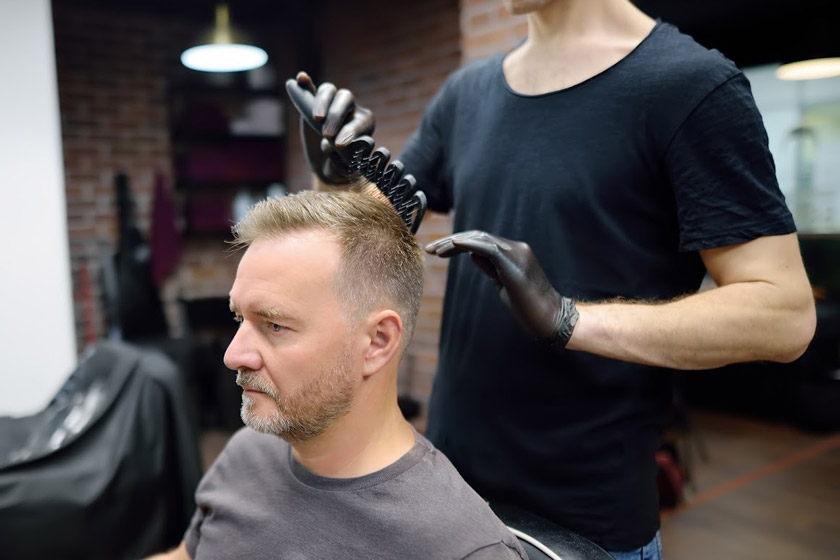 As the name suggests, temporary men's hair colour lasts for a short time. Contrary to permanent hair colours, temporary hair colours don't penetrate the inner hair layer (coticule); instead, they stick to the outer layer of the hair. This kind of hair dyes can't lighten your natural shade and easily fade with shampoo, exposure to air, water and time. However, these have less harmful for your hair.
4. How to Look Natural?
Most men who dye their hair want to look more natural, hide their gray and get back their old colour. To do so, you should choose a colour as much as close to your original shade. Then, it would be best if you progressively blended it to get the most unnoticeable and natural look.
5. How to Keep Grays Away?
The best way to keep grays away while having a natural look is by combining the colour through the hair rather than applying it all over with a brush. This technique allows some gray to shine through while keeping the rest of your hair untreated.
6. How to Choose the Right Colour?
To choose the best colour that goes on you, you should consider your skin tone. A suitable colour should be something close to your eyebrow colour and complement your skin tone. Some hairstylists prefer to choose hair dye based on your complexion, while others believe that cooler or ashier tones are more flattering on men. You can choose one or two shades lighter than your hair colour with an ash tone, for example, light ash brown.
7. How to Protect Your Hair Dye?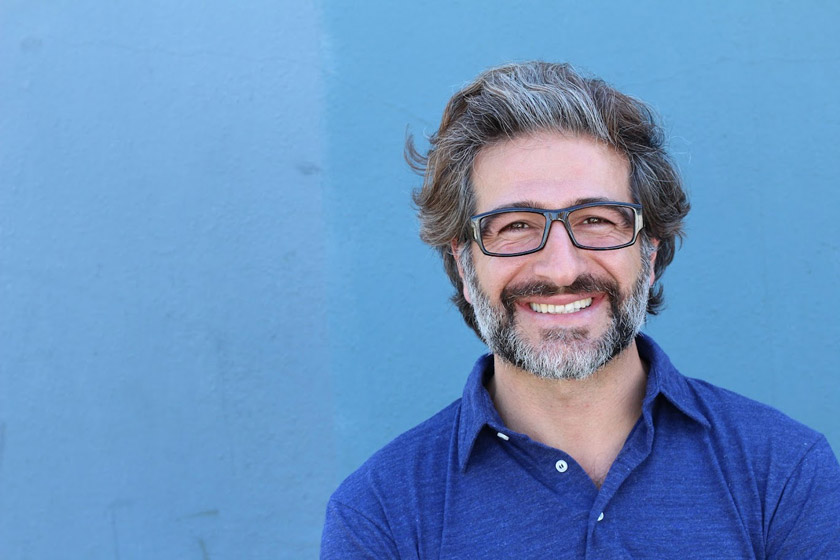 The best thing to prolong your hair colour is using a shampoo, conditioner, and hair mask professionally formulated for dyed hair. If you swim, it is better to follow some tips to maintain your hair dye:
Wetting your hair with clean water before going into the pool helps your hair absorb less chlorine (or salt when you swim in the sea). Consider raising again right after you finish swimming.
Coat your hair with coconut or olive oil before swimming can create a barrier against water.
After swimming, use a deep conditioner to protect your hair against the sun or extra damage.
Our hair, just like skin, can be damaged due to exposure to external factors. So, just like skincare tips for seniors, there are some hair care tips to protect dyed hair. The most important thing you should know is to avoid direct exposure to sunlight since it can damage hair and scalp and bleach your hair. You can wear a cap or use a leave-in conditioner with SPF. Look for Hair products that contain UVA and UVB filters to protect your hair from chlorine and sun.
8. How to Maintain Hair Dye?
To increase maintenance of dye right after colouring, you should wait at least 24 hours to wash your hair; this time is essential to set a colour on your hair. As the time between colouring and first washing increases, the colour has a greater chance to fix.
Although several reasons suggest hot bath therapy for seniors, you should know that daily baths, especially with hot water, may fade hair dye and natural oil hair and harm hair health. Using a hair mask may be a great help for maintaining hair colour and quality.
9. How Long Does Your Hair Colour Last?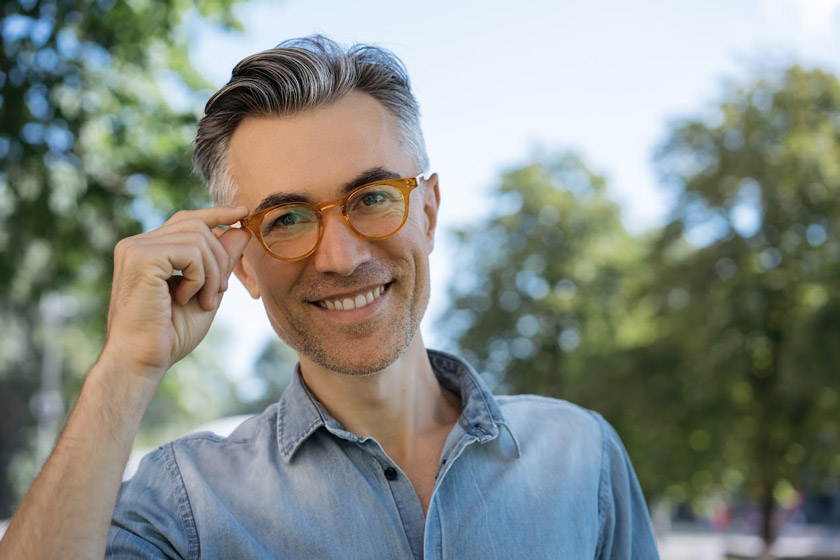 It depends on your hair dye type and how to treat your hair. In general, semi-permanent dyes, the best options for gray hairs, usually last around 28 shampoos. On the other hand, permanent dyes last longer.
10. What Should You Do Before Dying Your Hair?
Before dying, you should not use styling products like hair gel, hair straighter, hair chemically relaxers, and hairdryer. These products may double the damage caused by dye chemical ingredients or even make the effect of dye chemical ingredients slower.
Conclusion
One of the prominent signs of ageing is going gray. Some men embark on their gray hairs while others try to cover them. Several hair dyes are specifically produced to cover gray hair. This article guides you to choose the right colour and dye-based on your priorities and shows you some tips and tricks you can take advantage of it.