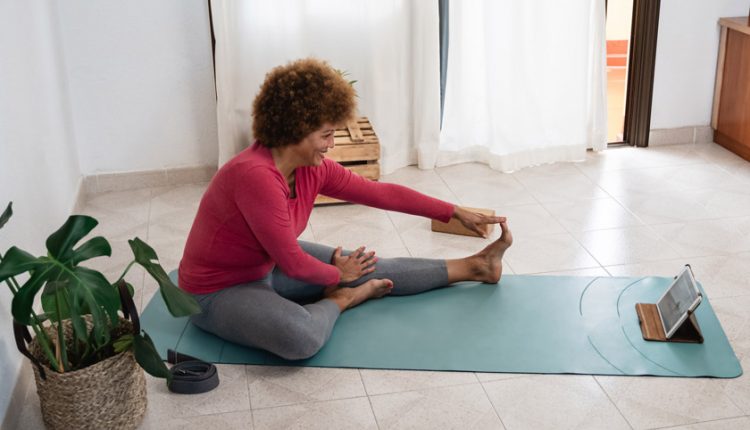 Yoga is one of the best and most popular exercises for seniors. It is a well-known fact that seniors who want to keep exercising or even try exercising for the first time find yoga a suitable and exciting choice. However, some of us are busy people, or even if we have time, we are not motivated enough to join a gym. Since Covid-19 makes going to indoor gyms and being around other people risky, some might prefer to find a way to exercise at home. All of these problems have the same solution, and that solution can be summed up in one word: YouTube. The world's favourite video streaming website helps you exercise yoga on your own, anytime and anywhere you want. You can find many channels on YouTube that are perfect for yoga beginners. In this article, we introduce 10 of these channels that stand out among others.
Although there are many channels on YouTube with professional Yoga instructors, not all of them are suitable for someone who wants to start doing yoga only recently. Some of these channels use advanced exercises to which you cannot move on until you are ready. That is why it's essential to make sure the channel you subscribe to is beginner-friendly. The following list includes ten channels that we believe will be most helpful to beginners, in no particular order.
1. Yoga Etc
What could be a better teacher for senior yoga beginners than a senior? Tina, the instructor of the channel, is over 60 years old. She wants to prove that age is just a number, and it has nothing to do with doing yoga or any other exercise. So far, she has successfully achieved that goal since she is producing content that explicitly targets seniors like her.
Watching some yoga videos can take over an hour. Therefore, it can be hard to find the right time to follow the course and practice yoga. With Tina's channel, you will not have that problem. Her videos are rarely over 20 minutes. Most of these Yoga Etc's videos are short, easy, step-by-step yoga sequences, making them perfect for beginners, seniors, or those who are both.
2. Yoga with Adriene
Everyone can easily connect with Yoga with Adriene regardless of their level and age. Adriene Mishler, the channel instructor, makes easy-to-follow videos for trainees from all levels. What makes her channel special is that she separates videos by what you want to gain from yoga and how yoga can help you. She has made videos like Yoga for anxiety, Weight Loss and Chronic Pain, and Yoga for Uncertainty. She even has videos for different occupations, including chefs, dancers, writers, and teachers.
Adriene claims that her channel helps everyone regardless of their level or age; her content proves this claim to be true. One other type of video she uploads on her channel is daily 20 to 30 minutes videos for 30 days. These 30-day challenges are perfect for people who want to make yoga a part of their daily routine.
Some of Adriene's suggested video series for beginners on her channel are "Yoga for Beginners" and "Foundations of Yoga." Be sure to check them out if you are new to yoga.
3. Gentle Yoga and Wellness
The next one on our list is another channel whose audience is beginners and older adults. Its instructor, Melissa, uploads a series of videos titled "Gentle Yoga for Seniors and Beginners." These videos are normally about 30 minutes long. Melissa modifies her yoga classes so that everyone, even with so little access to the necessary equipment, can easily follow the instructions.
In each class, she focuses on flexibility, balance, and strength. Gentle Yoga and Wellness's content covers restorative yoga, standing yoga, and chair yoga. There is also a playlist of Ten-minute yoga videos so you can follow them daily as a beginner. It has been three months since any new video has been uploaded on this channel. But the current amount of content is enough to get you going for a while. Since this channel is made for beginners and seniors, it's probably an excellent place to start your journey before moving on to other channels.
4. Candace Cabrera
Candace Cabrera belongs to the writer of a popular yoga lifestyle blog called Yoga by Candace. Candace is an international Yoga instructor, and the tutorial videos she uploads are very helpful for yoga beginners. You can find many videos that instruct you to relieve pain or stress with yoga exercises.
You can start yoga by watching her Restorative Yoga Foundations video series, especially since restorative yoga is considered the best type of yoga for seniors. Thanks to this channel, seniors can start doing yoga from scratch and make it an enjoyable part of their life. There is also an entire yoga for beginner playlist on this channel.
Candace's channel videos take 15 to 60 minutes and show proper yoga routines for your back, core, and upper body. The videos are also categorized by different times of exercise, including morning, afternoon and evening. Aside from all the yoga-related stuff on this channel, you can find other content like beauty tips and tutorials.
Read More: Face Yoga for a More Youthful Appearance
5. Yoga with Kassandra
Yoga with Kassandra is a valuable source of tutorials and yoga classes. No matter what your level is, you can find videos that can help you do better. You can find weekly yoga videos from Kassandra in Yin Yoga, Vinyasa Flow and others. This channel is also one of the channels that teach restorative yoga, which, as we said before, suits senior beginners. Kassandra's channel focuses on making instruction videos that can help you gain better flexibility and strength and boost your self-esteem.
There are playlists according to how long videos will take, from 5 to 90 minutes. So, it will be easy for you to find something you can fit into your schedule. Kassandra also uploaded a 30-day challenge for those who want to grow into the habit of doing yoga regularly.
6. Fightmaster Yoga
This channel wants its subscribers and audience to feel better through yoga. You do not need to be perfect; you only need to be positive. This channel works with the motto "It's not about the Pose," so no one has to worry about messing up a pose or doing exercises with a few mistakes. In this channel, yoga is a way to take care of yourself and be happy.
As you can see, this channel is perfect for beginners and shows them the soothing effect of yoga. There's an entire playlist dedicated solely to yoga for beginners. Fightmaster Yoga has different categories for its videos like yoga for strength, yoga for flexibility, yoga for balance, and yoga for energy. You can find 30-day yoga challenges on this channel too.
7. SarahBethYoga
SarahBethYoga, with about 1.4 million subscribers, offers videos for all levels. There are several videos for beginners you would like because they are easy to follow. Sarah Beth's videos are categorized by length, focus, and style. Her videos are 5-30 minutes long and cover various themes like weight loss, bedtime yoga, yoga for posture, and many others.
Sarah helps you help you stretch, strengthen, relieve your stress and anxiety, and detox. Apart from her yoga for beginner playlist, you can also watch another playlist called yoga tips to learn more and exercise more efficiently. A 7 day and a 30-day yoga challenge are also uploaded on Sarah's channel.
8. BrettLarkinYoga
BrettLarkinYoga's content satisfies anyone from any level, even someone who has never done yoga before. Her playlist for beginners has over 240 videos, so you can have an excellent place to start on her channel. She also uploads yoga hacks podcasts which can help you do the exercises in the best way possible.
This channel is perfect for learning all the basics and moving to more advanced levels. It offers many videos from 10 to 45 minutes and various yoga challenges. On Brett's channel, you cannot run out of content quickly.
9. Bad Yogi Yoga
As the name suggests, Bad Yogi Yoga provides content for "bad yogis" who do not have a perfect body shape or cannot carry out poses flawlessly. So, it is only natural for this channel to have an entire yoga for the beginner section.
This channel offers a four-week yoga challenge that helps you get yoga into your life with regular exercise sessions.  The videos on this channel are organized into different playlists based on which part of the body they target. For example, you can pick full-body yoga, upper body strength and posture, or hip and hamstring flexibility.
10. Aham Yoga
Aham Yoga is another beginner-friendly channel you would like to check out. Compared to Yoga with Adriene, this channel does not post videos as often. But the content has excellent quality. One of this channel's best video categories is the tutorial videos that instruct you on doing a single pose correctly at a pace beginners would appreciate.
Some of this channel's other videos, like three things you must know before starting yoga or 5-minute Yoga for Beginners, are a must-watch. There are also other tutorial videos like morning yoga which are made specifically for beginners. So, we think beginners would like this channel a lot.
Moreover, this channel offers a series of videos that depends on your mood and condition. Some of these videos are: yoga for better posture, yoga to beat the heat and chill out, yoga for when you feel insecure, yoga for when you need to feel beautiful, and even yoga for when you don't know what to do. Video series like this are awesome because they help you adapt to your situation and surroundings easier.
Conclusion
As a senior, there are many reasons why you should choose to do yoga. You can compare other forms of exercise suitable for your age, know more about Pilates vs. Yoga for seniors as an example, and make the right decision. But for almost every form and style of exercise you choose, YouTube offers high-quality content to you. Training and practicing from YouTube is time-efficient, easy, and free to use. If your choice is yoga, you are lucky because YouTube can give you all you need. So, browse through different yoga channels and start exercising.