Benefits of Green Tea for Seniors: When You Turn Evergreen!
Did you know green tea has been traditionally used in Chinese and Indian medicine to contain bleeding and heal wounds?
The Chinese have used this magical plant for centuries to treat various ailments, from headaches to depression. Today, green tea is well known worldwide for its exceptional properties. It is rich in antioxidants, enzymes, amino acids, manganese, potassium, magnesium, and caffeine. Besides the many health benefits of green tea, it is also widely used for skin health. Sound too good to be true? Give it a try and see for yourself.
In today's article of Living Maples Mag, we will introduce green tea benefits for seniors' skin health and hair condition.
Improving Skin Color and Appearance
This tea improves your skin colour and appearance by removing toxins, healing blemishes and wounds, reducing skin inflammation, and strengthening the skin's elasticity. Green tea also rejuvenates seniors' skin and helps with wounds.
Method: For this, you should mix the contents of 2 green tea bags with 1 to 2 teaspoons of honey and a small amount of lemon juice. Apply the resulting mask on your face and wash off with lukewarm water after 5 to 10 minutes. You can use this mask once or twice a week.
Read More: Useful Tips for Seniors to Take Care of Their Skin
Removing Bags and Dark Circles Under Eyes
Due to having antioxidants and tannins (an astringent substance), green tea helps to treat puffiness and dark circles under the eyes. The antioxidants and tannins in green tea help reduce swelling and puffiness in these areas by constricting blood vessels under the thin skin around the eyes. Green tea is also helpful in lightening dark circles under the eyes due to its vitamin K content.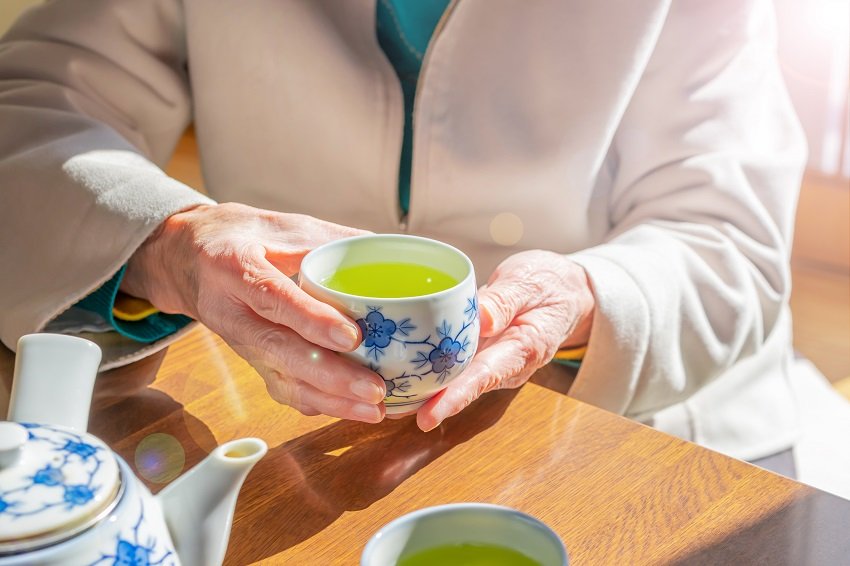 Method: To do this, put two used green tea bags in the refrigerator for 30 minutes and then place the cool tea bags on your eyelid for 15 minutes. You can use this twice a day to achieve the desired result.
Reducing the Signs of Aging 
Due to its anti-aging and antioxidant properties, green tea delays the signs of aging, such as sagging skin, and reduces the damage caused by sunlight, age spots, and wrinkles. Green tea neutralizes the effects of free radicals due to its polyphenols. Free radicals can cause severe damage to the skin and accelerate the aging process.
Green Tea & Treating Pimples and Acne of Skin
Green tea can destroy acne-causing bacteria due to its antibacterial properties and catechins. These antioxidant compounds are even helpful in regulating the hormonal imbalances among the key causes of old age acnes in seniors. Besides, green tea's anti-inflammatory properties reduce the redness and inflammation caused by acne.
Method: Mix 1/4 cup of freshly brewed green tea with the same amount of water. Apply the combination of green tea and water with a cotton ball to the skin's acne-prone areas and wash off with cold water after 10 to 15 minutes. Repeat this twice a day to get rid of skin acne.
Green Tea and Hair Growth 
It is the antioxidants in green tea that help stimulate hair growth. The catechins in green tea help prevent hair loss. Green tea also promotes new hair growth and even prevents common problems such as dryness and dandruff.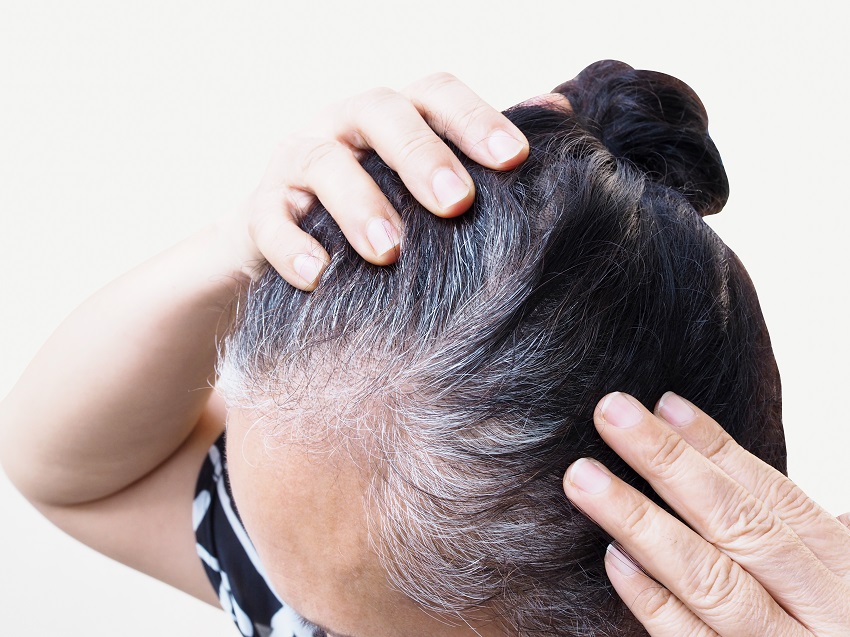 Method: After washing your hair, rinse your head with cooled freshly brewed green tea and rinse with cold water 10 minutes later. Repeat this 2-3 times a week for several months. You can also have healthier and fresher hair by drinking 2-3 cups of green tea a day.
Having Shiny Hairs with Green Tea
We lose the shine of our hair in old age. Besides strengthening the hair, green tea also increases the hair's shine and freshness and protects the hair against contaminants and harmful cosmetics. Furthermore, green tea effectively maintains hair softness due to its panthenol, vitamins E and C.
Method: Soak 2 to 3 bags of green tea in 4 cups of hot water for 1 hour. Then remove the tea bags from the container and allow the green tea solution to cool well. Next, all you have to do is moisturize your hair a little and wash it with this solution. After 10 minutes, rinse your hair with cold water to stabilize the shine. You can repeat this 2-3 times a week.
Read More: Top Anti-aging Foods for Seniors
Protecting the Skin Against Sun Damage
Green tea protects the skin from the harmful rays of the sun. The tannic acid, theobromine, and polyphenols in green tea help soothe and heal sunburn because of their ability to neutralize the damage caused by exposure to the sun's ultraviolet rays. According to a study published in 2011, green tea, due to its antioxidant epigallocatechin-3-gallate, can inhibit melanoma by inhibiting inflammation-causing genes.
Method: Brew 2 to 3 cups of green tea and refrigerate. Then soak a soft towel in the tea and place it on the sunburned parts of the skin. Repeat this 2-3 times a day to relieve the pain and redness caused by sunburn.
Final Words
Many research studies show that drinking green tea and applying it to the skin can significantly benefit seniors. Not only can green tea and green tea extract help with acne and help your skin look younger, but it also has the potential for helping to prevent various skin-related cancers.