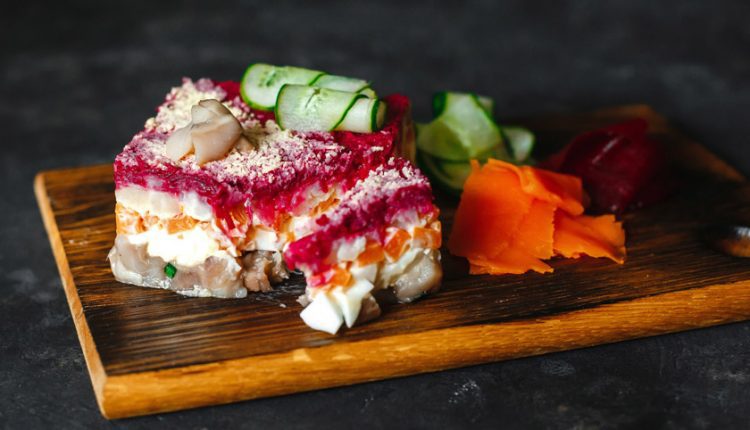 Healthy Russian Foods for Seniors: Who Says Healthy Is Boring?
Did you know many dishes we consider today as typically Russian are actually of Polish, French or Italian origin? Due to the empress's contacts with Western Europe, they came to the court of Catherine II. Catherine boldly introduced exotic foods to the court, and we are following in her footsteps today, suggesting a couple of great ones here.
Now we are not sure if Catherine cared about the nutritional aspects of the food she was suggesting, but we sure do because our immune system weakens with age, and this issue raises the risk of food-borne illness; therefore, consuming foods rich in vitamins and nutrients is essential. A sedentary lifestyle, lack of vitamins, frequent use of drugs, and constipation exacerbate the disease. To avoid annoying consequences and maintain health as long as possible, seniors need a proper and balanced diet. 
What are we looking for here?
In short, food must be diverse, low-calorie, tasty, and healthy. They should also consist of easily digestible components, with the optimal ratio of salts (because high salt consumption in the seniors causes many diseases), proteins, fats, and carbs.
As they say, there's nothing that a good meal can't fix. Here are some healthy Russian foods that are both tasty and easy to cook.
Borscht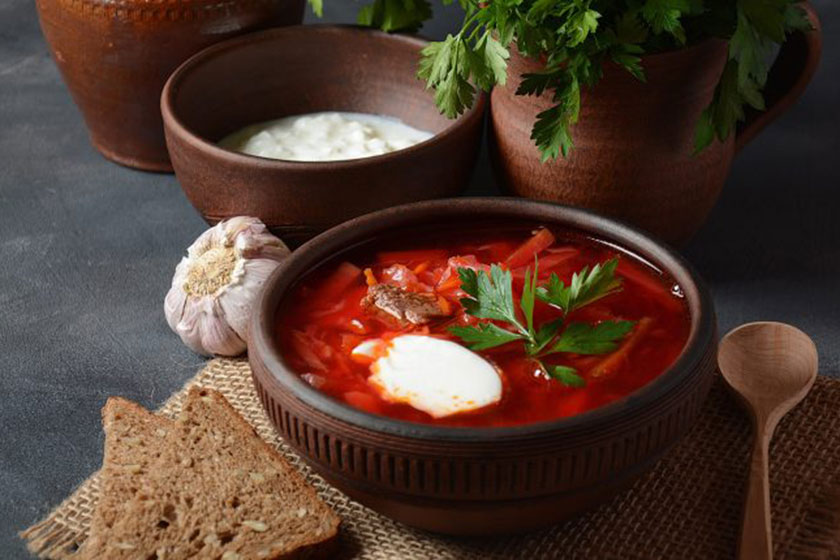 There are tons of recipes for making a good Borscht, you can add meat or any vegetables such as cabbage, carrots, potatoes, onions, and tomatoes, but the main ingredient is always beets. Beets are highly nutritious and contain betaine, essential for the liver's health. Beats are also high in fibre and low i calories, with a noticeable amount of potassium to maintain healthy blood pressure.
Borscht nutrition value per 100g:
| | | | |
| --- | --- | --- | --- |
| calories | carbs | fat | protein |
| 95 | 5g | 4g | 5g |
Instructions:
Cook the meat broth.
When the meat is ready, chop it into small cubes.
Add sliced potatoes and cabbage into the broth.
Sauté onions and carrots. Then add grated beets with tomato paste or chopped tomatoes.
Leave to simmer on low heat.
Put the stewed vegetables into the pan when the potatoes are nearly ready.
Add then chopped meat and cook for five more minutes.
Turn the heat off, and let it rest for 10 minutes.
Serve with sour cream, herbs, and garlic.
Kasha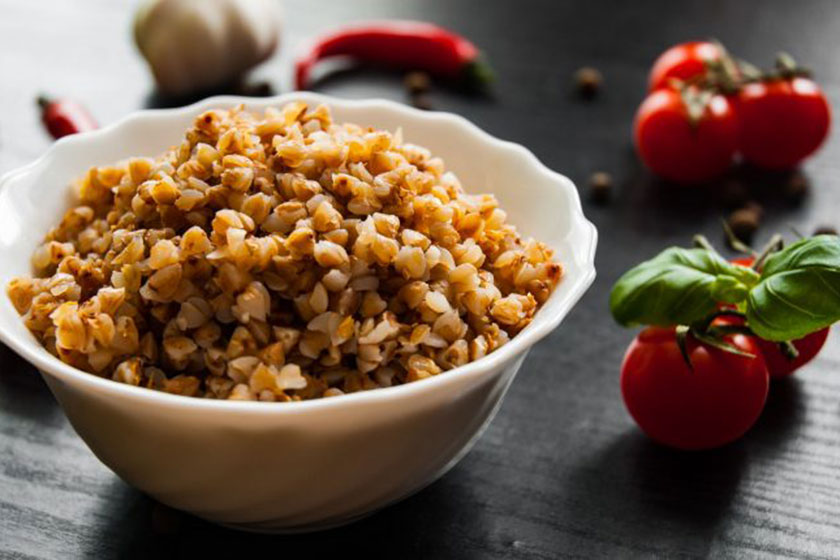 Kasha is one of the most common healthy Russian foods. Kasha is not only oatmeal; it is everything that is made of whole grains (buckwheat, oats, millet, wheat, barley, rice) as the main ingredient. Whole grains are filled with B vitamins and rich nutrients, including potassium, iron, and fibre, which help us have a high energy level by taking lower calories. Fibre foods such as Kasha should be in the diet of seniors with diabetes.
Kasha nutrition value per 100g:
| | | | |
| --- | --- | --- | --- |
| calories | carbs | fat | protein |
| 324 | 66g | 1g |  – – |
Instruction:
Boil the grains in water till they're cooked.
Add some milk and let it boil again.
You can skip the milk and add some butter and serve.
Cabbage Rolls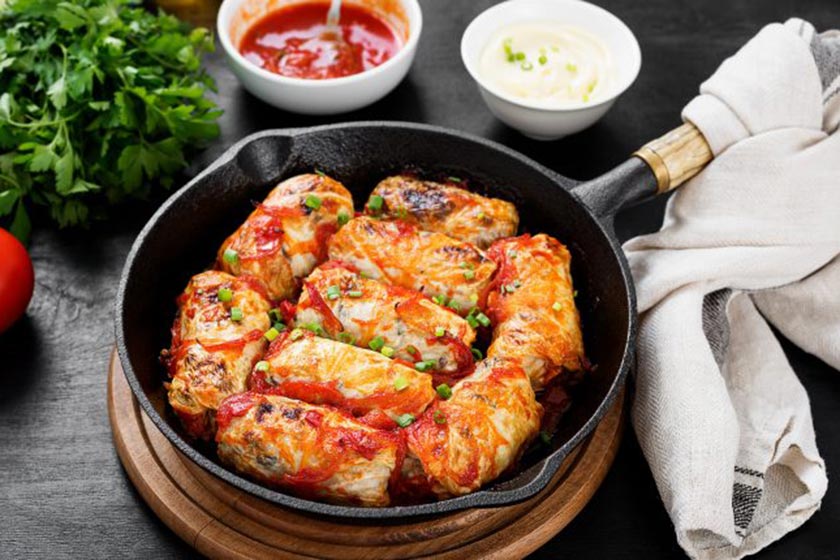 Cabbages are rich in vitamin C and antioxidants, which help reduce cancer risk in seniors and improve overall health and immune system. You can use beef, turkey, or whole grains to make your cabbage rolls; keep in mind, do not cook or keep cabbages for too long.
Cabbage Rolls nutrition value per 100g:
| | | | |
| --- | --- | --- | --- |
| calories | carbs | fat | protein |
| 175 | 11g | 11g | 7g |
Instructions:
Boil the cabbage for 10 minutes, sauté onion and garlic for 3-5 minutes until browned.
Add mushrooms and cook for another 2 minutes—transfer the mixture to a large bowl to cool.
Add meat, uncooked rice, parsley, tomato, salt, and pepper to the cooled onion mixture.
Place some filling in each leaf, roll, and place seam side down in a pan.
Pour liquid over rolls and lay some more leaves on top.
Cover pan tightly with foil, and bake for 1 hour.
Sorrel Soup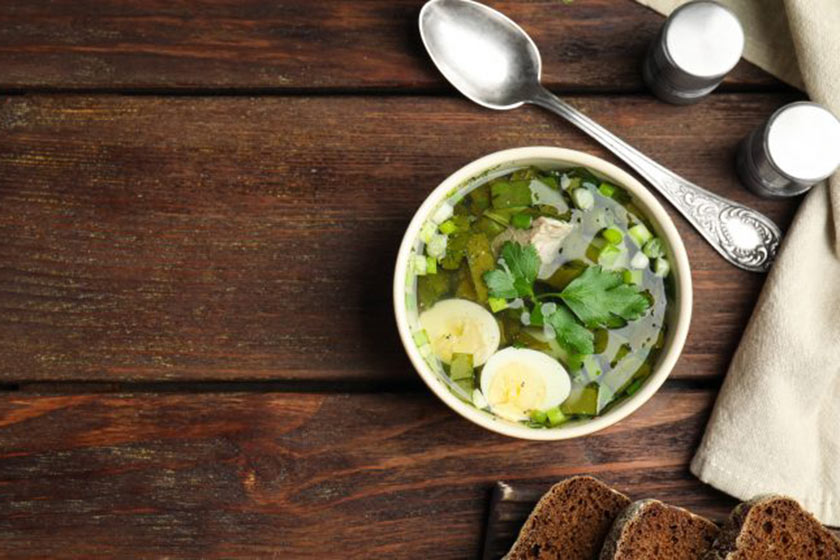 Sorrel soup is considered to be one of the most healthy Russian foods. Since Sorrel contains high amounts of vitamin C and several B vitamins, calcium, potassium, and magnesium, it's suitable for our immune system, energy level, mussels, and nerve function are among nutritious soup recipes for seniors and reduces blood pressure. The ingredients are meat or chicken broth, potatoes, eggs, onions, carrots, Parsley, and Sorrel. Sorrel soup is another healthy Russian food that is easy to make.
Sorrel soup nutrition value per 100g:
| | | | |
| --- | --- | --- | --- |
| calories | carbs | fat | protein |
| 77 | 8g | 3g | 3g |
Instructions:
sauté onion and garlic in butter.
Cook and stir until soft, about 5 minutes.
Add Sorrel in.
Pour chicken stock and water.
Stir in potatoes, carrot, parsley, dill, lemon juice, and black pepper.
Simmer soup until flavours combine, about 1 hour.
Mix the soup in a blender before serving.
Dressed Herring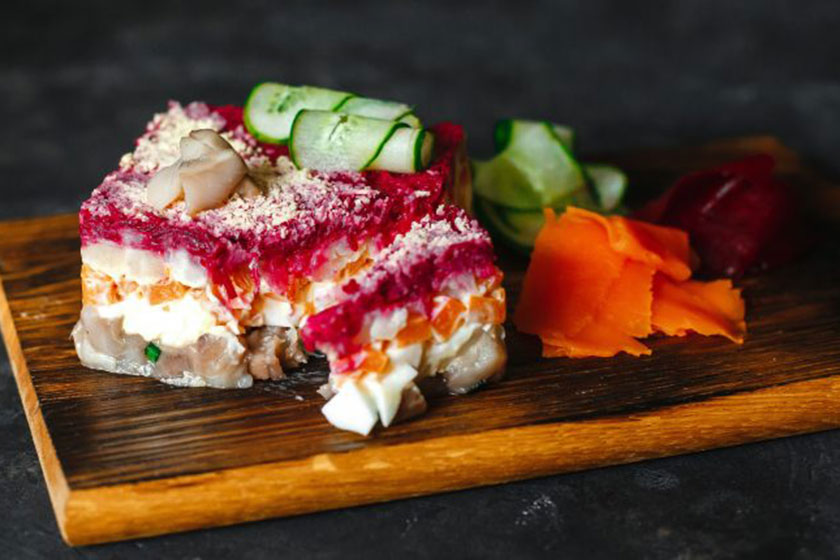 Dressed herring or HERRING UNDER A FUR COAT is a traditional holiday food in Russia. The ingredients are all healthy and, of course, tasty: eggs, beets, carrots, potatoes, and usually mayonnaise- or sour cream, is all we need to make this salad. But to make a healthier dish, it's best to use less mayonnaise since it's not the main ingredient but a dressing.
Dressed herring nutrition value per 100g:
| | | | |
| --- | --- | --- | --- |
| calories | carbs | fat | protein |
| 170 | 11g | 12g | 4g |
Instructions:
Boil the peeled potatoes and carrots for about 20 minutes.
Allow to cool and set aside.
Boil the peeled beets separately for about 45 minutes until they are soft.
Allow to cool and set aside.
Cook the eggs until they are hard.
Slice all the ingredients into small bite-size pieces in cubic shapes, mix them with mayonnaise, arrange them in layers, and add black pepper and salt.
Beef Stroganoff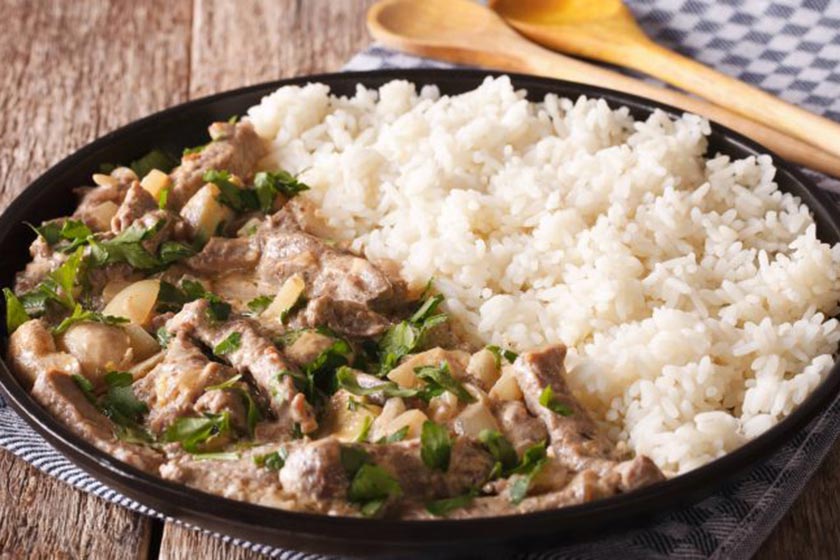 Beef stroganoff is a Russian dish rich in protein, iron, B vitamins, selenium, and fibre, like spices that strengthen the immune system of seniors; this dish is also suitable for our immune system and filling.
Beef stroganoff nutrition value per 100g:
| | | | |
| --- | --- | --- | --- |
| calories | carbs | fat | protein |
| 390 | 6g | 29g | 14g |
Instructions:
Flavour beef with salt and pepper.
Heat oil over high heat until nearly smoking.
Stir in meat, for 6-7 minutes, until meat browns.
Remove meat from the pan and set it aside.
Stir butter, mushrooms, and onions into the pan, and cook over medium heat until the vegetables are lightly browned.
Add garlic and stir for 30 seconds.
Stir in flour; cook for 1-2 minutes.
Add wine and cook for a few minutes until the sauce thickens.
Return the beef to the pan and let it cook for another hour with low heat; stir every 20 minutes.
Tip: to have your healthy Russian food, serve a small portion of stroganoff with a whole grain like brown rice or kasha and a side of leafy greens for a complete meal.
Vinaigrette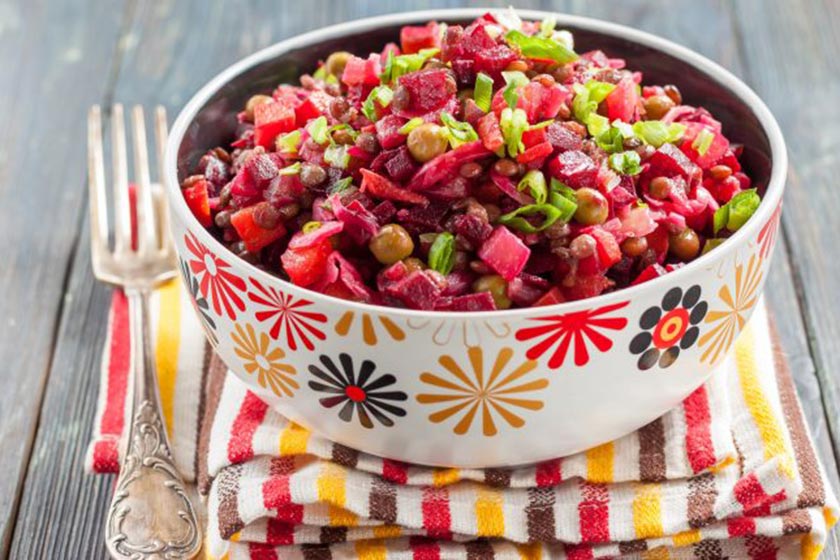 Vinaigrette is a traditional salad made of boiled beets, carrots, potatoes, pickles, onions, and sauerkraut. It is easy to cook and is relatively healthy, especially in wintertime.
Vinaigrette nutrition value per serving:
| | | | |
| --- | --- | --- | --- |
| calories | carbs | fat | protein |
| 729 | 152g | 4.6g | 27g |
Instructions:
Boil potatoes, carrots and beat for about 30 minutes, then cut them into cubes.
Let the vegetables cool to room temp.
Then chop cucumbers and onion.
Mix all the ingredients with peas and sauerkraut, one tablespoon of vinegar and some olive oil, and dress with parsley.
Pryaniki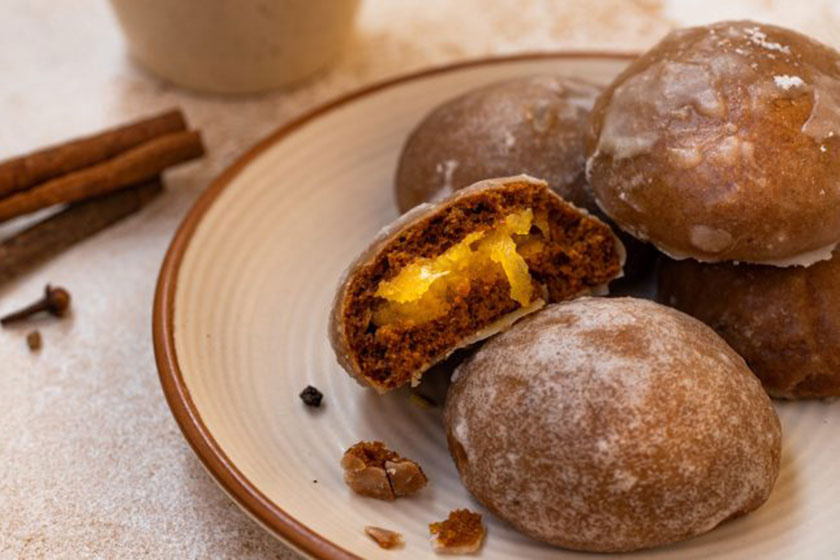 Pryaniki is a sweet bread flavoured with spices such as ginger or cinnamon; it's also known as "Russian gingerbread." Pryaniki is usually filled with caramel, jam, or honey; if you have a sweet tooth, honey-filled Priyanikiis an excellent choice to have as a side for your afternoon tea.
Pryaniki nutrition value per serving:
| | | | |
| --- | --- | --- | --- |
| calories | carbs | fat | protein |
| 279 | 17g | 15g | 17g |
Final Words
A healthy, balanced diet can help support immune system function and reduce the risk of infection and disease. It's important to note that while a healthy diet can be beneficial, it's not a substitute for other healthy habits such as regular exercise, getting enough sleep, and practicing good hygiene. Every food on this list is excellent for seniors' health, and by adding them to your regular diet, you are guaranteed to receive the nutrients you need.