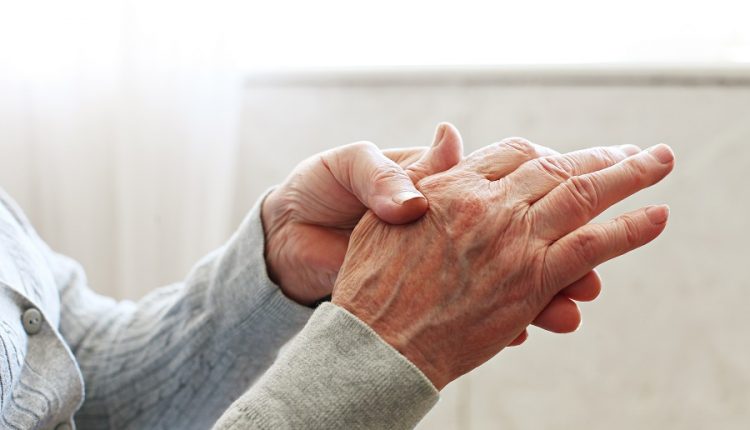 Message therapy is a way to reduce fatigue resulting from doing difficult activities. In this regard, hand massage for the elderly is suitable for those who use their hands a lot. Interestingly, there are several reasons for the effectiveness of a hand massage. This type of massage reduces muscle tension, and studies have shown its effects on reducing pain. Hence, it is suitable for the elderly to regain their grip power.
Obviously, you may not need a hand massage every day but, getting a professional hand massage once or twice a week can reduce the pain associated with different conditions such as arthritis, carpal tunnel syndrome, and neuropathy.
Here, at Living Maples, we have decided to take a closer look at the benefits of hand massage for the elderly.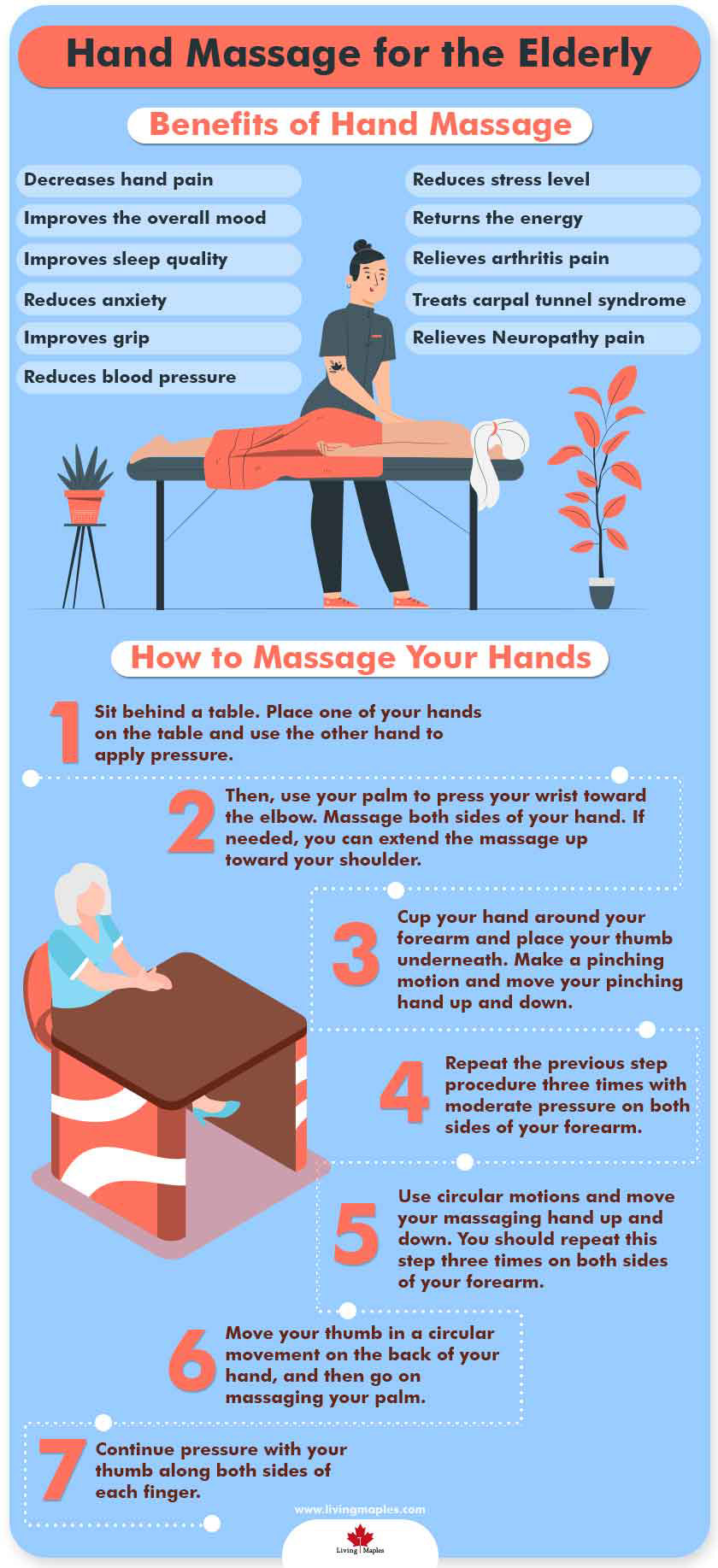 Benefits of Hand Massage for the Elderly
A study conducted in 2011 showed that a hand massage could improve the health and well-being of the elderly in many ways, some of which are as follows:
Decreased hand pain
Better overall mood
Better sleep quality
Reduced anxiety
Better grip
It is worth mentioning that several studies have shown that receiving a massage can reduce seniors' blood pressure. In other words, it can provide a healthy life for the seniors. Furthermore, a reduced stress level is another benefit that the seniors can enjoy by receiving a hand massage.
On the other hand, as we age, we tend to decrease the amount of physical activity. Our hands are no longer as active as they used to be, which results in stiffer joints and muscles. Hence, a hand massage is the best choice to return the energy and grip strength of our younger years. You can ask a professional to give you a hand massage, or you can start trying self-massage. Below are some of the common conditions which can benefit from hand massage. 
Arthritis
Arthritis is a disease characterized by severe pain and joint failure. Undoubtedly, when the elderly develop arthritis, they usually experience pain and joint dryness, swelling, and decreased range of motion. Some types of arthritis also affect the heart, eyes, lungs, kidneys, and skin.
Each type of arthritis has its challenges. For instance, osteoarthritis is the most common type of arthritis in the elderly when the cartilage between the joints weakens. This condition can affect the hands, hips, knees, neck, and lower back.
Arthritis in the hands can be excruciating, and it reduces strength up to 75 percent. The seniors suffering from this type of arthritis may have difficulty in simple tasks such as opening a jar or grasping the doorknob to open the door. 
Fortunately, the good news is that a hand massage can help you regain your grip strength. To relieve your arthritis pain, you can get a weekly professional hand massage and use self-massage tips at home every day.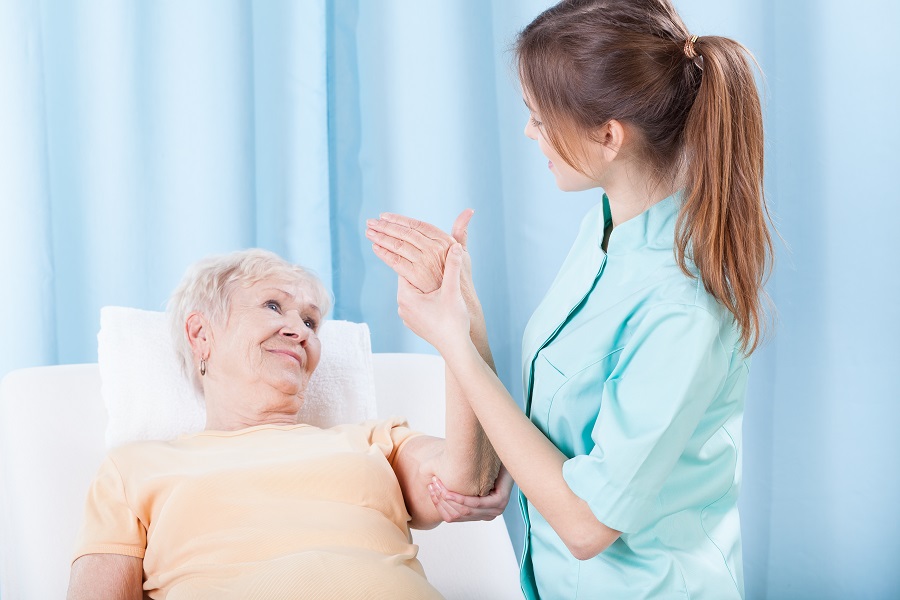 A study was conducted on 200 people over the age of 70 who received a weekly professional hand massage besides their caregivers' daily massages. After four weeks, the results showed that massage therapy reduced the participants' anxiety and depression and helped with mood and sleep quality.
Carpal Tunnel Syndrome
Carpal tunnel syndrome is one of the most common diseases of the wrist that causes pain, weakness, numbness, and a reduced wrist and fingers strength. This complication occurs due to pressure on the median nerve in hand. Repetitive hand and wrist movements that put a lot of pressure on the hand's nerves are the most important underlying cause of this disease.
People with this complication have difficulty performing their daily activities, indicating the importance of treating carpal tunnel syndrome.
Treatment of carpal tunnel syndrome with physiotherapy relieves symptoms and restores hand strength to the pre-disease state. In addition to physiotherapy, hand massage is one of the best ways to treat this disease. Researchers have found that hand massage can reduce the symptoms of carpal tunnel syndrome and help a person regain their grip strength and perform their daily activities more efficiently.
Neuropathy
Neuropathy occurs when the body's nerve fibers are damaged for various reasons. The disease causes problems for the affected person and sometimes causes the elderly to be excluded from the social arena. The disease's clinical manifestations are different in individuals, and all of the seniors may not have the same symptoms because nervous involvement is variable. The elderly should immediately stop the illness symptoms because any negligence in this regard can lead to disability.
The symptoms of the disease are different and depend on the type of nerves involved. If the motor nerves are involved in the elderly, the patient will no longer perform motor functions. The strength of the muscles decreases, causing the patient to have difficulty walking or to be unable to lift anything with the hand. In severe cases, the elderly might lose the ability to move his/her hands.
Furthermore, diabetes is the main cause of neuropathy and some drugs such as the ones used for chemotherapy can damage the nerves as well.
Researchers investigated the effect of hand massage on seniors undergoing chemotherapy. The results were astonishing because 50% of the patients reported an improvement in symptoms. 
A study was conducted on the elderly suffering from diabetic neuropathy who received a hand massage three times a week for four weeks. At the end of the study, all of the participants reported a reduction in their pain.
How to Give a Hand Massage for the Elderly
First of all, hand massage does not require any special equipment, and you can have it anytime and anywhere you wish. Generally, seniors feel better by receiving massage therapy with oils or lotions.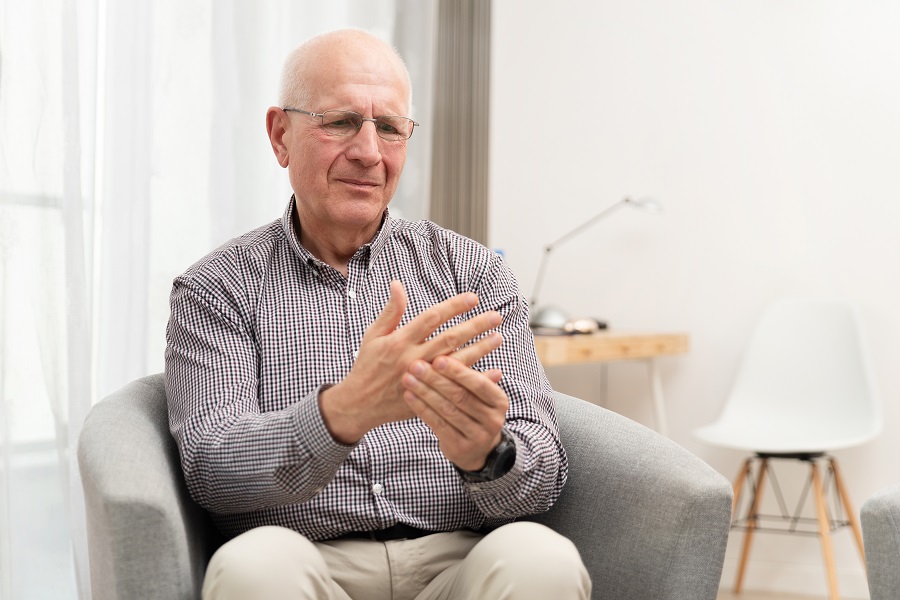 Interestingly, some seniors reported that receiving a hand massage for 15 minutes before bedtime improves sleep quality, but you don't need to limit your hand massage session to bedtime, and you can enjoy it anytime you wish. To give yourself a hand massage, follow these steps:
First, sit behind a table. Place one of your hands on the table and use the other hand to apply pressure.
Then, use your palm to press your wrist toward the elbow. Massage both sides of your hand. If needed, you can extend the massage up toward your shoulder. This step acts as a warm-up for your muscles.
Cup your hand around your forearm and place your thumb underneath. Make a pinching motion and move your pinching hand up and down. Repeat this procedure three times with moderate pressure on both sides of your forearm.
Use circular motions and move your massaging hand up and down. You should repeat this step three times on both sides of your forearm.
Move your thumb in a circular movement on the back of your hand, and then go on massaging your palm. Continue pressure with your thumb along both sides of each finger. You can use your thumb to massage the area between your thumb and forefinger.
Hence, depending on the condition you are suffering from, you can ask your physician or massage therapist to suggest the best massage technique. Still, some seniors may feel a worsened pain during self-massage, so it is advisable to have another person give the massage.
Conclusion
In conclusion, there is various scientific evidence that testifies the benefits of hand massage in reducing pain and increasing strength. Besides, there are several reports on stress and anxiety reduction through gentle hand massage. Research shows that seniors can add hand massage to their daily routine to reduce arthritis, carpal tunnel syndrome, neuropathy, and many other conditions. In addition, seniors can receive a professional massage with the help of a massage therapist i.e. an expert in treating various diseases through massage therapy. 
More Resources: