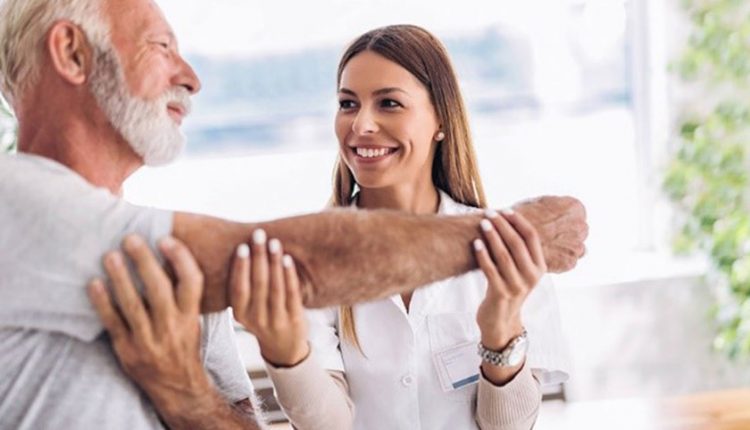 Top 7 Physiotherapy Clinics for Seniors in Toronto [update 2023]
Did you know physiotherapy was established in Canada after World War 1? And thank god for that. Millions of people depend on such services to get on with their lives, but let's get to the basics here:
Physiotherapy includes exercises to increase the physical strength of seniors. The primary goal of physiotherapy is restoring and improving functionality, reducing pain, and increasing mobility. Whether you're managing long-term illnesses or just trying to improve your health and mobility, physiotherapy can help you. As we age, our muscles and joints become stiffer and weaker, leading to decreased mobility and balance. Physiotherapy can help seniors improve their range of motion, flexibility, and balance through targeted exercises and stretches.
Best Physiotherapy Clinic in Toronto 
Here is a list of top physiotherapists in Toronto, with addresses and phone numbers and a client review to help you choose the best Toronto Physiotherapy center.
We also introduced the top physiotherapist in Vancouver (For Seniors) in previous articles. You can refer to this article if you live in this city. Also, you can see the article by clicking the button below.
Top Physiotherapist In Vancouver
Also, you can read about top physiotherapists in Montreal (for seniors). 
1- Toronto Physiotherapy
At Toronto Physiotherapy, all physical therapy sessions are one-on-one in private rooms with an experienced Registered Physiotherapist who has advanced training in their practice area.
1-on-1 expert care, no assistants, no double-booking, and no premium fees. The result is more personalized therapy, more effective treatment, faster recovery, and more excellent value.
Melisa Newsome has said:
"I needed to find a new massage therapist near my home and found TP. I was a bit apprehensive to try a different RMT but was matched up with Elizabeth. Oh my – she was amazing. Personal, humble, read her clients needs really well, excellent 'quality' massage. I've found a great new RMT and look forward to coming back! I have since added their physiotherapist Katie to my recovery process and have had the same high level of satisfaction. I found Katie to be engaging and invested in my situation and I loved the Sherlock Holmes feel to the session as we tried to probe and investigate my problems. She is very knowledgeable and productive – time and money well spent."
Address: 442 Danforth Ave, Toronto, ON M4K 1P4, Canada
Phone number:  +14167925115
Toronto Physiotherapy Working Hours:

Monday
11 AM- 8 PM
Tuesday
8 AM- 8 PM
Wednesday
11 AM- 8 PM
Thursday
8 AM- 8 PM
Friday
8 AM- 4 PM
Saturday
9 AM – 4 PM
Sunday
Closed
2- Cornerstone Physiotherapy
Cornerstone Physiotherapy is among Toronto's most trusted therapeutic health care providers. They have College Station, Downtown Toronto, North York, and Burlington locations. Cornerstone services include:
Physiotherapy
Massage therapy
Shock wave therapy
Acupuncture
Dizziness clinic
Pelvic health clinic
Virtual physiotherapy
Kevin Deonanan has said:
"I've been going to Cornerstone for a little over a year. My physiotherapist, Giacomo, has helped me recover from multiple injuries and is always a pleasure to chat with at our appointments. He's extremely knowledgeable, honest, and very understanding when you tell him you haven't done the at-home exercises again (sorry, Giacomo!). When I inevitably injure myself again, I'll be coming back."
Address: 2 Carlton St Suite 1800, Toronto, ON M5B 1J3, Canada
Phone number:  +14165955353
Cornerstone Physiotherapy Working Hours:

Monday
7 AM- 7 PM
Tuesday
7 AM- 7 PM
Wednesday
7 AM- 7 PM
Thursday
7 AM- 7 PM
Friday
7 AM- 5 PM
Saturday
Closed
Sunday
Closed
To book an appointment, visit: cornerstonephysio.com
3- Bloor Park Physiotherapy and Rehabilitation
Your path to recovery is made easier at Bloor Park Physio & Rehab. Whether returning to the sport, returning to work, or fishing with your grandkids, they will help you return to your usual activities.
Bruce Mitchell has said:
"I went to Bloor Park for chronic issues with a bursitis-type issue with my heel. I worked with Trevor, and he was great. We used a technique to treat the area directly, and he also introduced me to several exercises to help alleviate the pain and further treat the problem. I suffered from this for months, but after just five visits, the heel feels so much better, and I'm able to return to many of my activities. Very friendly place, no pressure to extend your treatment and Trevor is patient, knowledgeable and skilled."
Address: 726 Bloor St W Unit 209, Toronto, ON M6G 4A1, Canada
Phone number: +16473684400
Bloor Park Physiotherapy Working Hours:

Monday
7 AM- 7 PM
Tuesday
7 AM- 7 PM
Wednesday
8 AM- 7 PM
Thursday
7 AM- 7 PM
Friday
7 AM- 3 PM
Saturday
8 AM- 1 PM
Sunday
Closed
To book an appointment, visit: Bloor Park Physio
4- Rebalance Sports Medicine Physiotherapy & Chiropractic
Trusted Physiotherapy Downtown Toronto is Chiropractic and Sports Medicine Clinic. Their services include:
Sports medicine consultations
Physiotherapy
Chiropractic care
Registered massage therapy
Acupuncture
Gunn IMS
Custom orthotics
Bracing
Naturopathy
Pilates
The physiotherapists and other service providers are committed to excellence, providing the highest standards of care, top-notch customer service and a treatment approach that is evidence-based and proven to be successful.
Jessie Lai has said:
"As a first-time physio patient, Helen addressed the underlying issues that were causing my shoulder and lower back pains which were starting to impact my daily activities. She is patient, personable, extremely knowledgeable, and she tailored a program that was manageable and easy for me to follow at home. After a few months of physio, I am basically pain-free, all thanks to Helen!!! Also, the clinic has great hours, flexible booking options, and appointments always started on time. I definitely would recommend Rebalance and Helen!!!"
Address: 110 Yonge St #905, Toronto, ON M5C 1T4, Canada
Located in: TD Canada Trust Branch and ATM
Phone number: +14167779999
Rebalance Sports Medicine Physiotherapy Working Hours:

Monday
7 AM- 6 PM
Tuesday
7 AM- 6 PM
Wednesday
8 AM- 6 PM
Thursday
7 AM- 6 PM
Friday
7 AM- 6 PM
Saturday
Closed
Sunday
Closed
To book an appointment, visit: rebalance
5- Foundation Physiotherapy & Wellness
Foundation is among the top physiotherapist in Toronto. In Foundation Physiotherapy and Wellness, physiotherapists treat injuries such as neck pain, shoulder pain, arthritis, and chronic pain using naturopathic medicine, massage therapy, acupuncture, and physiotherapy.
Yashawee Saxena has said:
"I have had a great experience at Foundation Physiotherapy. My PT Tina Homayouni made every session super fun and easy to follow. The exercises were beneficial and helped my injury in a great way. She made sure that it doesn't just heal but gets stronger too. She is the best physio I have experienced!"
Address: 383 Front St W, Toronto, ON M5V 3S8, Canada
Phone number: +16473505800
Foundation Physiotherapy Working Hours:

Monday
7 AM- 8 PM
Tuesday
7 AM- 8 PM
Wednesday
8 AM- 8 PM
Thursday
7 AM- 8 PM
Friday
7 AM- 8 PM
Saturday
9 AM- 5 PM
Sunday
Closed
To book an appointment, visit Foundation.
6- Lifemark Physiotherapy Bathurst & St. Clair
Services of Lifemark clinic include:
Registered physiotherapists
Registered massage therapists
Registered acupuncturists
Registered occupational therapists
Registered dietitians
Registered kinesiologists
They also offer in-person treatment following the latest stay-at-home and state of emergency order by the government of Ontario.
Mary Clare Mayo has said:
 "I've been attending Lifemark Bathurst & St Clair location for many years. The staff are professional, attentive, and friendly. They have supported me through a work injury and WSIB claim, a car accident and insurance claim, a broken ankle resulting from a fall, and ongoing health issues. Registered Massage Therapist Chris Perlick is excellent with years of experience. He is thorough and caring. He will focus on specific area of concern, releasing tight muscles. I can't say enough good about Chris. I also work with Physiotherapist Julie Lee and Kinesiologists Roz and Noah. They have helped me find ways to manage through my injuries and help with restoring strength, mobility, and function, with treatment and prescribed exercises. Administrative staff Mary and Tanya are dedicated and friendly. I always feel welcome and cared for at Lifemark."
Address: 1500 Bathurst St, York, ON M5P 3L3, Canada
Phone number: +18668965357
Lifemark Physiotherapy Working Hours:

Monday
8 AM- 8 PM
Tuesday
8 AM- 8 PM
Wednesday
8 AM- 8 PM
Thursday
8 AM- 8 PM
Friday
8 AM- 7 PM
Saturday
Closed
Sunday
Closed
7- Triangle Physiotherapy King West
Triangle Physiotherapy is a multi-disciplinary clinic with all your rehabilitation needs. Triangle physiotherapy clinic has services like:
Physiotherapy
Pelvic health physiotherapy
Vestibular rehabilitation
Shockwave therapy
Chiropractic
Naturopathic medicine
Chiropody
Massage therapy
Acupuncture
Custom orthotics, braces
Compression hosiery
Nicole Cristello has said:
"I've been seeing Joshua Chung for about a month now, for help with my lower back. My first visit was a very thorough consultation with Josh, and from there, he developed a suitable program for me. Josh is knowledgeable, friendly and extremely organized. Our in-person sessions are always maximized to get the most out of the 30-minutes, and then Josh prepares a Google doc with exercises so everything can easily be remembered and followed on my own time. After a month of going to the Triangle clinic, I already feel significant improvements with my lower back. With regards to the clinic itself, it's very clean and they do a great job of sanitizing between patients. The receptionists are also very friendly and efficient. Great place for physio and I highly recommend Josh."
Address: 980 King St W, Toronto, ON M6K 3N2, Canada
Phone number: +14165485408
Triangle Physiotherapy Working Hours:

Monday
7:30 AM- 8 PM
Tuesday
7:30 AM- 8 PM
Wednesday
7:30 AM- 8 PM
Thursday
7:30 AM- 8 PM
Friday
7:30 AM- 7 PM
Saturday
8 AM- 4 PM
Sunday
9 AM- 4 PM
To book an appointment, visit: Triangle Physiotherapy
Final Words
The ageing process causes many physical changes to our body, including reduced bone density and muscle strength, increased body fat, poor coordination, and stiffer joints. Additionally, these conditions can impair mobility and balance. Fortunately, physiotherapy can help maintain seniors' mental health and physical health by giving them more independence.